Posted on
Mon, Jun 4, 2012 : 5:59 a.m.
Michigan football commit Drake Johnson eager to enter fold in Wolverines' backfield
By Kyle Meinke
KENTWOOD -- Drake Johnson says he's "a little insane." And really, Michigan football running backs coach Fred Jackson isn't much different.
You never really know what either is going to say next. Or do. Or even drink.
Johnson starred at tailback for nearby Pioneer High School, and was recruited to play for the Wolverines by Jackson. Johnson recalls when he realized his future position coach was just as crazy as he.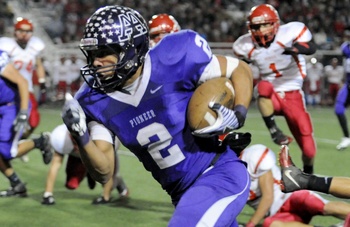 Angela J. Cesere | AnnArbor.com
"I'm sitting in his office, and there was a fridge right over there, and he's like, 'You hungry?'" Johnson said. "I'm like, 'No man, I'm not hungry.' So he's like, 'OK, I'm going to grab myself a Coke.' So he grabs himself a Coke and he sits down.
"He takes maybe two sips, and he's like, 'Hey Drake, you want something to drink?' And I'm like, 'No, I'm still good.' He's like, 'I think I'm going to get myself an orange juice.' I'm like, 'Dude, you have a Coke in front of you.' He says, 'It's fine.'
"So I'm sitting there, and maybe two minutes later, he's like, 'I think I'm going to get myself a drink,' and I'm like, 'Coach, you already got two drinks in front of you, man! Your thirst can be quenched by what's in front of you.'
"He says, 'I'm just going to grab myself some water. You want some water?' And I'm like, "Nooo, I have Gatorade in my hand, guy. It's fine.'"
Johnson has been one of the state's best high school track athletes the past three seasons. He won his third 110-meter hurdles state title Saturday at East Kentwood High School, despite a hamstring injury.
His production was even more prodigious in football, where the tailback shredded Michigan's high school record book last season. He set new marks for rushing yards (2,809), carries (344), touchdowns (38) and points (228), as well as single-game records for carries (41) and touchdowns (six).
Yet, his only reported offer was from Eastern Michigan.
Finally Jackson offered him a scholarship in early November. Johnson didn't wait a week to make his decision. He didn't wait day, or an hour.
He didn't wait a minute.
Johnson accepted on the spot.
"He was like, 'Hey Drake, I'm offering you,' and I'm like, 'Can I come in right now?'" Johnson said. "He asked if I was going to take it, and I said, 'Of course I'm going to take it. Duh.'"
Since his commitment, Johnson was bumped to a three-star prospect by Rivals and Scout. He's ranked the 77th-best back in the country according to Scout.
The 6-foot-1, 205-pounder said he's fast, as evidenced by his track exploits, but also isn't afraid to hit.
"I can run through you, or I can run past you," said Johnson, who says his style compares to former Michigan standout Tyrone Wheatley. "I'm not always the quickest on the cuts, but I'm going to work on it. If you give me a crease, I'm going to take it, and if there's someone I have to hit someone, I'm going to hit you.
"I find myself a jack of many trades. I kind of do a little of everything, but not so much a specialist at one thing."
There's been some talk Johnson could move to slot receiver, especially considering Michigan's crowded backfield. Junior Fitz Toussaint will start next year, with senior Vincent Smith and sophomores Thomas Rawls and Justice Hayes battling for carries behind him.
That mix doesn't even include quarterback Denard Robinson, Michigan's leading rusher the past two seasons.
But Johnson said he's been told he will play running back, and continues to hope he'll see the field next year. Even if he doesn't, the future of the Michigan backfield looks bright.
Johnson said he is looking forward to running behind Michigan's future offensive line, after it signed the nation's No. 4 class at that position for 2012 (according to Rivals) and could ink the No. 1 class for 2013 in February.
"I saw that and was like, 'OK, I got some big dudes to run behind. Let's do this,'" he said. "My line (at Pioneer) this year was good -- they were very good -- but having an O-line that is tops in the country, that's like comparing silver to gold. Silver is great, but gold is better.
"I love silver, but gold is worth more. And we got some golden offensive linemen coming to play for the University of Michigan."
He wants to play right away, but knows me might have to wait. The key, he said, is to "stay hungry" along the way.
Staying thirsty might work as well.
Kyle Meinke covers Michigan football for AnnArbor.com. He can be reached at 734-623-2588, by email at kylemeinke@annarbor.com and followed on Twitter @kmeinke.