Posted on
Mon, Oct 31, 2011 : 6:27 p.m.
Michigan football offensive line is banged up, depth a concern moving forward and more notes
By Nick Baumgardner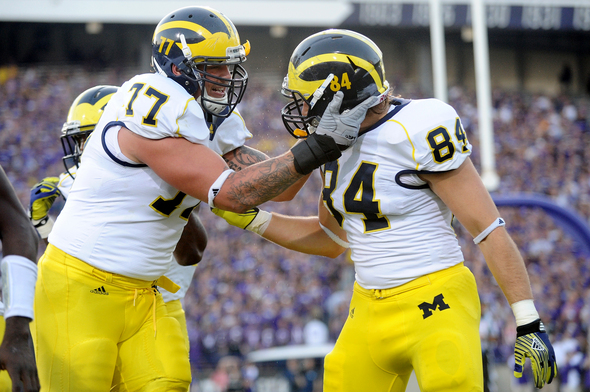 Melanie Maxwell | AnnArbor.com
Make no mistake, the Michigan football team's offensive line is beaten up.
Junior guard Ricky Barnum is saddled with two bad ankles, and sophomore tackle Taylor Lewan is fighting multiple leg injuries.
Will there be any rest for the weary on the horizon?
Nope.
"The depth on our offensive line is probably as low as I've ever seen at a university," Michigan football coach Brady Hoke said.
Barnum returned to the field Saturday in a 36-14 win over Purdue after missing the previous three games with a right ankle injury. He didn't last long, though, as he suffered a new injury to his left ankle that forced him to miss the rest of the game. He's "day to day," according to Hoke.
Lewan suffered ankle and knee injuries during a loss to Michigan State earlier this season, and he appeared to be limping Saturday in the victory against Purdue. Lewan played, and Hoke said he was "fine" moving forward.
Asked whether or not he'd be able to let Lewan rest more this week prior to a physical matchup at Iowa (Noon, ESPN), Hoke said not really.
Not because he wouldn't like to, but because he really has no other option.
"We don't have that luxury, to be honest," Hoke said. "We have limited numbers. So we'll try and be smart and maybe take a rep (off) here or there."
Michigan has three true freshmen offensive linemen in Chris Bryant, Jack Miller and Graham Glasgow. Not surprisingly, none of them have played this year.
The Wolverines also have three walk-on offensive linemen in Kristian Mateus, Erik Gunderson and Joey Burzynski.
So Michigan is realistically playing this season with eight scholarship offensive linemen. And moreover, just six have been counted on this season for heavy snaps.
Lewan, senior center David Molk, junior right guard Patrick Omameh and senior right tackle Mark Huyge have started every game this season, while Barnum and sophomore Michael Schofield have alternated at left guard.
Junior center Rocko Khoury and junior guard Elliott Mealer are the only other two offensive linemen listed on the depth chart.
Not surprisingly, Hoke has already scored five verbal commitments from offensive linemen for the class of 2012, so in time, help will be on the way.
But for now, he says his current group will simply have to take its lumps.
Gardner wasn't benched for his interception
After throwing a poorly thrown pass led to an interception in the second quarter against Purdue on Saturday, sophomore quarterback Devin Gardner wasn't heard from again until the late stages of the game.
Hoke said Gardner's limited reps wasn't directly a result of his interception, but more because Michigan had already used up the "deuce formation" options it planned against Purdue.
He said he isn't concerned with Gardner's reps becoming a problem with starting quarterback Denard Robinson's rhythm, and he expects both signal callers to see the field each week moving forward.
"We had exhausted, to that point, what we wanted to do with the two-quarterback offense," he said. "There's a lot more that can be done from it (moving forward)."
When opportunity knocks
Hoke said Monday he was disappointed with the lack of turnovers forced by his defense against Purdue.
On the season, though, he really has no cause for complaint.
Michigan has recovered 14 fumbles this year, two more than any other team in the country. And Hoke says he's never been apart of a team that's recovered this many fumbles.
"I think you create your luck (with fumbles) to some degree," Hoke said. "Our guys have done a nice job of trying to get 11 guys to the football, where you're opportunistic to recover the fumble.
"We worked strip drills and those kind of things during fall camp as much as anything. ... The drills are being taken from the practice field to the game, but as much as anything, it's been about getting 11 guys to the football."
Hopkins has passed McColgan at fullback
Michigan used sophomore running back Stephen Hopkins almost exclusively at fullback against Purdue.
Fifth-year senior John McColgan had been Michigan's starting fullback, and still sits as the team's No. 1 option on the depth chart, but Hopkins has "moved ahead" of him, according to Hoke.
"He's a thick guy," Hoke said of Hopkins. "I like what I've seen so far (with him at fullback), and he'll just get better and better.
"He's a tough guy, and when you have a guy like that who's a pretty good runner with the ball, you can start getting into some split-back stuff, and it opens up a whole new offense, to a degree."
McColgan missed the Michigan State game due to injury, but has since recovered and will continue to see action, Hoke said.
It'll just be in a backup role to Hopkins.
Odds and ends
Hoke said he wouldn't let his team take too much stock in Iowa's loss to struggling Minnesota last week, saying, "We talked about it as a team yesterday. Minnesota is a lot better now than they were when we played them. A heck of a lot better. Jerry Kill is a really good football coach and (MarQueis) Gray is starting to arrive at quarterback." ... Sophomore punter Will Hagerup hasn't exactly excelled this season, sitting with a net average of 34.8 yards per kick. Hagerup sat out the first four games of the season due to suspension, and in his place, freshman Matt Wile averaged 41.8 yards per kick. Hoke said Hagerup is the team's starter, but the competition between he and Wile will continue. ... Hoke said Robinson reverted back to "some old training" Saturday when he took a knee instead of taking advantage of a free play following a defensive offside penalty against Purdue. "It's some old training, maybe. We'd like for him to throw it to the Z (receiver) who was running down field."
Nick Baumgardner covers Michigan sports for AnnArbor.com. He can be reached at 734-623-2514, by email at nickbaumgardner@annarbor.com and followed on Twitter @nickbaumgardner.