Posted on
Sat, Jul 21, 2012 : 5:58 a.m.
Michigan football over-under: Will spring game star Thomas Rawls log 50 carries?
By Kyle Meinke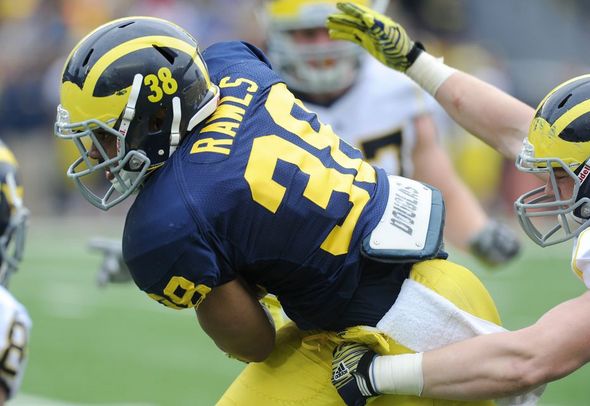 Angela J. Cesere | AnnArbor.com
This story was updated at 12:50 p.m. to correct a factual error. Thomas Rawls attended Flint Northern, not Flint Central.
Fred Jackson, the Michigan football team's longtime running backs coach, stood before the assembled media last year and offered some high praise for true freshman tailback Thomas Rawls.
"He's like Mark Ingram," Jackson said, alluding to Alabama's Heisman Trophy winner, "but faster."
Early August is high season for coachspeak, and Jackson has a flair for it, so the praise was taken with skepticism. But Rawls continued to be lauded by coaches, first during fall camp, then throughout early season practices.
Michigan Football Over-Under
Finally, he broke onto the field against Eastern Michigan, becoming the only true freshman to receive a carry last year. He finished the season with 13 rushes for 80 yards.
Rawls was solid, although didn't provide many fireworks. He did at this year's spring game, though, when he led the Wolverines in rushing, scored the only two touchdowns of the day and launched himself into serious consideration for time in this year's rotation.
He won't overtake starter Fitz Toussaint, but could he catch senior Vincent Smith, who logged 50 carries as the primary backup last year?
Let's hash this thing out, shall we?
Over-under: Thomas Rawls will log 50 carries

Kyle Meinke: Offensive coordinator Al Borges says he prefers to ride one featured tailback, eschewing the tailback-by-committee approach favored by Rich Rodriguez.
Still, 50 carries is not a very high threshold for Borges, who has had at least three players receive 50 carries in five of his past eight seasons. That leaves more than enough carries for quarterback Denard Robinson to get his, and still have two tailbacks reach 50-plus touches.
It happened last year with Robinson (221 carries), Toussaint (187) and Smith (50).
So, it's probably not a matter of whether a second tailback will get 50 carries, but who. And all indications are that guy will be Rawls, not Smith.
Smith is a nice player. He is highly effective on screens and remains the team's best blocking back, so he'll maintain a role, particularly on third downs.
But when it comes to rushing, there's no question Rawls is the better option. He could be the eventual heir to Toussaint in the backfield, and the Wolverines likely will try to get the sophomore as much seasoning as possible.
Prediction: Rawls is the best rusher on the current roster not named Toussaint, and he's the future. For now, he will be the primary backup, and that means he'll get to 50 carries. Take the over.
----
Nick Baumgardner: Rawls entered school in 2011 drawing rather unfair comparisons to former Alabama superstar Mark Ingram.
Most of that seemed solely based on the fact they attended the same high school (Flint Northern), but regardless, he found his way onto the field occasionally last season and definitely made a name for himself this spring.
Everyone -- from Brady Hoke to Fitz Toussaint -- seemed to rave about Rawls' play during camp. And in the spring game, he proved why. He bulled his way over and around people throughout the afternoon, easily ending the day as the most consistent surprise.
Vincent Smith finished with 50 carries a year ago, the second-most of any running back on the team -- behind Fitz Toussaint's 187.
While the absence of Michael Shaw should provide a few more carries this season, one would expect Toussaint's number of 187 to take a decent rise.
Rawls is absolutely an Al Borges-style running back, and if anyone spells Toussaint on first or second down, it'll likely be him. Smith should primarily be used in a third-down capacity, meaning his carries may actually dip (though his playing time won't).
Rawls seems more than ready to make the jump for more playing time, but how much can he realistically expect behind Toussaint -- a player Borges has dubbed his unquestioned starter?
Prediction: Borges is a big proponent of keeping the offense flowing as normal. Unless Toussaint needs a pull from the oxygen mask, or gets hurt, he'll likely be on the field for most of every game.
So, unless the Wolverines are involved in a lot of blowouts, I don't think Rawls will see a ton of carries next season. I'll take the under.