Posted on
Fri, Jul 20, 2012 : 5:59 a.m.
Michigan football over-under: How many players will leave early for the NFL?
By Nick Baumgardner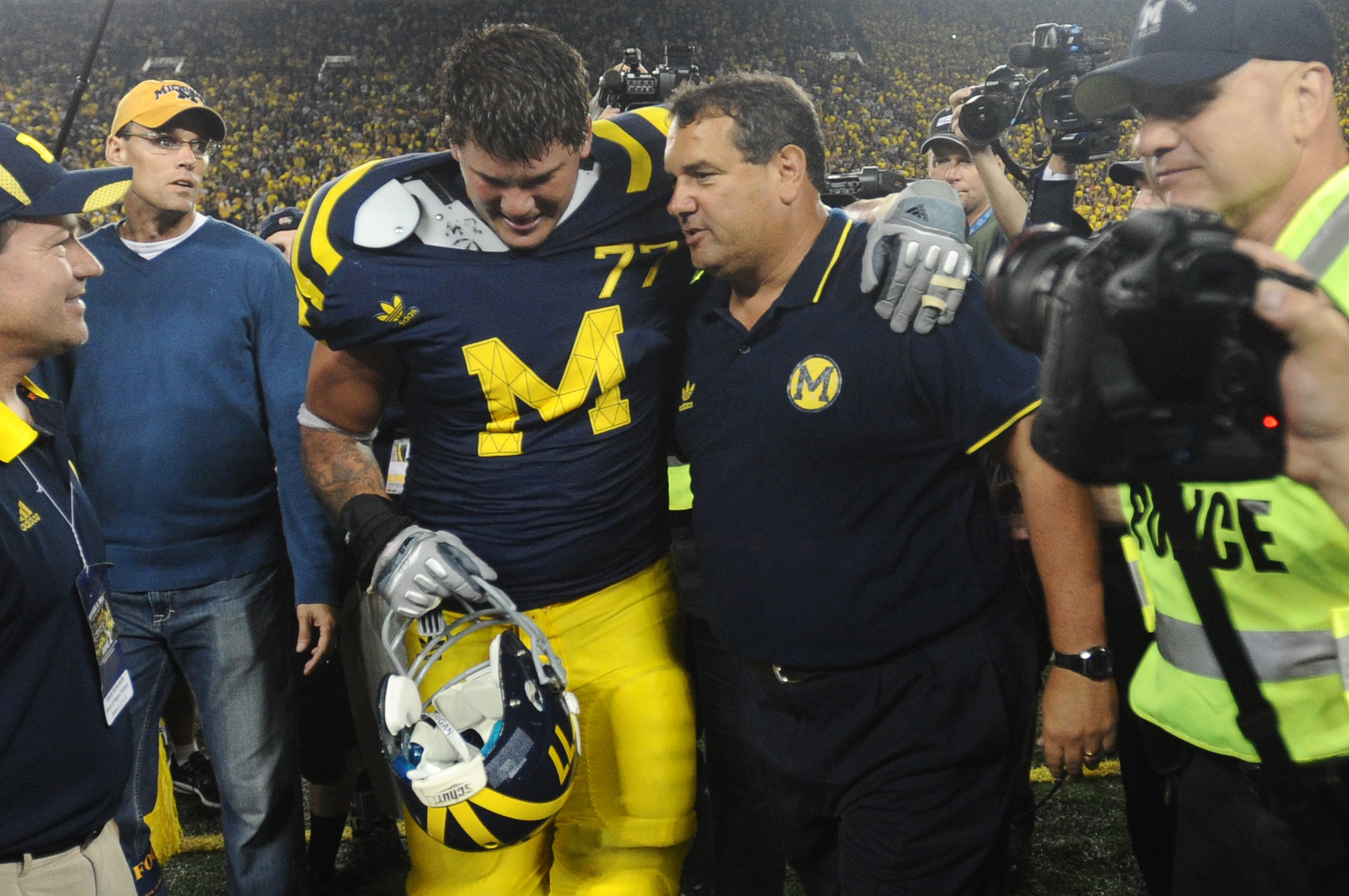 Melanie Maxwell | AnnArbor.com
The
Michigan football
program has had only one first-round NFL draft pick since
Jake Long
went No. 1 overall in 2008.
Moreover, the Wolverines haven't had a player leave school early for the draft since Donovan Warren opted to forego his senior season in 2009.
According to recent draft projections, both of those statements could change following the 2012 campaign.
ESPN.com NFL draft analyst Mel Kiper Jr. is one of several prognosticators who has rated junior offensive tackle Taylor Lewan extremely high on his board for next season.
The 6-foot-8, 302-pound lineman has all the physical tools of a prototypical NFL left tackle, and whether it's sooner or later, he likely will get a serious shot at contributing on Sundays.
Michigan Football Over-Under
And, if junior running back Fitzgerald Toussaint can further improve upon his breakout 2011 campaign, it's not foolish to think he could see a significant rise in his stock as well.
Michigan's first-round draft drought should end relatively soon, but will the Wolverines be hurt by an early departure or two following the 2012 season?
Over-under: Underclassmen leaving school early for the 2013 NFL draft -- 1/2

Kyle Meinke: Although Michigan hasn't sent many players into the draft lately, I'm pretty sure it's not going to send half a player next year. So basically, we're discussing whether at least one underclassman declares early for the draft.
And it shouldn't be much of a discussion.
I'm not saying Lewan will declare for the NFL Draft after the season -- but I say it's more likely he does than he doesn't.
Remember, Lewan redshirted as a freshman, so he's already a fourth-year player. He also started as a redshirt freshman, which means he's entering his third season as a starter.
That's a lot of mileage.
What will be particularly attractive to NFL clubs -- outside of that 6-8, 302-pound frame, which is ideal for an NFL left tackle -- is the fact he's been a star since first entering the lineup. Outside of some discipline issues early in his career, it's difficult to find a single blemish on Lewan's resume.
There's also the reality that Michigan's offense could take a step backward in 2013 after the departure of quarterback Denard Robinson, receiver Roy Roundtree, linemen Patrick Omameh and Ricky Barnum, tight end Brandon Moore -- and possibly Toussaint.
That's five or as many as six key starters, including two other lineman. Robinson's exit also could mean the offense is overhauled next offseason, as the staff fully implements its preferred West Coast scheme.
Does Lewan really want to stick around for a rebuilding project, including at his position group, when he's already being projected as a top-15 pick (by Kiper)? Maybe. But, it'd be awfully hard to turn down all that money, if he indeed is a solid first-round pick.
As for Toussaint? I'm with Nick here, in that his case is far murkier. But if last year indicates anything, it's that a healthy Toussaint could do significant damage next season.
He was named the featured back for the final five games of the regular season, and responded by rushing at a clip that equates to more than 1,600 yards over a full year. I think if Toussaint breaks even 1,500 yards, he could make his way to the NFL.
The flip side of posting back-to-back 1,000-yard seasons, of course, is the odometer begins to tick. The average career length of NFL tailbacks continues to shrink, so it could behoove Toussaint to get paid in 2013 if he's projected to be an early-round pick.
Plus, like Lewan, the turnover on offense could factor into Toussaint's decision. Robinson is one of the most electric rushers in the game, which also means he's one of the game's most effective decoys. He sucks in the eyes of defenders, which certainly helps Toussaint.
Without Robinson, teams could begin to hone in on Toussaint in the rushing game.
Also, there's that matter of losing two linemen in front of him, and possibly a third in Lewan, not to mention Moore.
Prediction: I'm not saying Lewan for sure leaves, even if he has another Lewan-type year. I'm not saying Toussaint for sure leaves, even if he reaches his 1,600-yard goal. But I am saying it's more likely one of these guys leaves than both stay. Take the over.
----
Nick Baumgardner: Lewan's shot at NFL stardom is legit -- without question.
He's gigantic, but not overweight. He stands 6-foot-8 and has great reach and technique, and his foot speed doesn't seem to be at all hindered by his size. He's also got a bit of a mean streak when necessary, something he's worked at controlling over the years.
He'll be a three-year starter after this season, and he'll more than likely take a long look at his future following the season.
Toussaint, on the other hand, would be a bit of a stretch. If he catches lightning in a bottle, his stock could definitely rise. But will it rise enough to make it worth leaving early? That'd be a tall task.
As of right now, it'd be a bit of a surprise to see Toussaint test the draft pool early. As for Lewan? The situation will be tempting.
He's rated high right now on several draft boards, but -- as of now -- he's not a locked-in first-round projection. There's still plenty of things left for Lewan to accomplish this season, and next.
And, hey, Jake Long stayed in school through his senior season and it didn't turn out so badly for him.
Prediction: Toussaint will likely need to hit a perfect storm situation to make an early departure worth his while. So I'll say no on him leaving.
Lewan, meanwhile, could have a fantastic season and still be rated toward the end of the first round or later. If he plays well this year and returns for a successful senior season, he could potentially be a top 10 selection.
In the end, I say they both stay. I'll go under.