Posted on
Tue, Jan 3, 2012 : 5:58 a.m.
Michigan football team embracing national stage, chance at validating season
By Kyle Meinke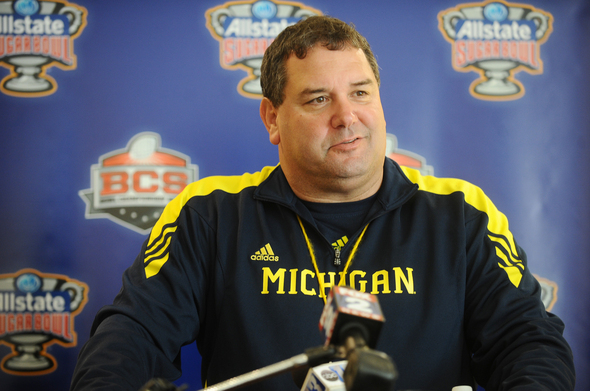 Melanie Maxwell | AnnArbor.com
NEW ORLEANS — After five weeks of talking about being back on the national stage, it's finally here.
The No. 13 Michigan football team (10-2) will face No. 17 Virginia Tech (11-2) at 8:30 tonight in the Sugar Bowl (ESPN), its first BCS game in five years. It'll vie for its first BCS win in more than a decade.
Curtain's up, Michigan. The nation is about to be re-introduced to you.
Although, according to head coach Brady Hoke, the Wolverines were never gone.
"I don't think Michigan ever left (the national stage)," he said Monday at his final news conference before facing the Hokies. "There was maybe a lean year or two, but Michigan was always Michigan — and will be."
That echoed Hoke's proclamation when he first arrived in New Orleans.
"I think this is where Michigan should be," he said from an airport hangar, barely 10 minutes after landing here. "It's an expectation for Michigan to be in BCS games."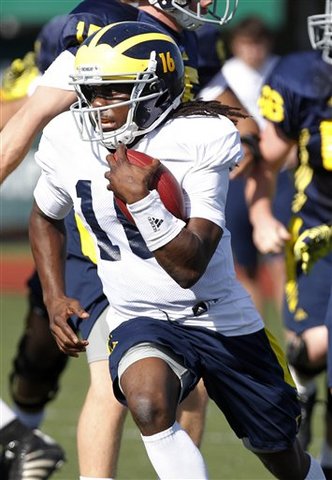 AP Photo
The Wolverines will be looking to reverse their bowl fortunes, after going 2-6 in their past eight postseason appearances. They are 1-3 all-time in BCS games, with their lone win coming against Alabama in the 2000 Orange Bowl.
Hoke was on that staff as an assistant.
It's been a tough postseason run for college football's winningest program. In fact, the Wolverines have a losing record all-time in bowl games, going 19-21 in their 40 appearances.
And, of course, they've had a tough run even in the regular season of late. Michigan was 15-22 during a tumultuous three-year run under former coach Rich Rodriguez, a tenure that was terminated just days after last season's 52-14 loss to Mississippi State in the Gator Bowl.
Players are looking to rid themselves of that history — especially the seniors, whose legacies include no league titles and a combined 1-7 record against the school's two biggest rivals, Michigan State and Ohio State.
It also would be a fitting end to a resurgent season, validating what has been a surge back into prominence. Most prominently, the defense jumped from posting the worst season in school history last year to ranking seventh this season at 17.2 points allowed per game
"The biggest thing for us is if we drop this game, and we have a poor performance, especially defensively, (after) everything we've worked for, people will come back and say, 'Well, they were good during the season, but look what happened in the bowl game," senior defensive lineman Ryan Van Bergen said.
"It could be a 'but,' or it could be an 'and.' Then they could say, 'They played well during the season
and
they went and played well in the bowl game.'
"We don't want there to be a negative stigma about our defense, when all is said and done. We want everything to be positive and not have anybody stand on a platform and criticize us."
Michigan hasn't played since beating Ohio State 40-34 on Nov. 26, and feels as though it has something to prove. Managing nerves will become paramount, especially early in the game as the team shakes off rust from the five-week layover.
Quarterback Denard Robinson will be of particular concern because he is so integral to the offense's effectiveness, but also has been known to have trouble managing his excitement early in games.
He became much better throughout this year, though, relying on a secret weapon he revealed for the first time Sunday: R&B.
"I listen to slower music now in the pregame," Robinson said. "It calms me down."
Hoke isn't as much of a concern. He's said in the past he's most anxious on the days leading up to a game, when preparation is at its peak intensity. On game days, he's much more relaxed as he designates scheme and play calls to his coordinators and players.
"Once it hits the game, it's just, you might as well give him a cocktail and a lounge chair," senior center David Molk said recently.
Despite the magnitude and build-up to this game, Hoke said Monday he expected to remain calm today, even if a few extra butterflies would be understandable.
"It's going to be fun," Hoke said. "It's going to be a lot of people cheering and it's going to be bands there and people are going to have fun."
Hoke said he'll use a similar routine today for keeping his players sharp as he did for previous night games against Notre Dame and Northwestern, when he got them up late, had them watch film and went through walk-throughs to remain active.
The Wolverines won both those games. In fact, they were 4-0 this year in games that started at 3:30 p.m. EST or later. So, that routine — something Hoke developed while often playing at night out west at San Diego State — seems to be effective for this team.
Something they haven't faced this year, though, is playing indoors, and now they will play in the Superdome, known as one of the loudest stadiums in the country.
"In a game, you kind of get into the flow of loud when the defense is on the field, quiet when the offense is on the field," Van Bergen said. "This game, I don't really know. I think it's going to be more World Cup, without those big horns. It's going to be loud all the time."
Van Bergen said the defense will resort to hand signals in the game. Other games in which they used those signals include Notre Dame, Ohio State and Nebraska — each wins, although the defense played poorly against the Fighting Irish and Buckeyes.
The lighting, which stretches all the way around the stadium, also could be of concern.
Hoke said he's not worried about the environment, even though Virginia Tech's Frank Beamer has coached in the Superdome in three BCS games and four times overall. He's 1-3 there.
The Hokes' head coach is in the midst of a 25-year run at the school, and has taken it to 19 consecutive bowl games. He's been with defensive coordinator Bud Foster for 24 years.
Conversely, Michigan's staff is in its first year together, an experience differential that could prove to be a disadvantage, Wolverines offensive coordinator Al Borges said this week.
Molk, though, says the staff is wise beyond its years because Hoke hired like-minded guys in Borges and defensive coordinator Greg Mattison, among others.
"This coaching staff could easily be compared to one that has been here 30-plus years (because of) the congruency of a fixed goal and something they all stress together as a unit," Molk said. "A lot of times, when coaches coach together for a really long time, they all think alike. Well, these guys do."
They all have one thing on their mind tonight.
Sugar Bowl victory.
A season validated.
Kyle Meinke covers Michigan football for AnnArbor.com. He can be reached at 734-623-2588, by email at kylemeinke@annarbor.com and followed on Twitter @kmeinke.