Posted on
Mon, Dec 5, 2011 : 12:25 a.m.
Michigan football team responds to MSU QB Kirk Cousins' criticism of Wolverines' BCS bid
By Kyle Meinke
There was a national consensus that the Michigan football team would make a BCS bowl.
In fact, there even was a national consensus it would be the Sugar Bowl -- and it came to pass. The BCS announced Sunday night the Wolverines will play Virginia Tech on Jan. 3 in New Orleans.
Few have a problem with that selection.
Michigan State does.
The Spartans beat Michigan 28-14 in October, finished ahead of the Wolverines in the Big Ten standings and qualified for the Big Ten title game out of the Legends Division.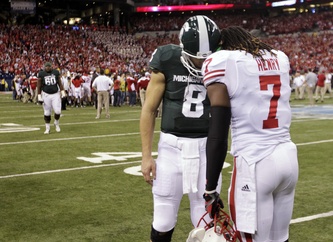 AP Photo
They also lost that championship game, though,
falling 42-39 to Wisconsin
. That gave them three losses, and they were passed over for the BCS, while Michigan slid into the Sugar Bowl.
In other words, Michigan State was punished for making the title game, and the rival Wolverines were rewarded for not making it. That is not necessarily a fair outcome, but it was an expected one, given how the bowl process works.
Spartans quarterback Kirk Cousins was asked about that reality after the Big Ten title game. He didn't hold back.
"Michigan sat home tonight on the couch and watched us," the senior said shortly after the game's conclusion. "We played our hearts out — you saw it. I don't see how you get punished for playing and someone else gets to sit on the couch and get what they want.
"If this is the way the system is, I guess it's a broken system."
Michigan senior defensive lineman Ryan Van Bergen, who has become something of a team spokesman on a lot of matters this year, weighed in on Cousins' comments Sunday, shortly after learning of the Wolverines' bowl fate.
His message: Want to trade?
"If he wants to go sit on a couch and watch us play in the Big Ten championship game, then he can do that," Van Bergen said. "They had an opportunity to go the Rose Bowl. It was sitting right in front of them for them to grab. They didn't seize the opportunity.
"I think that they'll do well in the Outback Bowl. Best of luck. Best wishes. We're going to the Sugar Bowl, and we're excited about it."
Michigan has benefited greatly from the divisional split. It didn't have to play the league's No. 1 team, Wisconsin, or its No. 4 team, Penn State, both of which reside in the Leaders Division.
Then, it got to sit out of the title game, guaranteed to inherit the conference's second-best bowl draw as the its true runner-up was tagged with a third loss and slid down the postseason hierarchy.
Still, the Wolverines said they would have traded in that de facto bye for a shot at the Big Ten title.
"Man, I'd rather get to play in the Big Ten championship game — the inaugural Big Ten championship," senior tight end Kevin Koger said. "I would have been happy to trade places, but it is what it is."
Kyle Meinke covers Michigan football for AnnArbor.com. He can be reached at 734-623-2588, by email at kylemeinke@annarbor.com and followed on Twitter @kmeinke.