Posted on
Thu, Sep 8, 2011 : 5:59 a.m.
Michigan football's Jordan Kovacs continues ascension from student-body tryout to all-Big Ten safety
By Kyle Meinke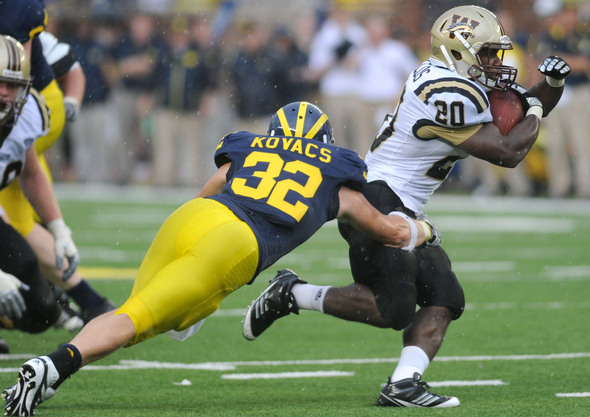 Angela J. Cesere | AnnArbor.com
Jordan Kovacs' best offer coming out of high school was a chance to be a preferred walk-on at Toledo.
That's becoming increasingly hard to believe.
Kovacs, the son of a former Michigan football walk-on, turned down the Rockets to attend his father's alma mater. He eventually made the team at an open tryout, worked his way onto special teams and found his way into a starting job as a redshirt freshman in 2009.
Now a junior, he just might be developing into one of the Big Ten's best safeties.
"If you had a team of eight of those — I'm not going to say 11, eight of those — you might just sit in a lawn chair and watch the game," defensive coordinator Greg Mattison said Tuesday in a nod to both Kovacs' burgeoning talent yet physical limitations.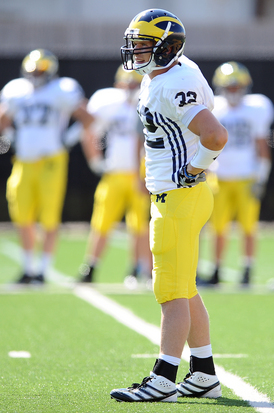 Melanie Maxwell | AnnArbor.com
The knock on the 6-foot, 197-pounder has been his stature and pure athletic ability. He doesn't have elite speed or size, something even he acknowledges. But he produces.
Kovacs had perhaps the best all-around game of his career Saturday in the season-opening 34-10 win against Western Michigan. He finished with 10 tackles, two sacks, a forced fumble and a pass breakup.
It was the forced fumble that really had people talking.
Kovacs delivered a menacing third-quarter hit on Western Michigan quarterback Alex Carder, jarring the ball loose to set up linebacker Brandon Herron's 29-yard touchdown return — his second score of the game — and make a 20-10 game 27-10.
"That hit that he came on one of the pressures? It was what you tell and what you coach," Mattison said. "Put your face right into his chest, wrap him up, eyes up, and he put his helmet right through the football."
It was perfect technique.
Kovacs burst onto the scene in 2009, when he finished second on the team in tackles with 75. His first action on defense came against Notre Dame, when he didn't even expect to play, except on special teams.
"I was uncomfortable, and I'd be kidding myself if I said I wasn't," Kovacs said Tuesday of his debut. Things will come full circle Saturday when the Wolverines host the Irish in the first night game of Michigan Stadium's 84-year history (8 p.m., ESPN).
Last year, he started every game, was second in the Big Ten with 116 tackles and was named all-league honorable mention by the media. Does all the success appease him at all, after being so overlooked coming out of Clay High School in Curtice, Ohio?
THURSDAY LIVE CHAT
Come back to AnnArbor.com at noon Thursday to join Kyle Meinke for a live chat. He'll discuss the latest Wolverines' news and preview the game against Notre Dame.
Follow updates from the AnnArbor.com staff during the Saturday game on Twitter by using the hashtag #umnd.
Take a Twitpic on Saturday and send it to us @annarborcom or email to community@annarbor.com.
"You know,
that walk-on chip on my shoulder
, I think, is something I'll always carry with me," Kovacs said. "I'm proud of being a walk-on, and it's nothing I regret or am disappointed in. I like being a walk-on."
He isn't playing like one. Just ask Carder.
Said Herron of Kovacs' hit: "It was a call where we saw — I can't put it out there — but we made a check, and I ended up coming off the edge, and Kovacs got free."
The check made the play. Guess who called the check?
The same guy who delivered the hit, the same guy who forced the fumble, and the same guy who beat every one but Herron to the end zone.
"The thing that people didn't see on that is he was in the end zone almost the same time as Herron after he had caused the fumble," Mattison said. "That's what Michigan defense is about."
Kovacs led Michigan in tackles last year, then again against the Broncos to open this year — which is both a blessing and a curse. It means he's tackling well, but also means he has opportunities to tackle well.
Good defenses don't give their safeties that many opportunities to tackle.
"When your safety is making a lot tackles, that's not a good thing," Mattison said. "It's a good thing we have Jordan Kovacs, but that's not a good thing (he led the team in tackles). That happened a number of times, where if a linebacker was where he was supposed to be, he would've made that tackle.
"The great news is Jordan was where he was supposed to be."
The greatest news of all is Kovacs felt he was supposed to be at Michigan.
Who knows where this defense would be without him?
Kyle Meinke covers Michigan football for AnnArbor.com. He can be reached at 734-623-2588, by email at kylemeinke@annarbor.com and followed on Twitter @kmeinke.