Posted on
Sun, Aug 14, 2011 : 2:23 p.m.
Michigan has picked a third-down back, a plan for Denard Robinson's carries and 2 talented freshmen
By Kyle Meinke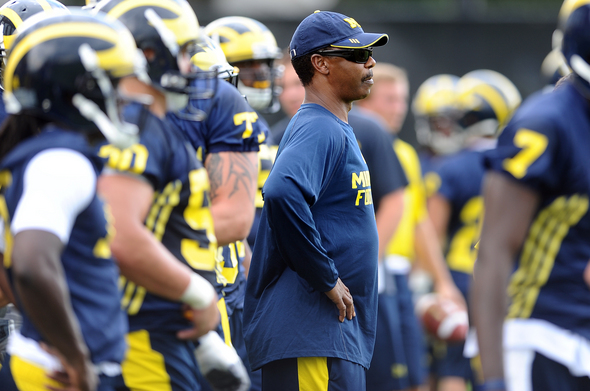 Melanie Maxwell | AnnArbor.com
The running game remains one of the biggest storylines of the Michigan football team's fall camp -- but things are becoming a little more clear.
Two firm revelations to come out of Michigan's media day at Schembechler Hall on Sunday:
First, Michigan will use a primary third-down back, and in fact, that player already has been selected. Running backs coach Fred Jackson said he won't name the player, but it'll be apparent when the team opens its season Sept. 3 against Western Michigan.
"I got a guy who's going to be a great third-down back for us," Jackson said. "I don't want to say right now who that guy is because I'm still trying to develop depth at the position.
"But the first game, you'll see who that is. I promise you, you'll see who that is."
MICHIGAN FOOTBALL MEDIA
AND FAN DAY COVERAGE
Second, Michigan coach
Brady Hoke
announced he expects quarterback
Denard Robinson
to get about 10 to 15 designed carries per game. The junior averaged 19.7 rushes per game last year — which includes
a 65-21 win against Bowling Green
in which he rushed just five times — in
Rich Rodriguez's
spread-option attack.
He will rush less this year as the team transitions to the pro-style offense.
Of course, the biggest storyline on the running game is the competition for lead tailback, which offensive coordinator Al Borges — who will handle most of the playcalling this year — would prefer to use over a tailback-by-committee approach.
Borges said there were about seven candidates for the job at the start of fall camp, but would like to narrow that list to a couple finalists early on. That has not yet happened after one week and seven practices, but could happen soon with three two-a-days scheduled for this week and the team's first scrimmage Saturday.
Jackson said players won't be informed who wins the job until a couple days before the opener against Western Michigan, and added that it might take a couple games for Michigan to find its long-term back.
The starter is expected to receive about 25 carries per game in the Wolverines' new power-run scheme.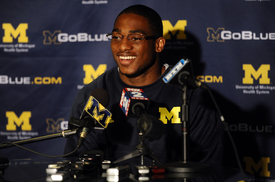 Melanie Maxwell | AnnArbor.com
Senior Michael Shaw, juniors Vincent Smith and Michael Cox and sophomores Stephen Hopkins and Fitzgerald Toussaint are the returners vying for the position, but Jackson has been particularly impressed by freshmen Thomas Rawls and Justice Hayes.
Both are serious contenders for the position.
"I have a lot of guys in there, and I told (the returners) up front, 'I'm going to play the best backs,'" Jackson said. "They're look at the same thing I look at, and what they see is two freshmen playing their butts off."
Rawls is a 5-foot-10, 219-pound back whose bruising, down-hill style has drawn some comparisons to fellow Flint native and 2009 Heisman Trophy winner Mark Ingram. Hayes is a 5-foot-10, 176-pound back from Grand Blanc who has a shiftier style of running.
Among the two, Rawls could have an edge because the coaching staff has said it's looking for a big-bodied rusher to carry the load. However, Borges said last week the freshmen's heads "are spinning a little bit" because they weren't around for spring practices and have missed some drills in fall camp because of classes.
"One thing about camp is that it's tough, but that's just what it is," Rawls said. "I've been doing good, working hard."
Hopkins and Shaw could have the edge among the returners because of their size and experience.
So far, though, no backs have separated themselves from the pack.
Jackson said the freshmen have been so good in camp, it has ratcheted up the intensity of the competition among the returners.
"Every day they come to work, they know they got to bring their lunch pails because the freshmen are coming out there like they're sophomores," Jackson said.
"Those two freshmen have made the whole room different because now the upperclassmen look around and know the competition is way beyond where they expected it to be (during spring practices)."
Kyle Meinke covers Michigan football for AnnArbor.com. He can be reached at 734-623-2588, by email at kylemeinke@annarbor.com and followed on Twitter @kmeinke.