Posted on
Mon, Oct 3, 2011 : 4:34 p.m.
Michigan says it hasn't scratched the surface on the Robinson-Gardner formation
By Nick Baumgardner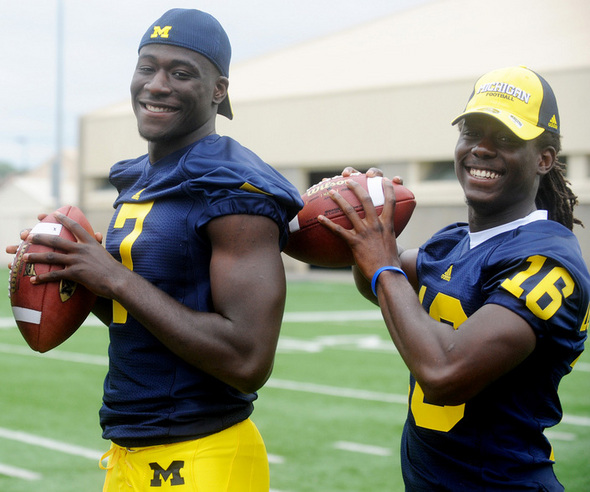 Ryan Van Bergen wasn't sure what to think when he saw junior quarterback Denard Robinson line up in the backfield Saturday with sophomore Devin Gardner standing under center.
The senior defensive end is not sure what to call the formation, not sure how many more variations the Michigan football team will run out of it and is unaware of where it came from.
He's just glad he doesn't have to defend it.
"I'd hope that I had really good coaches," Van Bergen joked when asked how he would defend the new formation. "We were excited when we saw the formation, but we didn't know what was coming.
"And, obviously, (Minnesota) didn't either."
Michigan unveiled the new formation, featuring Gardner at quarterback and a triangle backfield of Robinson, Fitz Toussaint and Vincent Smith, during a 58-0 romp over the Golden Gophers on Saturday.
The Wolverines ran four plays out of the formation over the first three series of the game.
Afterward, neither head coach Brady Hoke nor Robinson or Gardner would offer up much detail as to what the set is called, or what might be coming out of it down the road.
The only thing that's clear now, as far as Michigan and the new mystery package is concerned, is the best may be yet to come.
"We haven't (done anything) out of it, really, that we can do," Robinson said Monday. "It's going to be fun to do it."
Van Bergen said the defense has noticed the offense running a unique formation (a look he said reminded him of Michigan's famed "Mad Magicians"), during practice earlier last week, but never got a live look at it during starter versus starter drills.
Senior tight end Kevin Koger said that the offense was fully aware of the set, and ready to run out of it during the first series of the game.
After watching film, Koger said the offense was pleased with the early results, and is also excited to be able to watch Gardner showcase his talents.
"Devin Gardner can play a little bit," Koger said. "It was good to see him get in there and good to see him ball out a little bit.
"It was good to see him having fun."
Hoke continued to stay relatively quiet on the topic Monday, refusing to reveal the name of the package or any further detail on how it was developed.
What he did say, though, was that one of its biggest positives is how opponents will spend time preparing for Michigan.
"You only have so many hours in the day and you only have so many hours on the practice field," Hoke said. "That's just another piece to (our offensive) puzzle."
Plenty of preseason discussion focused on what type of offense first-year coordinator Al Borges would run this season with Robinson at quarterback.
So far, Michigan has shown the spread-option look, pro-style I-formation sets, an under-center speed option package and the new dual-quarterback set that Hoke jokingly calls "two."
The Wolverines don't have a true offensive identity through five games.
But is that necessarily a bad thing?
"Some of the offensive guys have said that they've just skimmed the surface with that package," Van Bergen said. "If I'm a defensive guy, I'm thinking I have the spread I have to prepare for, we run some I-back and double tight ends, and then we have whatever you want to call that (dual quarterback set).
"It's going to be a lot to put on somebody's plate with only a week to prepare."
Nick Baumgardner covers Michigan sports for AnnArbor.com. He can be reached at 734-623-2514, by email at nickbaumgardner@annarbor.com and followed on Twitter @nickbaumgardner.