Posted on
Sat, Oct 1, 2011 : 8:15 p.m.
Michigan 58, Minnesota 0: Your comprehensive guide to our coverage
By Rich Rezler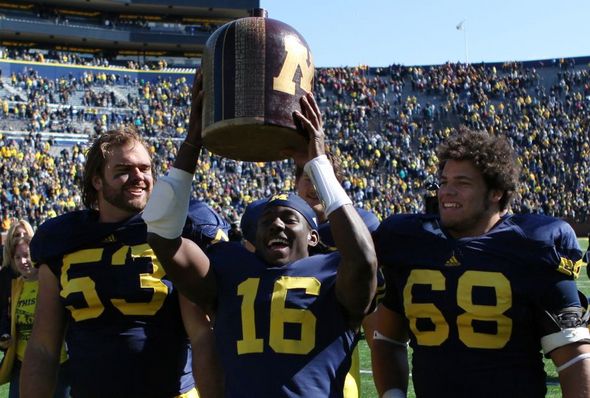 Jeff Sainlar I AnnArbor.com
Playing its first game of the Big Ten's divisional format era, the
Michigan football
team dominated Minnesota in a way that evoked the old Big Two, Little Eight days.
Actually, with numbers back on the side of their standard helmets for the first time since 1968, the Wolverines' look pre-dated even the Bo and Woody heyday.
But offensive coordinator Al Borges' playbook certainly wasn't as dated. From two-quarterback formations to halfback option passes, Michigan showed plenty of flare -- and defensive dominance -- in its 58-0 win Saturday at Michigan Stadium.
Oh, and that whole issue with Denard Robinson struggling in the passing game? That was old news, too, at least for this week.
In fact, not much at all went wrong for the No. 19 Wolverines, who are off to a 5-0 start for the second straight year. Here is a compilation of our coverage, which expands on that ... and so much more:

Post-Game Coverage
• Boxscore
• Main game story: The Wolverines are 5-0 and feeling good after a record-setting rout of Minnesota.
• Kyle Meinke's column: Michigan's fast start is different from the past two years because of weekly improvement, especially on defense.
• 'Creative' offensive coordinator Al Borges unveils a two-QB formation that he's been working on since March.
• A laughingstock no longer, the Michigan defense turned in its best performance in years.
• Devin Gardner, Thomas Rawls and other backups saw extended action in the lopsided win.
• Notebook: Vincent Smith makes history, Denard Robinson has a 'boo boo' and more notes.
• Photo gallery: Staff photographers Melanie Maxwell and Jeff Sainlar compile their favorite images from the game.
Video: Brady Hoke, Denard Robinson, Devin Gardner and others discuss Michigan's big win.
• Grade the Wolverines: Get out your red pencil and evaluate Michigan's offense, defense, special teams and coaching.
• Game balls: Al Borges, Vincent Smith and the Michigan defense get top honors.
• The police blotter: Police arrest two, eject another 39 from Michigan Stadium.

In-Game Coverage
• The Michigan marching band honored deceased trumpet player Patrick Fleming before the game and at halftime.
• Jim Knight strung together live updates throughout the game. Read them here.
• Check out the transcript from our live chat, which oddly focused a lot of attention on Fergie from the Black Eyed Peas.
• We asked you to predict the outcome of the game. An overwhelming majority (96-percent) picked Michigan to win, but just 41 percent thought the Wolverines would cover the 20-point spread.

More Scores
• Eastern Michigan 31, Akron 23 (AnnArbor.com story & photo gallery)
• Michigan State 10, Ohio State 7 (Coverage)