Posted on
Tue, Nov 8, 2011 : 9:53 p.m.
Michigan starting linebacker, leading tackler Kenny Demens hampered by hamstring injury
By Kyle Meinke
Angela J. Cesere | AnnArbor.com
The Michigan football team already is starting two freshmen at outside linebacker.
Now, the Wolverines have a dinged up middle linebacker.
Defensive coordinator Greg Mattison said Tuesday that junior Kenny Demens is dealing with a balky hamstring, an injury that flared up last weekend during Michigan's 24-16 loss at Iowa.
Demens wasn't as sharp against the Hawkeyes as he's been this year, but Mattison said he was lucky to be out there at all.
"I venture to say a lot of players would have tapped out right there," Mattison said. "I respect the heck out of him, for him to go out and play as hard as he did. If you watch all the plays, the 59 plays on defense, you saw him make some really good hits inside.
"I know there are other things he wishes he could do over, but I'm not sure he's physically able to do them over."
Mattison didn't elaborate on when Demens first aggravated the injury, but said it's been tender for some time. The second-year starter still is expected to play Saturday when the No. 22 Wolverines travel to Illinois (3:30 p.m., ABC).
More than anything, the injury has zapped Demens' speed in the middle.
"He made some really good plays inside the box (against Iowa), but you could see, as he was going to the football, that his speed was not there," Mattison said.
Iowa tailback Marcus Coker had a good day against the Michigan defense. He finished with 29 carries for 132 yards and two touchdowns, much of which came on runs between the tackles.
Despite the injury, Demens led the Wolverines with 11 tackles. He now has a team-high 66.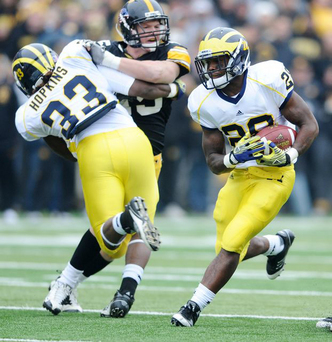 Melanie Maxwell | AnnArbor.com
Hopkins buying in at fullback
Stephen Hopkins competed for the Wolverines starting tailback spot during much of fall camp.
But as the season's progressed, the 6-foot, 228-pound sophomore appears to have found a home as a lead-blocking fullback.
"He's a good lead blocker with tailback-type skills," offensive coordinator Al Borges said. "He's got toughness, can catch the ball and we have to get him more involved with that in the game, too.
"He was one of the guys that played better than a lot of the other kids."
Coach Brady Hoke said last week Hopkins, who originally started playing at fullback when regular John McColgan was injured, has usurped McColgan as the starter there.
Borges said a big part of making the switch from running back to fullback is mental. Once the player accepts his new role, he's better for it in the end.
"So much of it is a buy-in," Borges said. "I've converted I don't know how many kids from tailback to fullback, and the ones that did well, generally became next-level players.
"But they had to be convinced that's what they were."
Borges said Hopkins is reaching that point.

Deuce formation limited

Michigan's limited use of the "deuce formation" plays against Iowa was due to its slow start, Borges said.
The formation, which features starting quarterback Denard Robinson at another position and backup Devin Gardner under center, never really had an impact in part because the Hawkeyes sniffed it out, and also because Michigan never really had a chance to get into a flow offensively.
"We had two three-and-outs right away, so we didn't get into the flow of the package," Borges said. "And not every play is going to work out of that package. Plays build off other plays and other plays and they change week to week.
"We never really got into the second part of that package, we just tapped into it a little bit."

Mattison echoes Hoke on decision to start Woolfolk

Hoke said Monday senior Troy Woolfolk started at safety over sophomore Thomas Gordon because Woolfolk had a better week of practice.
On Tuesday, Mattison agreed.
"(Gordon) and Troy are in a battle for who is going to be (the starter) at that safety (spot) and Troy had a better week of practice," Mattison said. "That's the way it'll always be at Michigan. The guys who have the best week of practice are going to play.
"As the game went on, (Woolfolk) wasn't hurt or tired, so (we) kept going with what we had out there."

Desmond Morgan's ups and downs

On the sidelines, Mattison wasn't too pleased with how freshman linebacker Desmond Morgan played Saturday.
But the film, as it often does, provided Michigan's defensive coordinator with a different view of things.
"There was a point in the game where we thought Desmond wasn't playing the way he should be and we put (Brandin Hawthorne) in for four plays," Mattison said. "But when you look back on the tape, he made one play where you really counted on him and he missed it.
"So, you say he's not playing good. But then you look (at everything else), he was playing pretty good."
Mattison said it's important for the staff to remember Morgan still is just a freshman, and growing pains will be expected.
But growing pains or not, he's one of Michigan's better linebackers, and Mattison showed no indication of lessening his playing time.
"He's got a long way to go, but he's taking huge steps to get there," Mattison said. "I'm real excited about him."
AnnArbor.com's Nick Baumgardner contributed to this story.
Kyle Meinke covers Michigan football for AnnArbor.com. He can be reached at 734-623-2588, by email at kylemeinke@annarbor.com and followed on Twitter @kmeinke.