Posted on
Thu, Sep 16, 2010 : 4:08 p.m.
Minuteman goes from U-M fan to opponent, Notre Dame concerned with MSU run game and more links
By Rich Rezler
Remember last week, when the Big Ten was in the national spotlight with big-time games like Ohio State vs. Miami, Fla., Penn State vs. Alabama and Michigan vs. Notre Dame?
Well, this week, Big Ten fans might want to sleep in or finally get around to cleaning up the garage.
Things get significantly better once the sun sets, but games being played in natural light are lackluster, to say the least.
But, "any given Saturday … " and such and such. Right? James Madison. Appalachian State. You get the point.
Since our readers nailed last week's poll - 67% of the 797 responses correctly predicted that Michigan and Ohio State would win their aforementioned games - let's try another one. Which Big Ten team is most likely to be upset (or pull an upset, in Minnesota's case) on Saturday?
(Please note: In the poll below, the Western Kentucky opponent should be Indiana. Fixing the error in the poll generator would reset the vote total.)
Two night games highlight the Big Ten schedule this week with Notre Dame traveling to Michigan State for an 8 p.m. kickoff and No. 9 Iowa playing a 10:35 p.m. game at No. 24 Arizona.
More on those two games is coming up as we launch our weekly feature that scours the Internet for news regarding Michigan's upcoming opponents:
UMass
"Scott Duggan became a fan of Michigan football for the same reasons lots of little kids pick a team to root for -- his dad was a fan and he liked the helmets.
"But for the first time in his life, Duggan will be rooting against his beloved Wolverines, as the senior fullback for the University of Massachusetts will line up against them Saturday."
That's the opening of Matt Vautour's story on the Daily Hampshire Gazette website today. He writes that Duggan, a senior fullback for the Minutemen, has buried his Michigan-branded clothes in his closet until after Saturday's game … and talks to other UMass players about playing in front of 109,901 people at Michigan Stadium.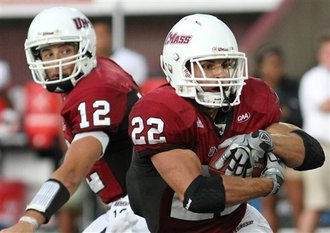 Associated Press file photo
Previewing the game against Michigan and sophomore sensation Denard Robinson, Vatour takes a look back at
how the Minutemen have fared against future NFL quarterbacks
over the years. Byron Leftwich (2001), Philip Rivers (2002) and Matt Ryan (2007) combined 64 of 103 passing for 762 yards.
And, finally, with special thanks to a reader who pointed out Vatour's fine coverage of UMass (the Daily Hampshire Gazette needs to work on its search engine optimization!), you can check out his full preview here.
Elsewhere around the Web:
• Jim Kinney, a Penn State graduate covering sports in New England, welcomes UMass fans to big-time college football.
• Former walk-on Tyler Holmes has emerged as a defensive leader for the Minutemen.
• Of course I have to point you to our own UMass feature story, which was posted yesterday. Mike Rothstein reports that the Minutemen hope to follow in the footsteps of James Madison, an FCS team that upset a ranked FBS team last week.
• Get to know the Minutemen's top players via the official athletic department website's statistics. Tailbacks Jonathan Hernandez (40 carries, 205 yards) and John Griffin (39 carries, 159 yards) have been sharing the rushing load while quarterback Kyle Havens has completed 64.5 percent of his passes and averaged 258 yards in the first two games.
• The UMass Daily Collegian says coach Kevin Morris has been getting what he expected from the running tandem while focusing on being a balanced attack. "They are two quality backs," he said. "We're going to put the load on them and expect them to produce."
• Can't wait until Saturday to get the remedy for your Minutemen Fever? The school's marching band will perform at 9 p.m. Friday at the Howell High School football stadium. The Livingston Daily Press & Argus says Howell City Manager Shea Charles once played mellophone in the UMass band.
Bowling Green
After an 0-2 start, Falcons coach Dave Clawson has started moving some bodies around. The Toledo Blade reports that sophomore Jordan Roussos, a contributor on the defensive line in the first two games, has moved to the offensive line.
One bright spot for Bowling Green has been the play of junior wide receiver Kamar Jorden, who caught 14 passes for 168 yards at Tulsa last weekend. He also had a pair of touchdown receptions - covering a combined 124 yards - called nullified by penalty.
Indiana
After a bye last weekend, Indiana hits the road for what should be essentially another bye week. So writes Randy Beard of the Evansville Courier & Press:
"The Hoosiers are traveling to Western Kentucky on Saturday and if the Hilltoppers offer the Hoosiers much of a challenge, it will be clear that (coach Bill) Lynch's rebuilding effort isn't as far along as he'd like to believe. Coming off an 0-12 season a year ago, WKU is 0-2 this season, having been routed 49-10 by Nebraska and 63-28 by Kentucky.
One good thing about the bye week was that Tanden Doss, the Hoosier's returning All-Big Ten receiver, has fully recovered from a groin injury that kept him out of a season-opening win over Towson and will play against the Hilltoppers.
Michigan State
Spartan tailback Edwin Baker watched Denard Robinson shred the Notre Dame defense for 258 rushing yards last week and thinks it translates to giving his team a good chance to establish the run on Saturday.
And Irish coach Brian Kelly has taken note of MSU's rushers, Greg Johnson of the Grand Rapids Press writes today. It only gets better, he notes, when last year's leading rusher, Larry Caper, returns this weekend from a hand injury that kept him out of the first two games.
(Johnson also has a video preview of the game on MLive.com.)
While MLive looks at the Michigan State running game vs. Notre Dame defense angle, the Lansing State Journal turns the tables. Denny Schwarze writes that if MSU is to win, the Spartans will need a solid game from their secondary.
Iowa
Arizona was still tinkering with its new multiple-spread offense last September when they lost 27-17 at Iowa. Andrew Logue at the DesMoines Register thinks the Hawkeyes will encounter a much better team Saturday. One that has averaged 503.5 yards and 46.5 points this season.
Logue takes a closer look at Arizona's three primary playmakers: tailback Nic Grigsby, quarterback Nick Foles and wide receiver Juron Criner (receiver).
Pat Harty of the Iowa City Press-Citizen says no matter what happens out in the dessert, the Arizona game won't define Iowa's 2010 season.
Penn State
ESPN.com's Adam Rittenberg wrote that Penn State needs to get All-Big Ten running back Evan Royster going if the Nittany Lions are to be successful this season. And - don't laugh, he says - Kent State will be a good test. Kent State leads the nation in rushing defense, allowing 11 yards per game.
The Times-Leader's Derek Lavarse writes that Penn State's Joe Paterno isn't concerned about Royster's struggles.
Illinois
Herb Gould of the Chicago Sun-Times says Illinois offensive coordinator Paul Petrino "has breathed some life into an offense that had more than its share of question marks after losing star receiver Arrelious Benn and trading in four-year starter Juice Williams for redshirt freshman Nathan Scheelhaase at quarterback."
To help prepare himself to become a head coach, Gould reports, Petrino needed to step out of the shadow of his brother, Arkansas head coach Bobby Petrino. Paul Petrino left the No. 12-ranked Razorbacks for Champaign this season.
Purdue
The Boilermakers lost their top playmaker, fifth-year senior receiver Keith Smith, for the season with torn ligaments in his knee. Smith had 18 receptions in two games, including 12 against Notre Dame.
The Indianapolis Star reports that Smith will remain a team captain and has said "you have to look at all the positive aspects of (the injury). Now, I need to be the leader of my team and get them set for the right path."
Ball State coach Stan Parrish, a former U-M assistant, is keeping Purdue's defense guessing by not naming a starting quarterback for Saturday's game.
Wisconsin
Speaking of injured big-name receivers, Badgers' junior Nick Toon is likely to miss his second straight game with a turf toe injury.
While Toon is out, starting linebacker Chris Borland is back for a Badger defense that expects to spend most of the day in its Badger package (3-3-5) against Arizona State's Steven Threet-led no huddle, spread offense. Yes, that Steven Threet.
Ohio State
Ohio State vs. Ohio U. No Sweat, right? Quite literally, reports the Columbus Dispatch. Coach Jim Tressel said the only player likely to miss the game because of injury is outside linebacker Andrew Sweat.
For Ohio quarterback Boo Jackson, a trip to The Horseshoe is a return to the place where he was thrown into the fire for the Bobcats. He took over during the third possession of a 26-14 OSU win in 2008 when starter Theo Scott was injured.
As reported in the Dispatch, Bobcat receiver LaVon Brazill laughs when he recalls Jackson's expression in the huddle.
"You should have seen yourself, the look in your eyes," Brazill said to Jackson. "Oh, yeah, he was scared."