Posted on
Mon, Feb 27, 2012 : 5:59 a.m.
MSU's Jerel Worthy says 'times are changing' in Michigan rivalry; Ohio State players comment on U-M loss
By Kyle Meinke
INDIANAPOLIS -- Jerel Worthy spearheaded a nasty Michigan State defensive line last year -- one that chewed up Michigan's high-powered offense.
Four months later, he's still basking in the Spartans' four-game winning streak against Michigan. He was around for three of those games before electing to turn pro following his junior season.
"We were able to do a lot of great things," Worthy said Sunday at the NFL Scouting Combine. "We were very successful against Michigan, and I'm one of the few Spartans that can say that.
"It means that the times are changing in the state of Michigan. It means Coach (Mark) Dantonio is committed to (turning) an attitude into a system we didn't really have when I got there."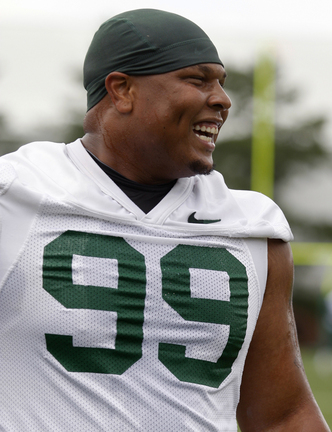 Grand Rapids Press
Michigan State had lost six in a row to the Wolverines before going on its four-game winning streak, capped by a bruising 28-14 victory in East Lansing last season.
After the game, Wolverines safety Jordan Kovacs said Michigan State "beat us up." It was his team's first loss of the season, and it was characterized by rough play on both sides. One player, MSU's William Gholston, was later suspended for throwing a punch.
Worthy said after the game both teams played "dirty." Sunday, he did not back down from that.
Asked what he took away from the violent nature of the game, Worthy said "that it's a rivalry, and that guys (are) going to go out there and do the best that they can, and go out there and fight to the end."
Michigan State loses Worthy, as well as quarterback Kirk Cousins and several other notable starters, from last year's team. However, Worthy thinks the Spartans will extend their streak to five games when the teams play Oct. 20 in Ann Arbor.
The Wolverines have never lost five consecutive games in the series.
"Michigan State don't need me to beat Michigan," Worthy said. "We have a great defense that is coming back, minus me and Trent (Robinson).
"Best believe, Michigan, we got the clock up."

Ohio State players comment on rivalry

Michigan concluded its regular season with a win against Ohio State, punctuating a great year with a memorable win. For the Buckeyes, it was much the opposite.
They went 6-7 last season with an interim coach (Luke Fickell) and the specter of NCAA sanctions looming after a memorabilia-for-gifts scandal ensnared their head coach and several players.
Top wideout DeVier Posey was among them. He played in only three games last year, one of which was the Wolverines' 40-34 victory over the Buckeyes. It still stings.
"It just capped off a bad year. No one wants to lose to Michigan," he said with a note of bitterness at the combine. "It happened, but I'll take our record versus Michigan, our senior class versus their senior class.
"1-3 versus 3-1? I'll take that."
Michigan snapped a six-game losing streak to the rival Buckeyes with the win, and went on to beat Virginia Tech in the Sugar Bowl.
The Buckeyes lost to Florida in the Gator Bowl to secure their first losing season since 1988.
"It was tough," Ohio State offensive lineman Mike Brewster said. "(The seniors) beat them three times in a row, and we wanted to keep it going. It was one of those games where it sucks we lost, but we left every ounce out on the field.
"I came away from it at least knowing I played my ass off, and I guess that's all you can do. Still hurts, though. I mean, it's Michigan."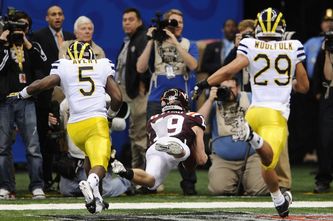 Melanie Maxwell | AnnArbor.com
Sugar still tastes bittersweet
Virginia Tech receiver Danny Coale said the oddest question he faced at the combine came from a scout wondering whether he played in the Sugar Bowl against Michigan.
Coale probably wishes the answer were no.
The wideout caught a touchdown pass along the left sideline in overtime of the game, but the play was ruled incomplete after a review. On Michigan's possession, Brendan Gibbons kicked a 37-yard field goal (while thinking about brunettes, which is always key) to give the Wolverines the win.
Thrilling for Michigan. Heartbreaking for Coale.
"I do wish more than anything we could have won," he said. "We let some opportunities slip away, and I would like to think we were the better team, but we didn't play like we were the better team."
Coale said there is one, small piece of silver lining in the loss.
"Something unique happened: I started getting a lot of fan mail from Virginia Tech fans, which was really nice," he said. "It was a really great way to end it, and it just made me realize that there are way too many good experience I have to let that other one outweigh it."
Kyle Meinke covers Michigan football for AnnArbor.com. He can be reached at 734-623-2588, by email at kylemeinke@annarbor.com and followed on Twitter @kmeinke.