Posted on
Wed, Sep 15, 2010 : 5 p.m.
Patience, flexibility pay off as Michigan cornerback James Rogers gets his turn as a starter
By Jeff Arnold
James Rogers is willing to contribute to the Michigan football team in any way. When the Wolverines were short on receivers after Rich Rodriguez installed the spread offense, Rogers made the jump from cornerback to provide another playmaking option.
If Michigan's special teams needs required a fill-in kick returner or if an injury created an opening in the defensive backfield, Rogers made himself available.
Regardless of his role, playing time came sparingly. But Michigan's resident utility man remained patient.
"I was always in the game and anytime anything happened, I would look out at the field and I'd be like, 'OK, when my chance comes, I know I've got to make the best of it," Rogers said this week.
Although Rogers appeared in all 12 games last season, he played mostly on special teams, making seven tackles. He switched from receiver to cornerback for one game, making one stop against Delaware State before being relegated to special teams.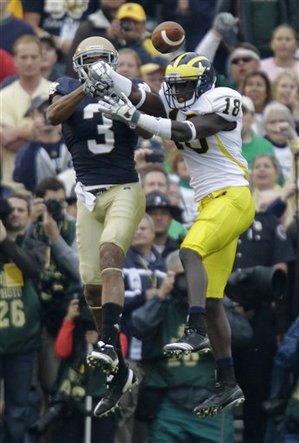 Associated Press photo
But when
Troy Woolfolk
suffered a season-ending leg in practice last month, further depleting an already paper-thin secondary, Rogers again entered the picture. Although the circumstances surrounding the chance were far from ideal, Rogers knew this is what he had been waiting for.
"I just had to take it to my advantage," Rogers said.
After making his first career start against Connecticut, Rogers drew a tougher assignment last week against Notre Dame. Rogers faced the challenge of trying to slow Irish receiver Michael Floyd, who isn't just one of the nation's top pass-catchers, but a perennial big-play threat.
In the days leading up to Michigan's 28-24 win, pundits suggested Notre Dame could use Floyd and tight end Kyle Rudolph to expose Michigan's young secondary, forcing Rogers to step up his game.
Rogers helped limit Floyd 66 receiving yards on five catches, the biggest of which covered 17 yards. Rogers had two tackles and a pass break-up, enhancing the comfort level he has as Michigan's starting cornerback.
"I'm sure everyone had their questions like they do about any athlete who is getting their first time on the field," Rogers said. "But hopefully, I get some more competition like that week in, week out so I keep building my resume'."
After stepping into a starting role, Rogers has gained the trust of his coaches and teammates.
"He just had to put it all together," fellow cornerback J.T. Floyd said. "He's always had work ethic, he's always had good knowledge of the game and he's just had to gain some experience."
Rodriguez said this week the next step is for Rogers to build on the consistency he's shown against Connecticut and Notre Dame. Rogers realizes he remains a bit unproven.
"There's always been the weight on my shoulders, so when Troy went down, I knew as a senior I had to step up my abilities as a senior and make sure the younger players were ready to play," Rogers said. "But we just have to be relentless, and if something bad happens, we have to shake it off and keep going to play."
Jeff Arnold covers sports for AnnArbor.com and can be reached at (734) 623-2554 or by e-mail at jeffarnold@annarbor.com. Follow him on Twitter @jeffreyparnold.