Posted on
Thu, Nov 4, 2010 : 8:33 p.m.
A comprehensive guide to today's NCAA report and previous investigation coverage
By Rich Rezler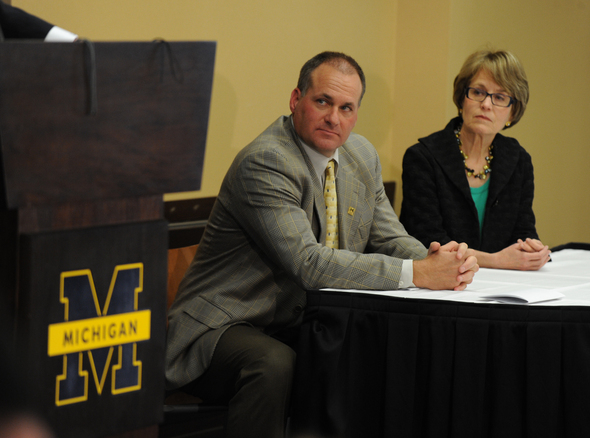 Lon Horwedel | AnnArbor.com
A 14-month long investigation into the Michigan football program ended Thursday when the NCAA released its final report.
In the end, the NCAA added another year of probation onto Michigan's own set of self-imposed sanctions.
"There were no surprises and there will be no appeal, because there is nothing to appeal," said athletics director Dave Brandon. "Effective today, this process is over and done and we can focus all of our time and energy on the future."
AnnArbor.com staff members filed the following reports from today's NCAA teleconference and Michigan's ensuing press conference:
• In our main news story, David Jesse reports: Dave Brandon on end of NCAA investigation: 'We admitted our mistakes and are moving forward'
• Michigan football beat writer Pete Bigelow adds: NCAA says Rich Rodriguez guilty of major rules violation, 'but not as egregious as originally alleged'
• Mike Rothstein names the winners and losers in the NCAA investigation
• Staff photographer Melanie Maxwell put together a video report from the Michigan press conference
• News reporter Kyle Feldscher hit the streets to get reaction from Michigan football fans, who say they're relieved and looking forward (with video)
• Rothstein hosted a live chat during the teleconference and press conference. That transcript can be found here.
• And, we offered the following reader poll:
PREVIOUS COVERAGE AnnArbor.com has been covering the investigation since potential violations were raised in an August 2009 Detroit Free Press report, through an NCAA Committee on Infractions meeting in Seattle nearly a year later. Here is a chronological look back at those stories:
Allegations Released • 8/30/09: Michigan investigating allegations of excessive practice time in its football program • 8/30/09: Chad Henne: Players complaining about Michigan football team's off-season program 'don't want to be the best' • 8/31/09: Rich Rodriguez defends University of Michigan's practices against NCAA violation allegations • 8/31/09: Michigan football coach Rich Rodriguez emotional at press conference • 8/31/09: Bill Martin: Michigan may hire an outside firm to assist in investigation • 8/31/09: Video of Rich Rodriguez: 'We know the rules; we go by the rules' • 8/31/09: Opinion: Rich Rodriguez takes criticism personally, and it showed on Monday
NCAA Investigation of Allegations • 9/2/09: Former chair of NCAA infractions committee to assist in Michigan football investigation; player interviews have begun • 9/4/09: A Michigan football parent speaks out against alleged rules violations • 10/26/09: Michigan receives notice of inquiry from NCAA about practice violations • 10/27/09: Rich Rodriguez on NCAA investigation: 'We'll see where it takes us'
Internal Audit Released • 11/16/09: Michigan football team didn't file practice logs, internal audit says • 11/18/09: Mary Sue Coleman standing behind Rich Rodriguez, coach's agent says • 11/18/09: Rich Rodriguez: 'I know what happened' with absent practice logs • 11/19/09: Michigan President Mary Sue Coleman, regents mum on NCAA investigation
Michigan Briefing • 2/23/10: NCAA: Michigan football coach Rich Rodriguez didn't do enough to monitor staff • 2/23/10: Michigan football program faces 5 NCAA violations, university has 90 days to respond • 2/23/10: Quality-control coaches at the center of NCAA allegations against Michigan football • 2/23/10: A look at the key figures in the NCAA Notice of Allegations sent to Michigan • 2/23/10: Opinion: Concerns about Rich Rodriguez and Michigan's football program shouldn't be brushed aside
Ongoing Coverage • 3/14/10: At stake for Michigan football program in NCAA case: practice time, probation • 3/14/10: Michigan faces 'formally informal' hearing with potentially grave consequences • 3/14/10: Michigan likely to lose practice time; some don't think that's a big deal • 3/14/10: Questions and answers: Where do things stand for the Michigan football program? • 3/16/10: Accused graduate assistant Alex Herron no longer part of Michigan football program • 4/27/10: Michigan athletic director Dave Brandon says the university is on schedule for its response to the NCAA
Self-Imposed Sanctions/Response to Allegations • 5/17/10: Michigan to announce self-imposed sanctions against football team, will announce specifics next week • 5/24/10: Michigan to self-impose penalties today, probation, loss of practice time expected • 5/24/10: Michigan coach Rich Rodriguez: 'Everything's going to be OK' • 5/25/10: Michigan admits to violations, self-imposes probation, practice restrictions • 5/25/10: Michigan coach Rich Rodriguez's response: Lots of blame to go around • 5/25/10: A list of minor violations reported by Michigan's football program since 2005 • 5/25/10: Michigan revamps compliance policies following investigation • 5/25/10: Analysis: Michigan relieved for now, but NCAA investigation isn't over yet • 5/26/10: Experts say Michigan faces uphill battle in fighting NCAA charge against Rich Rodriguez • 5/26/10: Quick response to NCAA should help Michigan limit damage done to reputation • 5/27/10: Michigan football investigation could lead to more changes by NCAA
Ongoing Coverage • 6/13/10: Opinion: Michigan's apology a rarity in college sports these days • 7/4/10: NCAA investigation: Michigan has spent a half million dollars and counting • 8/5/10: NCAA accuses Michigan football coach Rich Rodriguez of violations at West Virginia • 8/6/10: NCAA attorney: Avoiding show-cause order a must for Michigan, Rodriguez • 8/8/10: Michigan compliance staff frequently pushed football program - but not Rich Rodriguez - for practice-hours forms • 8/8/10: Coaches, compliance office staff say good relationship necessary to adhere to NCAA rules
Hearing in Seattle • 8/14/10: Dave Brandon: Michigan had 'a fair and thorough hearing' with the NCAA Committee on Infractions • 8/14/10: Michigan athletic director Dave Brandon issues statement after meeting with NCAA committee • 8/14/10: Michigan's hearing with the NCAA Committee on Infractions under way 8/12/10: Michigan officials and football coach Rich Rodriguez head to Seattle to defend the program