Posted on
Tue, Jan 18, 2011 : 2:30 p.m.
Donated items from ex-Michigan football coach Rich Rodriguez raise $16,200 for the Salvation Army
By Jeff Arnold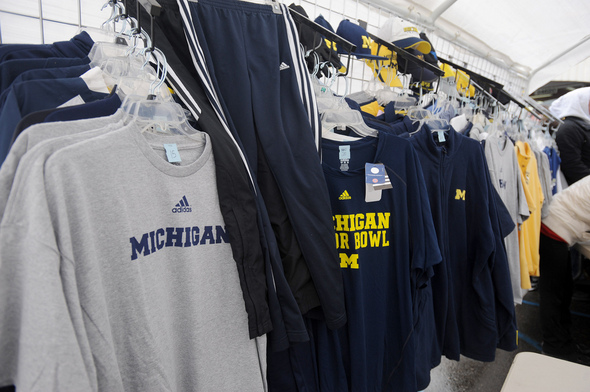 Angela J. Cesere | AnnArbor.com
The average bag of clothing donated to The Salvation Army brings in about $30.
So after former Michigan football coach Rich Rodriguez donated a dozen bags of shirts, shorts, jackets and other maize and blue-themed memorabilia from his closet last week, Salvation Army officials knew they weren't dealing with an ordinary donation.
Three days later, Maj. John Aren is trying to wrap his arms around the auction and sale of 432 items that brought in $16,200. That money will help fund an adult rehabilitation center in Romulus.
"In the Salvation Army, we have a saying: Doing the most good," Aren, the Salvation Army administrator for southeast Michigan, said on Tuesday. "And I think what Coach Rodriguez did - taking a pressure situation like that and making a most generous donation like he did - was the perfect way of doing the best he could."
Rodriguez, who was fired Jan. 5 after three seasons at Michigan, personally delivered the items to the Salvation Army Thrift Store in Wayne. On average, Aren said, the store - the smallest of the Salvation Army's fleet of seven stores in Western Wayne County - brings in about $1,200 on a given Saturday.
The store has struggled for about 20 years, making it the perfect recipient for Rodriguez's donation. The sale of the Michigan clothing represents about half of the thrift store's monthly budget.
Saturday's two-hour auction drew more than 300 bidders, who ended up spending $12,930 on 161 items. The remaining 300 items were put on racks after the auction ended, bringing in more than $3,200 in less than 15 minutes.
By the time all of the items - including 23 pairs of shorts, 23 pairs of pants, 139 T-shirts, 15 long-sleeved pullovers, 30 windbreakers, 31 buttoned down shirts, six jackets, seven new shirts, two tank tops, 26 baseball caps, six hats as well as other items - had been sold, the average price per bag rose to $1,350.
Those who participated in the auction were shocked by the size of the donation as well. While many came to purchase Michigan clothing, others felt sorry for the man who donated it.
"I think it was unfortunate that the transition from (former coach) Lloyd (Carr) to RichRod was never really embraced," Dearborn resident Bart Bernocco said. "I think if you look at the effort that alumni and previous coaches have already made in pretty much rolling out the red carpet for Brady Hoke, I guess the Michigan Man concept and having someone who has already been here before was really important."
Aren met with Rodriguez and his wife, Rita, after learning of the donation, characterizing their attitude as humbled.
"I think they just were just hoping that someone could be encouraged or helped by it, and he realized he had some nice stuff," Aren said. "I don't think either of us realized at that moment saw what was developing."
The Salvation Army Adult Rehabilitation Center in Romulus houses 100 people dealing with addiction issues for a six-month period. The center, which operates on a monthly budget of about $450,000, has a staff of about 180 workers.
The sale generated almost 500 news articles from around the country, bringing attention to the Salvation Army. Although many believed the organization should have put the items up for auction on eBay, opening it up nationally, Aren felt strongly that local communities should benefit.
"We wanted to bless those that the Rodriguezes had already blessed by making the donation," he said. "I don't know what his motivation was behind cleaning out his closet, but from our perspective, it was a most generous act considering what he was going through."
Jeff Arnold covers sports for AnnArbor.com and can be reached at (734) 623-2554 or by e-mail at jeffarnold@annarbor.com. Follow him on Twitter @jeffreyparnold.