Posted on
Tue, Oct 25, 2011 : 9:27 p.m.
Some Michigan football players say they'll read John U. Bacon's 'Three and Out'
By Nick Baumgardner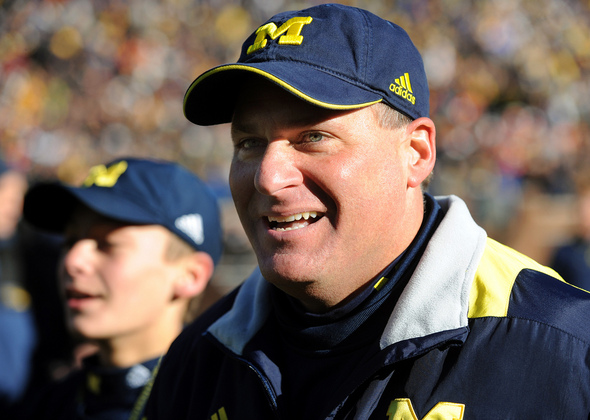 AnnArbor.com file photo
Die hard Michigan football fans were able to take their first look inside the Rich Rodriguez coaching era Tuesday with the release of John U. Bacon's book, "Three and Out."
As for the players themselves? They have other things on their minds, notably a homecoming game against Purdue on Saturday (noon, ESPN2).
But will they read Bacon's widely-talked-about peek inside Michigan's football program?
"I remember him coming in here and having all access and stuff, so I'll probably have to check it out," Michigan junior receiver Roy Roundtree said. "I'll probably read it, since I know I'll probably be in there."
Bacon, an Ann Arbor-based freelance writer, author, blogger and instructor, had virtually unrestricted access to the program during Rodriguez's three controversial seasons at Michigan.
He sat in on team meetings, film studies, practices and locker room situations.
While Roundtree said he intends to find himself a copy, Michigan junior defensive end Craig Roh indicated that Bacon's book was the furthest thing from his mind.
"I've just been concentrating on Purdue," Roh said.
Michigan fifth-year senior defensive lineman Will Heininger said he's already read "a few pages" of the book, and intends to finish it when he gets time.
Heininger said he has no issue with the book, and leafing through its pages won't bring back any bad memories he'd like to forget.
"I want to see what professor Bacon has to say," Heininger said. "It's interesting to read someone's account of a life you lived. So it'll be interesting to read it.
"(But) to pay too much attention to it, I don't have time for that right now. I'm more interested (in the book) as a human being."

Borges trying to forget failed 4th down at MSU

Michigan offensive coordinator Al Borges didn't spend too much time discussing the Wolverines' loss at Michigan State during media availability on Tuesday, but did offer some insight into the team's failed late fourth-and-inches play-action pass attempt.
"We didn't execute it. We don't design plays for the quarterback to get blindsided," said Borges, who met with the media for the first time since the 28-14 loss in East Lansing. "I'm trying to move on to Purdue, and that (play) I'm trying to forget."
Borges went on to compliment Michigan State's defensive effort, saying the Spartans were a big part of Michigan's issues.
"Defensively, they are the best team we've played so far," he said. "But some of the things we did were avoidable, let's put it that way. We made some errors and we could have done a better job.
"But Michigan State certainly has a formidable defense."

Mattison: More physicality needed defensively

Following the Michigan State loss, Michigan junior safety Jordan Kovacs said he felt the Spartan offense was simply more physical than the Wolverine defense.
"They pounded us, they beat us up," Kovacs remarked firmly.
Michigan defensive coordinator Greg Mattison wasn't as blunt with his assessment Tuesday, but didn't exactly disagree either.
"Football is a very, very tough game and in any game you're not successful at -- especially at Michigan -- it's maybe because you didn't play as physical as you should have," he said. "There's an attitude and there's a way you have to play here, with the teams we play, that you better be physical."
Mattison said the performance against MSU wasn't a wake-up call for his defense, because they aren't good enough to expect one yet.
"I hope they don't think that they've arrived, and I know that's not the case," he said. "It's more of a reinforcement that you have to do (certain) things, to be a successful defense.
"It doesn't matter if you're the greatest player in the world or if you're average, wherever you are in there, you've got to go through the proper techniques.

Slow starters no longer

Borges had fun with the media Tuesday when asked why Michigan has scored during its first possession over the last four weeks after starting sluggish during the season's opening three weeks.
"Everybody asked me earlier, 'How come you're such a slow starting offense?'" Borges said. "And remember what I told you? I told you, traditionally, offensively we've been a fast starting team when I've coordinated.
"For some reason we weren't, but now we're starting to get it a little more."
Borges said the better starts to games has to do with an improved comfort level within the system. He also added that he typically scripts 15 to 17 plays to begin each game.

Mattison high on Beyer, Clark

Michigan coach Brady Hoke said Monday that freshman linebacker Brennen Beyer and freshman defensive lineman Frank Clark could see more playing time moving forward.
On Tuesday, Mattison agreed.
"They've seen real flashes in practice," he said. "But that little mistake a coach jumps a guy (for) on the practice field could cost you a game (on Saturday). So you have to make sure that they're reliable.
"The guys that have played are going to play. ... But (redshirt freshman linebacker) Jake Ryan played 61 plays (against MSU). And I blame myself for that. Brennen was ready to get some reps, but we were getting three and outs and getting off the field. ... But if you can find a guy to go in for five plays to give a guy a break (it's good)."

Odds and ends

Mattison wouldn't say there's a position battle going on between freshman cornerback Blake Countess and senior cornerback Troy Woolfolk, instead calling it more an instance of Countess improving and earning more playing time. "You'd love to rotate guys a little more," Mattison said. "Blake has shown he can do some things, but he's got to continue to play at the level we want him to." ... Sticking with defensive backs, Mattison said Michigan's secondary has to be more physical against blocking wide receivers in order to shore up some of its perimeter defensive issues. "When a wide receiver tries to block you, that's an insult," he said. "You can't just shadow him, you have to go through him." ... Mattison said he's not concerned about defending two different Purdue quarterbacks on Saturday, explaining that both Caleb TerBush and Robert Marve are similar players that run the same offense.
Nick Baumgardner covers Michigan sports for AnnArbor.com. He can be reached at 734-623-2514, by email at nickbaumgardner@annarbor.com and followed on Twitter @nickbaumgardner.