Posted on
Mon, Sep 5, 2011 : 9:25 p.m.
Fitz Toussaint will retain starting tailback role against Notre Dame and more Michigan football notes
By Kyle Meinke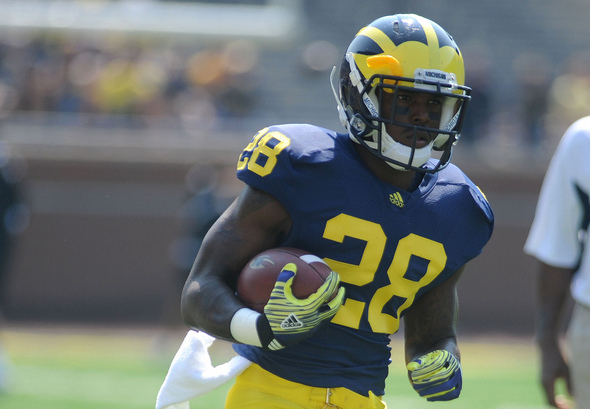 Angela J. Cesere | AnnArbor.com
Sophomore
Fitz Toussaint
, who was named
the
Michigan football
team's starting tailback just hours before its season opener, has retained that job for at least another week.
Coach Brady Hoke said Monday that Toussaint impressed him in the Wolverines' 34-10 win Saturday against Western Michigan, and that he would start next week against Notre Dame, despite senior Michael Shaw being listed as a co-starter on the depth chart.
Toussaint finished with 80 yards and two touchdowns on 11 carries. He was used as the lead back as well as in goal-line situations, and played well.
Shaw, the sophomore's primary backup, had four carries for 54 yards and one touchdown. Michigan finished with 190 total rushing yards against the Broncos, an average of 7.3 yards per carry.
"They both handled themselves pretty well," Hoke said. "Fitz, he tries to deliver on people, and Mike did, too, on one sideline. He has to keep his eyes up now that his head is down, but they're both physical at the point of attack."
Offense remains mystery

While Hoke learned a lot about his team against Western Michigan, many uncertainties remain, particularly on offense.
The Wolverines ran only 39 plays against the Broncos — one of which was quarterback Denard Robinson taking a knee to end the first half. That is a remarkably low number on account of a couple long possessions by the Broncos, two touchdowns by Michigan's defense and, of course, the severe weather that ended the game 16 minutes, 26 seconds early.
"Talking to Al and the offensive staff, there are some things we didn't get to in the offense that maybe we would like to have gotten to a little more," Hoke said. "We also saw some things that we wanted to get done, too."
Terminating the game prematurely also likely cost snaps for backup quarterback Devin Gardner. Michigan led 34-10 when the game was called, and was driving deep in Broncos territory.
Gardner, a sophomore who will try to earn a redshirt for last season, has taken only 17 career snaps.
Where Hoke's head(set) is at

Hoke, on being seen without a headset for stretches against the Broncos:
"It can vary. Game management, to talking to guys, coaching guys, teaching guys. … I usually have the headset on with the defense because that's where my expertise is, and I just listen basically to make sure I know what the calls are, so if I have to grab a guy or whatever. Offensively, I'll have it on situationally."
Ryan, Gordon to battle at linebacker

Redshirt freshman linebacker Jake Ryan started on the strong-side against Western Michigan after sophomore Cam Gordon was scratched due to a bad back.
Hoke said he expects Gordon, listed first on this week's depth chart, to play against Notre Dame. Will Ryan still see time upon Gordon's return?
"This is a weekly, everyday battle," Hoke said. "We'll see. How did he do? He did some good things, and then he needed to do a couple things better. It's like our whole team."
Odds and ends

Hoke said Notre Dame's quarterback battle does not affect the way he prepares for the Irish because they operate similarly in that offense. Senior Dayne Crist started the team's 23-20 loss to South Florida on Saturday, but sophomore Tommy Rees ended it and played much better. The Irish are expected to name a starter Tuesday.
Hoke said he does not like night games, although he has experience coaching in them and has a gameplan already developed for how to approach Notre Dame. He played in several night games at San Diego State the past two years, and Ball State before that.
Hoke said he will select an honorary senior captain for each game. Defensive tackle Ryan Van Bergen served the role Saturday, joining captains Mike Martin, Kevin Koger and David Molk at midfield for the pregame coin flip. Said Van Bergen: "It was a very big accomplishment for me, I guess, to be able to go out there with those guys. A lot of players told me they look up to me ... and I was just excited. It was a cool experience."
Kyle Meinke covers Michigan football for AnnArbor.com. He can be reached at 734-623-2588, by email at kylemeinke@annarbor.com and followed on Twitter @kmeinke.