Posted on
Sun, Aug 22, 2010 : 5:34 p.m.
Tate Forcier, Denard Robinson talk about Michigan football team's open competition at quarterback
By Pete Bigelow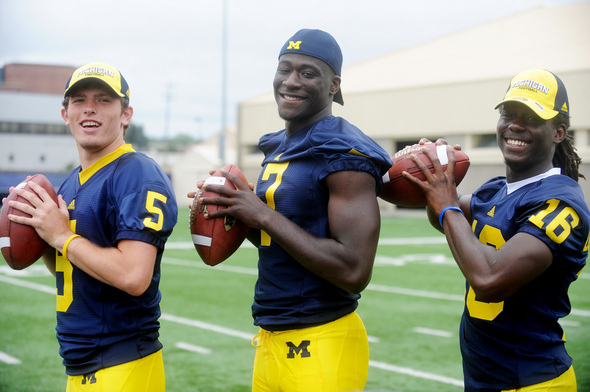 Melanie Maxwell | AnnArbor.com
Tate Forcier played it safe. Denard Robinson fast and loose. Not on the football field. The two candidates for the starting quarterback job on the Michigan football team talked on media day Sunday about their competition for the first time since the spring game. Robinson enjoyed the attention while Forcier, who endured a tumultuous off-season, stuck to safe answers.
Teammates had criticized his absences from off-season workouts, and coaches stripped his helmet of its wings at one point in the preseason. He said neither episode hurt his confidence. "It hasn't done anything," Forcier said. "A quarterback has confidence, and I think we could win with any of us at quarterback." No one asked Robinson about his confidence. He brimmed with it while standing on the practice field adjacent to Schembechler Hall. Asked if he worried that opponents might try to tackle him by grabbing the ponytail sprouting from the back of his helmet, he laughed. "They'd have to catch me first," he said. Asked what he would say if a fan asked him why the 2010 Wolverines will be better than the 5-7 team from a year ago, Robinson said, "I wouldn't say anything. Watch the games." Forcier kept his comments on the quarterback race generic - "All the quarterbacks are doing a great job, and we'll all keep pushing each other," he said - and did not want to talk about the 2009 season. Robinson was brutally honest when reflecting on his 2009 season, his contributions to the team's 5-7 record and his struggles throwing the football. "I was just always thinking run, just running around," he said. "I just rushed myself a lot. I rushed everything a lot. That's not good, not good. When you rush, you're not thinking like you're supposed to, and that really hurt me a lot." Forcier showed a lot of moxie as a true freshman starter in 2009, playing through injuries and leading Michigan to two comeback wins, while Robinson struggled throwing the football. Since then, their careers have veered in opposite directions. Robinson was a spring-game sensation and received praise from coaches while Forcier seemingly fumbled through the off-season. None of that discounts Forcier's performance as last year's starter, according to quarterback coach Rod Smith, when it comes to determining Michigan's 2010 starting quarterback. "I think everyone's marking Tate off and marking Denard in," Smith said. "We don't get into all that. It's an open competition, but obviously, Tate has experience in his corner. He's a 12-game starter, and that's tough to replace. It's a factor." For his part, Forcier seemed contrite about whatever went wrong this summer. He said a heavy focus on academics played a part in his absences from some off-season workouts, and said he took Troy Woolfolk's comments as constructive criticism. "Troy had a long, deep conversation with me, and pretty much said, 'Keep working. You need to keep working, and you need to show us you're our quarterback,'" Forcier said, addressing Woolfolk's comments for the first time. Addressing the wingless helmet he wore until this week, when coaches restored his wings, he said, "Something my dad always told me is that actions speak louder than words. I just stayed quiet, and did all the work, made sure everyone saw me doing the work. "I was the first one on the practice field and the last one off. Whatever it took. I got them back, and I'm happy." Whether any of that affects his changes of starting remains a question that likely won't be answered until Sept. 4 when the Wolverines open the season against UConn. If it's any telltale indication, the starting quarterback has traditionally received the most attention at media day in the past. At one point Sunday, 17 reporters surrounded Forcier. A few steps away at the same time, a media half-moon formed around Robinson. The group numbered 17. One more reason why this quarterback race appears too close to call.
Pete Bigelow covers Michigan football for AnnArbor.com. He can be reached at petebigelow@annarbor.com