Posted on
Wed, Nov 23, 2011 : 6:41 p.m.
Michigan football coaches say they won't talk about numbers ... then they talk about numbers
By Kyle Meinke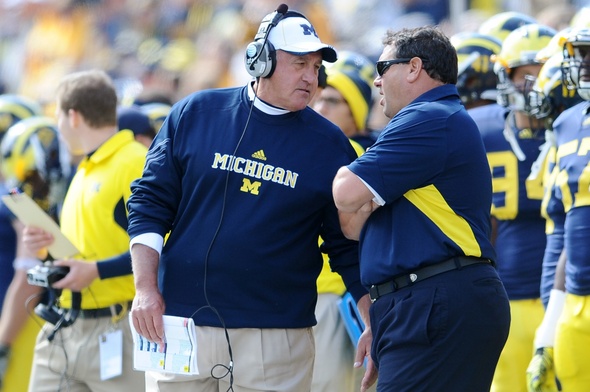 Melanie Maxwell | AnnArbor.com
For a group that claims to hate numbers, they sure do talk about them a lot.
The Michigan football team's marked improvement this year, encapsulated in its 9-2 record and favorable BCS position heading into Saturday's game against Ohio State (noon, ABC), can be quantified several ways. The coaching staff prefers to talk about heart, hustle and fundamentals.
But the numbers aren't so bad either.
Most impressively, the defense has climbed from 107th in scoring last year, allowing 35.2 points per game, to sixth this year at 15.6 points per game. That's nearly three fewer touchdowns allowed per game.
Ask defensive coordinator Greg Mattison about those numbers, though, and he'll repeat the line he's provided all season: Numbers don't matter, wins do.
"The only stat that matters is this next game," he said this week. "That's the only stat that matters."
Peeling back that coachspeak, though, Mattison went on to reveal the stats that do matter to him: Third-down defense and big plays.
"Probably the biggest factor is big plays," he said. "I've always said this: It's hard for teams to score if you make them go 80 yards. You start giving guys 50-yard chunks, now they get in there pretty quick."
The Wolverines allowed a 54-yard touchdown pass to Nebraska last week, becoming the second-to-last team in the country to allow a 50-yard play. Only Utah is left. That is very good work for a unit that allowed eight plays of 50 yards or more last year.
On third down, Michigan has been one of the country's finest teams. Opponents are converting at a 35.6-percent clip, which is 29th in the country. The remarkable thing, though, is that number shrinks to 28.6 percent in Big Ten play, when those numbers typically bloat as competition stiffens.
Those are stats even Mattison can appreciate.
Related story: Greg Mattison a candidate for Broyles Award, given to nation's best assistant coach
Meantime, coach Brady Hoke said he hates numbers — but then added he looks at opponent numbers ... a lot ... and especially for Ohio State.
"I always look at opponent numbers," he said. "We followed (Ohio State) so much, with like opponents, that it's been fun watching their defense and how hard they play. They play as a group. I think they will be, in my opinion, the stiffest test we've had."
On the other side of the ball, it's the same deal. Offensive coordinator Al Borges says he won't talk about numbers. Then he talked about them, especially in regards to the emergence of tailback Fitz Toussaint (891 yards rushing) to complement quarterback Denard Robinson (993).
Both have a shot at becoming 1,000-yard rushers this year.
"Again, numbers, I'm telling you: I try as much as I can, unlike earlier in my career, to not be so obsessed with," Borges said. "I mean, everybody wants Denard to run the ball every play, but we don't want Denard to run the ball every play. He's not going to make it through the season doing that.
"We're more balanced running with two guys able to run the ball and have those kinds of numbers, it just presents more of a threat to the defense."
Try as they might, this coaching staff knows the numbers.
They must like what they see.
Kyle Meinke covers Michigan football for AnnArbor.com. He can be reached at 734-623-2588, by email at kylemeinke@annarbor.com and followed on Twitter @kmeinke.