Posted on
Sat, Apr 14, 2012 : 3:24 p.m.
With Denard Robinson limited, defense shines in Michigan football spring game
By Nick Baumgardner
Denard Robinson didn't play much and Devin Gardner has seen better days.
In part because of that, and in part because of high-level improvement, the defense seemed to win the day Saturday as the Michigan football team wrapped up spring ball with its annual spring game at Michigan Stadium.
"They had their days, we had our days (this spring)," Michigan senior linebacker Kenny Demens said. "I feel like today was our day."
The day began with threats of inclement weather, but proved to be nothing more, as an estimated 25,000 people filed into Michigan Stadium to take in the game.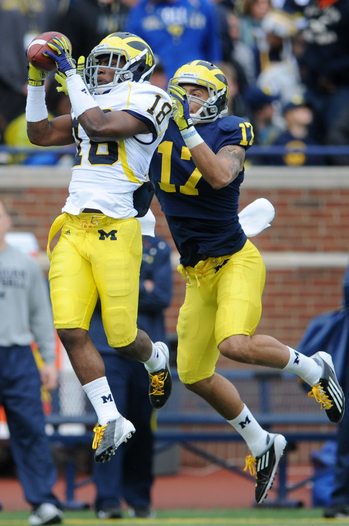 Melanie Maxwell | AnnArbor
Robinson, by design, was limited to just one series with the first-team offense, finishing 2-of-3 passing for 13 yards -- receiving just six of the team's 70 controlled-scrimmage snaps.
Receiving most of the snaps under (and behind) center Saturday were Gardner and redshirt freshman Russell Bellomy. Gardner finished 2-for-7 for 36 yards and an interception, unofficially, while Bellomy went 6-for-9 for 36 yards in exclusive action with the second unit.
"I think the body of work throughout the spring is what you (want to focus on)," Michigan coach Brady Hoke said. "It's always difficult once you get done with a practice or a scrimmage situation like we just had to say who was bad, who was right, who did wrong.
"We can all perceive what we want, but you've got to look at the tape."
During the first portion of the scrimmage, the first-string defense began to exert itself -- as the starting unit stonewalled Robinson's opening drive after just six plays, the final being a deflected pass by senior end Craig Roh.
Gardner got the next two series with the starters, and fared even worse.
After being sacked on his first snap of the day by converted defensive tackle Jibreel Black, Gardner was picked off by sophomore cornerback Blake Countess on his first pass of the afternoon.
On his next series, Gardner was forced to fight through a false start, eventually leading to an overthrow on third down to end another drive.
"Our approach was not to entertain today," said Michigan offensive coordinator Al Borges, who explained that Robinson's action was limited so the staff could get a better look at both Gardner and Bellomy. "Our approach was to find out more about our football team."
The second-team offense, meanwhile, found much more success early.
Led by Bellomy, the second unit marched down the field on its opening possession before sophomore running back Thomas Rawls rumbled over freshman safety Jarrod Wilson, one of three early enrollees that participated in spring camp, for a 21-yard touchdown.
Bellomy was sharp again on his next possession, finishing the first half 5-for-6 for 31 yards, eventually capping the series with a 43-yard field goal by sophomore kicker Matt Wile.
Gardner finally showed some signs of life during the second half of the scrimmage, hitting Jeremy Gallon on a 23-yard pass play to set the offense up in scoring position. But the defense won out again when Brendan Gibbons pushed a 25-yard field goal wide left to keep the first string scoreless.
The first unit finally got on the board in its final series of the day, as Rawls -- who finished with 39 yards on nine carries -- rumbled in from two yards out, but not before a near goal-line stand by the first-team defense.
"I don't know if we're way ahead (of where we were last year)," Michigan defensive coordinator Greg Mattison said. "We didn't call many defenses today, I think we only called maybe four defenses today because I wanted to see how they would play under the gun.
"I think this group wants to be really good. ... (But) we make more gains at Michigan in the summer with what they do with technique than a lot (of other) programs (do)."
With the 15-day spring period now over, the Wolverines will be tasked with improving individually over the next four months. Coaches are prohibited from working with the group until fall camp opens in early August.
Overall, there were some positives, some negatives and some in-betweens.
And there's still plenty to work on before the Wolverines open up the 2012 season against defending national champion Alabama on Sept. 1 in Arlington, Texas.
"It is critical that they're accountable in every action," Hoke said of his team's summer. "From social issues to the academic issues and the competition issues that you need to have as a football team."
The game raised $161,080 in donations to C.S. Mott Children's Hospital. That total will be matched by the Beam family of Brighton.
Nick Baumgardner covers Michigan sports for AnnArbor.com. He can be reached at 734-623-2514, by email at nickbaumgardner@annarbor.com and followed on Twitter @nickbaumgardner.