Posted on
Sat, Oct 20, 2012 : 5:30 a.m.
No. 23 Michigan vs. Michigan State: A comprehensive guide to our coverage
By Pete Cunningham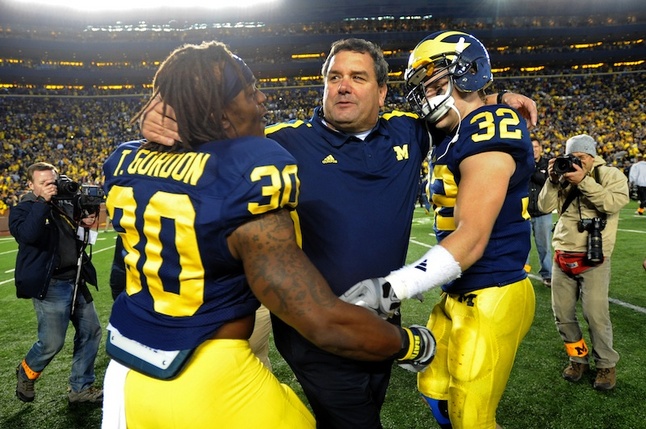 Melanie Maxwell | AnnArbor.com
GAME STORY:
Brendan Gibbons plays hero again, boots game-winning field goal to end Michigan's misery against Michigan State
GRADE THE WOLVERINES: Your chance to rate Michigan's performance against Michigan State
INSTANT ANALYSIS: Michigan football beat writer Kyle Meinke passes out player grades after the Michigan win
LIVE COVERAGE: Check out Nick Baumgardner's live blog on the Michigan football homepage throughout the game. Also, for instant updates and analysis follow Nick Baumgardner (@nickbaumgardner) and Kyle Meinke (@kmeinke) on Twitter.
WHO: Michigan State (4-3, 1-2 Big Ten) at No. 23 Michigan (4-2, 2-0 Big Ten).
WHERE: Ann Arbor.
WHEN: 3:30 p.m.
ODDS: Michigan is favored by 9.5 points according to sportsbook.com.
SERIES RECORD: Michigan leads 67-32-5.
LAST MEETING: Saturday, October 15, 2011. Michigan State beat Michigan 28-14 in East Lansing.
WEATHER: Mostly cloudy with a 30-percent chance of rain. Winds blowing from the West at 10-15 m.p.h. Game-time temperature: Around 50.
BROADCAST INFORMATION: TV: Big Ten Network; Radio: Michigan Sports Network (local affiliates).
MICHIGAN STATE: Roster | Schedule
AnnArbor.com coverage: The intra-state rivalry to top all intra-state rivalries in Michigan is upon us. No, Grand Valley State is not taking on Saginaw Valley State, it's Michigan vs. Michigan State. All the smack has been talked, all the articles have been written. Now it's time to finally play the game. Just incase you missed anything during the week, though, here's everything you need to know in one easy to read package:
5 keys to victory: Surprise! Michigan must run the ball against MSU (with prediction)
The winner on the ground is most often the winner on scoreboard when it comes to the Michigan-Michigan State rivalry. Michigan features a quarterback who is at his best when running the ball and the Spartans are at their best when their beast of a running back is eating up yards. So who does Michigan football writer Kyle Meinke think will have the edge on the ground, and therefore win the game?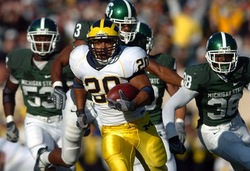 Choice cuts: 5 of the best sound bites from Michigan-Michigan State smack talk history
What is a rivalry if not an opportunity to talk a little smack? There have been some great sound bites to come out of the Michigan-Michigan State rivalry. Everybody knows Mie Hart made the famous "little brother" comment, but do you remember who said "like taking candy from a baby" or "that's criminal" and when they said it?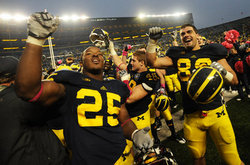 Michigan prepping for a 'figurative fist fight' in physical tilt vs. Michigan State
There's no love lost between the Michigan and Michigan State players when they square up on Saturdays. Many have said it's the most physical game of the year and offensive coordinator Al Borges said the team needs to ready for a fist fight of a game.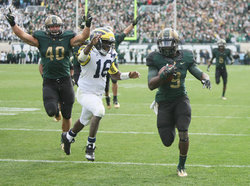 Michigan 'Ask Kyle' questions answered: Can Denard Robinson throw accurately against MSU's defense?
Can Denard Robinson handle it when teams stack the box against the run? Will Michigan State's defense shut down the Michigan offense on Saturday? Which William Gholston will show up on Saturday? These questions answered and more in the weekly mailbag.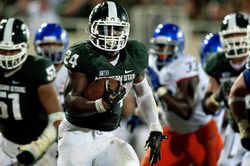 Michigan determined to not let Michigan State run wild again
Le'Veon Bell has been a one man wrecking crew for the Michigan State offense all year and MIchigan's run defense against the Spartans hasn't been the most stellar in recent years. How will both look on Saturday?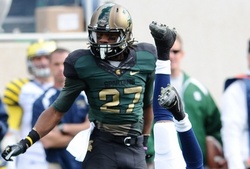 Michigan understands agony of defeat against Michigan State
Not a single player on the Michigan football team's roster knows what it's like to hold the Paul Bunyan Trophy. Actually check that, when the fifth year seniors were freshman they may have had the opportunity touch it before handing it over to the Spartans. It's fair to say Michigan's players know the agony of defeat when it comes to the rivalry.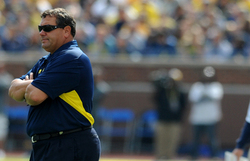 Michigan's Brady Hoke: 'We obviously have not done our part in the (Michigan State) rivalry'
There are two sides to every story. At least that's the way it's supposed to work. But in the case of the Michigan vs. Michigan State football rivalry of late, it has been a very one-sided affair and Michigan coach Brady Hoke thinks his team needs to start pulling its weight.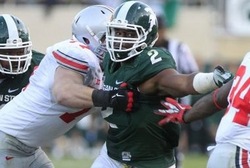 Michigan State's William Gholston can hardly contain himself when it comes to rival Michigan
William Gholston was public enemy No. 1 among Michigan fans last year after what many saw as dirty play against the Wolverines. Forgive Gholston if he pays you no attention. Gholston loves playing against the Wolverines, but says he's not focused on the negativity in the rivalry.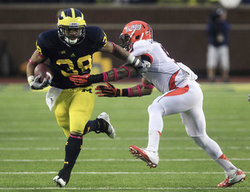 Al Borges: Thomas Rawls has 'earned a right' to play more, including in short yardage
Fitz Toussaint hasn't been producing on the level he was last year when he emerged as Michigan's premier running back and in spot duty Thomas Rawls has been impressive. The combined factors may lead to Michigan fans seeing a lot more of Rawls in the near future.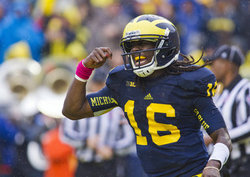 If Denard Robinson is finally going to beat Michigan State, he's going to need some help
Denard Robinson's struggles against Michigan State have been many and well-documented. The senior signal caller is 0-2 in his career as a starter against the Spartans, 0-3 overall. It's not that he can't lead the Wolverines to victory against the Spartans, it's just that he's going to need some help to do it from his teammates.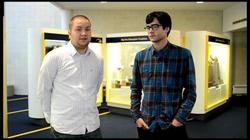 Video: MLive's Kyle Meinke and Nick Baumgardner preview Michigan-Michigan State
Michigan football writers Kyle Meinke and Nick Baumgardner have written about as much as is possible about the upcoming Michigan vs. Michigan State game. They put down their laptops and stepped in front of the camera for a minute to deliver their input on the in-state rivalry.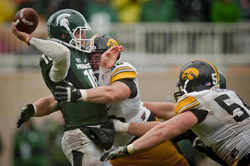 Michigan State writer: Learning curve has been steep for Spartans' offense
MLive Media Group Michigan State football beat writer Josh Slagter has been coverng the Spartans all year and he's observed up close and personal what the rest of the country has seen from a distance: an offense that's out of whack. The learning curve of new quarterback Andrew Maxwell and his wide receiver corps has been steeper than expected.
This and that:
WHO YA GOT?
Associated Press Preview:
WHAT'S AT STAKE
With a win, the Wolverines can avoid a school-record, five-game losing streak against the Spartans and stay at least tied for first in the Big Ten's Legends Division. The Spartans are playing for pride in what has been a disappointing season and can boast that they made program history against college football's winningest team if they pull off an upset.
KEY MATCHUP
Michigan State QB Andrew Maxwell vs the Wolverines' D. Michigan will set up its defense to slow down RB Le'Veon Bell, who has ran for 900-plus yards and eight TDs, and force Michigan State's first-year starting QB to make plays through the air.
PLAYERS TO WATCH
MICHIGAN: QB Denard Robinson. The speedy senior has accounted for 10,000 yards of total offense in his career, but has been shut down in two straight starts by Michigan State.

MICHIGAN STATE: DE William Gholston. The senior who twisted Robinson's face mask last year and was suspended for a game for punching a Michigan lineman, will be one of the key players assigned to keep Robinson in the pocket.
FACTS & FIGURES
Michigan is a win away from being the first college football program with 900 wins. ... The Wolverines have not beaten Michigan State since 2007, when former RB Mike Hart famously referred to the Spartans as a little brother. ... The team that has more yards rushing has won 39 of the last 42 matchups. ... The winner gets — or can keep — the Paul Bunyan Trophy, a 4-foot high wooden statue that was donated by former Governor G. Mennen Williams in 1953 to celebrate Michigan State's entry into the Big Ten.
Around the Big Ten...and Ypsilanti
Pete Cunningham covers sports for AnnArbor.com. He can be reached at petercunningham@annarbor.com. Follow him on Twitter @petcunningham.