Posted on
Sat, Sep 7, 2013 : 5:59 a.m.
Your mega guide to No. 17 Michigan vs. No. 14 Notre Dame under the lights
By Pete Cunningham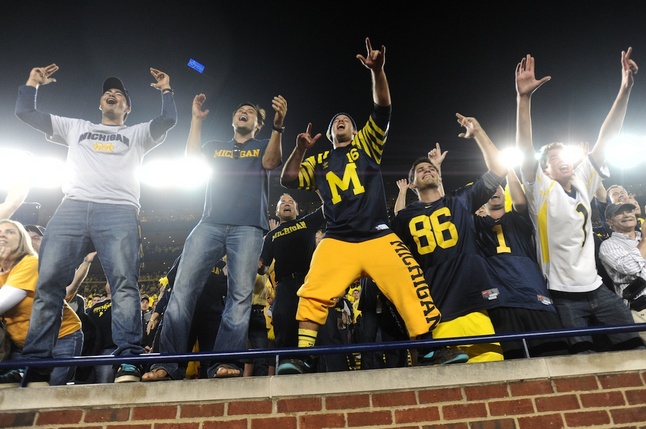 Melanie Maxwell | AnnArbor.com file photo
GAME STORY: Devin Gardner, Jeremy Gallon hook up for 3 TDs as Michigan holds off Notre Dame, 41-30
LIVE BLOG: Join MLive Wolverines Football writers Nick Baumgardner and Josh Slagter on the Wolverines homepage close to game time for their live blog. Or follow them on Twitter at @nickbaumgardner or @JoshSlagter
WHO: No. 17 Michigan vs. No. 14 Notre Dame.
WHERE: Ann Arbor.
WHEN: 8:05 p.m.
ODDS: Michigan is favored by 4.5 points according to SportsBook.com.
SERIES RECORD: Michigan leads 23-16-1.
LAST MEETING: September 2, 2012, Notre Dame beat Michigan, 13-6.
WEATHER: 77 degrees with isolated thunderstorms and a 30 percent chance of rain. Or...
BROADCAST INFORMATION: TV: ESPN; Radio: Michigan Sports Network (local affiliates).
Coverage: The last time Michigan and Notre Dame met under the lights at Michigan Stadium, there was an epic Wolverines comeback that ended up being the catalyst for Michigan's run to the Sugar Bowl. Last year's game at Notre Dame: just a ho-hum one-touchdown contest that precipitated a Fighting Irish run to the national championship game. The 2013 version of the rivalry -- and yes, it is a rivalry -- has a lot to live up to, but with Saturday being the last time the teams will meet in Ann Arbor for the foreseeable future, all indications are both squads are up to it, so let's learn all we can about the matchup: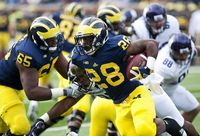 5 Michigan keys: The turnover war and the Fitz Toussaint-Derrick Green experience (with picks)
It's been well-documented that the Wolverines coughed the ball up 18 times in their five losses a year ago. It was the common theme, above all else and it was never worse than against Notre Dame. Ball security is one of the many keys to the game for the Wolverines on Saturday.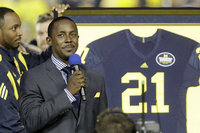 Desmond Howard on Michigan rivalries: Michigan State's regional; Ohio State, Notre Dame are national
Heisman Trophy winner Desmond Howard, who is on campus this week with ESPN's "College GameDay," didn't call anyone a little brother Friday, but he did offer his thoughts of Michigan's top rivalries. Ohio State's first, Notre Dame's second and Michigan State's third.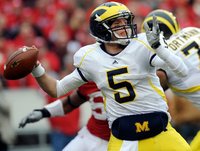 As Devin Gardner preps for Notre Dame, a look back at Michigan QBs in their first start vs. Irish
Devin Gardner said this is what every college quarterback dreams of, so it's safe to say he'll be pumped for Michigan's game Saturday night against Notre Dame. But how will Gardner fare at QB against the Irish? School history shows the last 10 first-time starters against Notre Dame are 4-6 overall.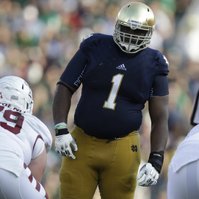 Matchups: Notre Dame loses Manti Te'o but has Louis Nix; Michigan's fate sits with Devin Gardner
It's been the national spotlight game all week long, and it'll get the big stage Saturday when ESPN's "College GameDay" makes yet another trip to Ann Arbor to host a Wolverines-Fighting Irish party. There's been plenty of hoopla. But what about the actual game? Let's look at the matchups.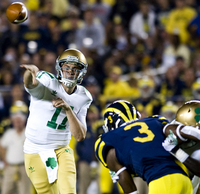 Notre Dame QB Tommy Rees has Wolverines' respect, experience under Michigan Stadium lights
Two years ago, Tommy Rees thought he had the perfect ending to a career day when he hit Theo Riddick for a 29-yard touchdown pass with 30 seconds left, just 42 ticks after the Wolverines had claimed their first lead of the day.But Denard Robinson wasn't out of magic and all anyone remembers from that day are the Wolverines' heroics, not Rees's. He'll look to steal back a moment of his own on Saturday.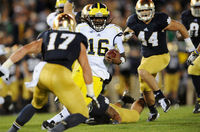 Denard Robinson ranks Michigan's rivals, refers to Michigan State as 'little brothers'
Denard Robinson went 1-3 lifetime against Michigan State during his career at Michigan. But that didn't stop him from taking a shot at the Spartans this week during an interview with the Big Ten Network. He also offered his perspective on Michigan's rivals, ranking them in order of importance...or hate, whichever way you want to look at it.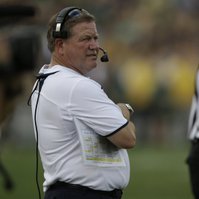 Brian Kelly open to renewing 'historic rivalry' with Michigan, but ACC commitments make it hard
Brady Hoke doesn't want to see the Michigan-Notre Dame series end. Brian Kelly just can't figure out how to make it work, for now. Two days after downplaying the significance of the series, Kelly opened his weekly press conference Tuesday with "this is a great and historic rivalry … so let's get that out of the way."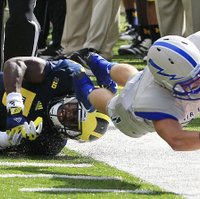 Official: Michigan's Courtney Avery and Joe Reynolds will play vs. Notre Dame; Thomas Gordon 'itching' to return
Thomas Gordon was suspended for Michigan's Week 1 opener against Central Michigan, but coach Brady Hoke indicated he will be back in the lineup on Saturday. Also expected to play are Courtney Avery and Joe Reynolds, who both were dealing with injuries.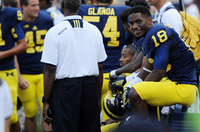 Michigan freshman Channing Stribling gets run at corner with Blake Countess playing nickel
The 6-foot-2, 171-pound freshman cornerback Channing Stribling saw plenty of time Saturday early and often, especially in Michigan's nickel package situations -- with the rookie playing on the outside and the more experienced Countess moved inside. Will that be the case again against Notre Dame?

This and that:
Associated Press preview capsule
WHAT'S AT STAKE
Lasting pride. After next season's game in South Bend, Ind., the storied programs will probably not play again for at least a decade because Notre Dame chose last year to cancel the last three games of the series to help it adjust to playing five games against Atlantic Coast Conference teams.
KEY MATCHUP
Michigan's offensive line against Notre Dame's defensive line. The Wolverines broke in three new starters in the middle of their line in last week's tuneup against Central Michigan, but the trio is in for a big test. Wolverines offensive coordinator Al Borges said the Fighting Irish have the best defense he'll see all year, and the unit is led by defensive end Stephon Tuitt and 6-foot-3, 342-pound nose guard Louis Nix.
PLAYERS TO WATCH
Michigan: OT Taylor Lewan. The 6-8, 315-pound senior turned down a chance to be a first-round pick to play another year of college.
Notre Dame: Stephon Tuitt. The 6-6, 312-pound junior is projected as one of the top picks in the 2014 NFL draft if he skips his senior season.
FACTS & FIGURES
The Big House hosted its first night game two years ago against Notre Dame, and it lived up to the hype. Former Michigan QB Denard Robinson threw 2 TD passes in last 1:12, including one with 2 seconds left in a 35-31 win in front of an NCAA-record crowd of 114,804. Current Notre Dame QB Tommy Reese threw a 29-yard TD with 30 seconds left in the instant classic in 2011. ... Notre Dame picked off five of Robinson's passes last year and forced a sixth turnover in last year's 13-6 win. ... Michigan leads major college football with 904 victories and a .7347 winning percentage and Notre Dame's .7337 winning percentage trails only Michigan and its 866 wins rank third.
Pete Cunningham covers sports for AnnArbor.com. He can be reached at petercunningham@annarbor.com. Follow him on Twitter @petcunningham.