Posted on
Thu, Mar 29, 2012 : 5:59 a.m.
Ann Arbor area to add 11,000 jobs over 3-year stretch
By Nathan Bomey
Related story: Washtenaw County economy in robust recovery: But are they good jobs?
(Editor's note: This story is part of a series of stories on the Ann Arbor area economy that starts today and continues through Sunday.)
For the Ann Arbor area, the late 1990s are back — at least when it comes to job growth.
Washtenaw County is expected to add 11,038 jobs overall in 2012, 2013 and 2014, according to a forecast conducted by University of Michigan economists for AnnArbor.com.
The forecast indicates that Washtenaw has entered a prolonged period of job growth — starting in the fourth quarter of 2009 and extending through 2014 — that resembles the robust period of 1995 to 2000.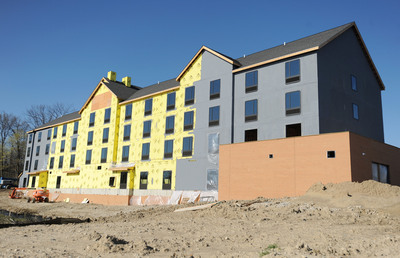 Angela J. Cesere | AnnArbor.com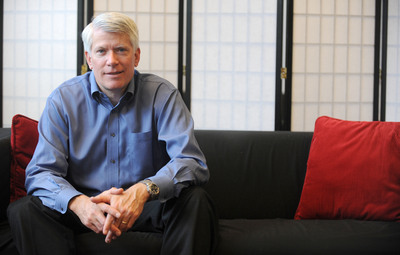 Angela J. Cesere | AnnArbor.com
The study, conducted by economists George Fulton and Don Grimes, predicts Washtenaw County will have more jobs by the end of 2013 than it had at its previous peak in summer 2002. The study examined the local economy through 2014.
"Knowing where we were in 2009, that's when it really hit home to me that we're seeing a pretty good recovery here," Fulton said in an interview. "I wasn't surprised at all by the recovery, but I was surprised by the pace of it."
The county is expected to add 3,004 jobs in 2012, 3,591 in 2013 and 4,443 in 2014, according to the forecast. That would come after the county added 5,178 jobs in 2010 and 3,268 jobs in 2011.
The economists, who have been conducting the forecast since 1986, have projected local job growth with an annual average error of 0.7 percent.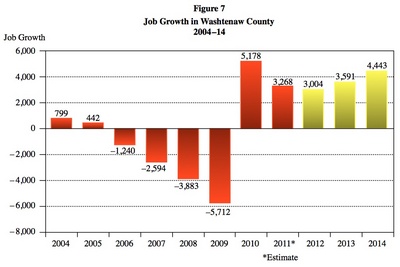 Graphic courtesy of University of Michigan economists
Graphic courtesy of University of Michigan economists
Washtenaw's unemployment rate is expected to fall from an average of 5.5 percent in 2012 to 5.2 percent in 2013 and 4.7 percent in 2014. The rate in January 2012 was 5.6 percent,
according to the Michigan Department of Technology, Management & Budget
.
The economists found that the fastest growing segment of the Washtenaw County economy is high-wage jobs.
"Getting the job growth in the higher paying industries is really what you want to have," Grimes said. "Eventually that shows up in the long run in the prosperity of the community."
The forecast reflects an improved economic outlook for the U.S. and for the state of Michigan, whose unemployment rate hit 8.8 percent in February, the lowest it's been since August 2008. The state's manufacturing sector has surged from its low point in 2009, when General Motors and Chrysler filed for bankruptcy.
Manufacturers are expected to add 1,149 jobs in Washtenaw over the next three years. Local manufacturers — which shed 17,814 jobs from 1999 to 2009, a 60 percent decline caused mainly by the auto industry's contraction — added about 1,618 jobs in 2010 and 2011.
But the pace of job growth in the local manufacturing sector is projected to slow — and U-M economists expect future economic growth to be spread out among many industries, with non-manufacturing sources generating 58 percent of the new jobs.
"This isn't just a one-trick pony — something doing really well," Fulton said. "And that's always a good sign in the recovery when it's diffusing throughout the sectors."
Fulton said it's common for manufacturing to lead the early stages of a recovery, boosting many sectors of the economy.
"We see a resurgence obviously from the autos, but what we're seeing, particularly in Ann Arbor, is a diversification of our economy across a variety of technologies," said Paul Krutko, CEO of economic development group Ann Arbor SPARK.
Tim Bristle, a recruiter for financial products firm Primerica, which spun off of Citigroup more than two years ago, said he's hiring 90 employees throughout Michigan.
Primerica, which operates a training office in Ann Arbor, is hiring independent financial advisers for offices in Hillsdale, Kalamazoo and Detroit. Primerica, a publicly traded company, is also considering opening an office in Chelsea.
"We're going through a huge expansion," Bristle said while meeting job seekers at Washtenaw Community College's 15th annual Spring Job Fair and Nonprofit Showcase on March 20.
Private sector growth
About 63 percent of Washtenaw jobs are in the private sector, while 37 percent of positions are classified as government jobs, a figure that includes the massive U-M Health System, which is often hiring.
With the exception of job growth at the U-M Health System and U-M campus, which are expected to power the state government sector to 3,633 more jobs over the next three years, very few job gains are expected in the rest of government. Most of the job growth comes in the private sector.
The economists project Washtenaw will add 19,484 private and public jobs from 2009-14, compared to 20,008 new jobs from 1995-2000.
Those numbers, albeit encouraging, shroud the major contraction in the local economy that occurred during a four-year stretch starting in 2006. Washtenaw lost 13,429 jobs from 2006 through 2009, including 5,712 in 2009, as Michigan's economy collapsed in the midst of the auto and financial crises.
And to be sure, job losses continue to occur in pockets of the local economy. In 2011, Ann Arbor-based bookstore chain Borders Group Inc. filed for bankruptcy and eventually liquidated, eliminating about 400 corporate jobs and another 125 retail jobs in Washtenaw County.
Web technologies, online retail and software innovation are presenting challenges for some industries — like retailers and the book-printing sector.
Longtime independent Ann Arbor area book printers Edwards Brothers and Malloy, which collectively employ about 600 local workers, announced in February that they had merged to create a more efficient, sustainable company.
Internet-based innovation offers opportunities for many other companies, such as Ann Arbor-based customer satisfaction measurement firm ForeSee, AnnArbor.com Business Review's 2011 Company of the Year, and Ann Arbor-based Mobiata, which manages mobile software development for Expedia.com.
ForeSee, which employs about 200 people in Ann Arbor, has hired about 20 former Borders employees, CEO Larry Freed told AnnArbor.com. The company has enjoyed revenue growth of at least 25 percent for 40 consecutive quarters since its founding in 2001.
"Basically anything that involves paper seems to be suffering in the destruction phase, and the electronic stuff seems to be in the creative phase," Grimes said.
Indeed, the forecast depicts a dynamic local economy that has reached a stage where new jobs in promising industries are offsetting job losses in struggling sectors.
By the end of 2013, Washtenaw will have more jobs than it had at its peak in summer 2002, according to the forecast.
Good jobs?
The fastest-growth segment of the economy over the next three years will be in high-wage industries, which the economists define as more than $57,000. The number of high-wage jobs is expected to rise 7.7 percent through 2014. The number of jobs with wages of $27,000 to $57,000 will increase 5.9 percent, while the number of jobs with salaries below $27,000 will rise 4.4 percent.
Grimes cautioned that growth in the number of high-wage jobs "doesn't necessarily mean that people that were already in the higher-wage sectors were getting a raise," he said.
In fact, many residents are still discouraged by depressed housing prices and stagnant investment accounts.
"People may feel a lot poorer," Grimes said. "So the asset side of the balance sheet is still making people unhappy."
Fulton said the shifting economy is also widening the gap between workers who have an education and people who don't. It's getting harder to get a job without an education.
"A number of residents are still not invested in the recovery," Fulton said.
Still, Washtenaw is outperforming the rest of the state — mostly because of the stability provided by local universities, a thriving health care industry, a growing entrepreneurial sector and a service sector that's enjoying momentum.
Much of the growth is possible because about 60.4 percent of county residents ages 25-64 have at least a two-year degree, compared with 35.6 percent of Michigan residents, according to U.S. Census data studied by the Lumina Foundation for Education. Washtenaw has the lowest unemployment rate of Michigan's 83 counties.
But getting an education doesn't necessarily guarantee a job.
Siyuan Xing, who earned a biomedical engineering degree from the University of Michigan in 2011, is hunting for a research position from a local company. After graduation, he spent a year working for his family business — which, he said, set him back in his job search.
If he can't get a job, he said, "I might have to leave" the area.
Service industries
Manufacturing dominated high-wage job growth in Washtenaw over the last two years, but U-M projects that service industries will account for most of the high-wage growth in the next few years.
The professional and business services sector — a broad segment that often reflects the general health of the private sector — is expected to add 2,290 jobs in 2012, 2013 and 2014. Most of those are scientific and technical jobs, such as computer systems design and engineering services.
Krutko, CEO of SPARK, said the economic development group's experience shows that much of the job growth is coming from small- to mid-sized companies that are adding 5 to 10 employees at a time.
"Our emphasis is on those kind of jobs — jobs that are selling goods and services to the rest of the nation or globally," he said. "If you're creating jobs there, then all the supporting jobs in the economy happen — the business support, the accounting firms, people who are working in legal firms and all the retail firms that have those customers."
The private education and health services industry — which includes the approximately 5,000 employees of the St. Joseph Mercy Health System in Washtenaw County — is expected to add 1,193 jobs over the next three years.
Nursing homes and residential care facilities will add 405 jobs during that period.
Nonprofit senior care service providers like Evangelical Homes of Michigan, which employs several hundred workers in Saline, and Glacier Hills Senior Living Community, which is completing a $25 million expansion in Ann Arbor, are contributing toward that growth.
The economists predicted that the leisure and hospitality segment would add 684 positions over the next three years. Two new hotels — Hilton Garden Inn and Towne Place Suites by Marriott — are currently under construction near Briarwood Mall.
The employment services sector, which includes temporary workers, is expected to add 757 jobs by 2014.
The United States Postal Service is poised to cut jobs, but those losses will be offset by other new federal jobs. The local government sector will cut 108 jobs in 2012, but add 203 in 2014, "as the finances of local governments and K-12 school districts slowly improve," according to the report.
Contact AnnArbor.com's Nathan Bomey at (734) 623-2587 or nathanbomey@annarbor.com. You can also follow him on Twitter or subscribe to AnnArbor.com's newsletters.