Posted on
Tue, Feb 28, 2012 : 2:59 p.m.
Can 'spring market' continue Ann Arbor's real estate price rebound?
By Paula Gardner
The spring housing market: What will it mean in Washtenaw County?
That's a driving question for home sellers, home buyers and the average resident, who saw - based on countywide averages - at least a 20 percent drop in home values since 2005, with some areas still reeling from a 65 percent (or higher) value drop.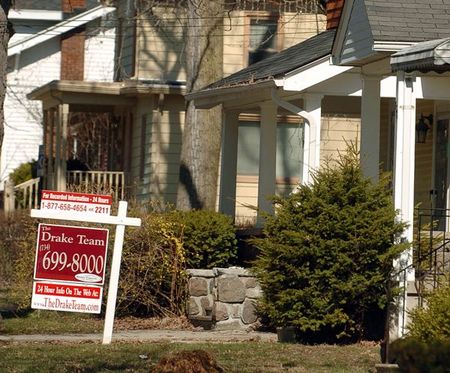 File photo
Attempts to gauge the market are particularly active at the start of the annual "spring selling season," roughly the next 30 days, when a wave of new listings is expected in the market
Data from the local market shows that 2011 represented a rebound in home values in five of eight school districts tracked through the Ann Arbor Area Board of Realtors.
Yet nationwide, prices have fallen 34 percent nationwide since the housing bust, back to 2002 levels, according a report released Tuesday by the Associated Press.
From that report:
A gauge of quarterly national prices, which covers 70 percent of U.S. homes, fell to its lowest point on records dating back to 1987 after being adjusted for inflation.
"The pick-up in the economy has simply not been strong enough to keep home prices stabilized," said David M. Blitzer, chairman of S&P's index committee. "If anything, it looks like we might have reentered a period of decline as we begin 2012."
Contrast that to Ann Arbor, where homes gained 3.57 percent in value last year based on sales prices per square foot. "Ann Arbor" is defined as homes in that public school district by the AAABOR.
Across Washtenaw County, the biggest gain during that time was in Chelsea, which posted a 6.87 percent gain, while the largest drop was in Willow Run, where prices dropped 7.66 percent in a single year - and 65.45 percent since 2005.
The value changes in other districts, with losses in parentheses, are:
Saline 4.94 percent
Milan 4.87 percent
Dexter 4.12 percent
Lincoln (2.95 percent)
Ypsilanti (2.98 percent)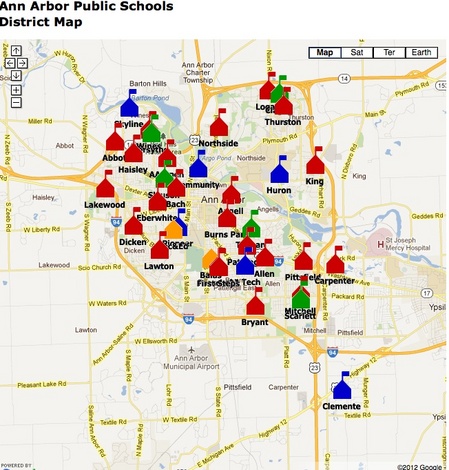 From AAPS
A building-by-building look at the average sales price per house in Ann Arbor schools from 2010 to 2011 ranges from a drop of 11.43 percent in value in Ann Arbor's
Allen
neighborhoods to a gain of 8.93 percent in value in Ann Arbor's
Bach
neighborhood.
Three Ann Arbor elementary neighborhoods showed a drop in value from 2010 to 2011. In addition to Allen, they were Northside (-6.06 percent) and Lawton (-0.48 percent). (A link to the full list of schools and average sale prices is at the end of this column).
The top Ann Arbor elementary neighborhoods in terms of one-year value gains besides Bach, were King (7.16 percent) , Pittsfield (6.8 percent), Burns Park (6.69 percent) and Mitchell (6.01 percent).
Homes in the Ann Arbor district, on average, also fared the best in terms of value since 2005: Their average sales price per foot dropped 19.06 percent by the end of 2011. That average price is $141.12 per square foot - or about $282,000 for a 2,000-square-foot home.
The elementary school area that comes closest to that average Ann Arbor price is Dicken, where homes on average are selling for $144.46 per square foot.
Second to Ann Arbor in regaining value is Saline, where homes dropped 25.03 percent since 2005, with a rebound of 4.94 percent charted last year. The average price per square foot there is now $116.25.
At the low end of pricing is Willow Run at $39.18 per square foot on average at the end of 2011 - or about $80,000 for a 2,000-square-foot house - and Ypsilanti, where the $51.38 square-foot average at the end of 2011 puts that same 2,000-square-foot house at just more than $100,000.
While the average sales price data tells us about the last several years, a few indicators offer hints about what this year's sales trends will look like.
In Ann Arbor, the taxable value of residential property is climbing 2.1 percent this year, according to Tom Crawford, the city's finance director.
That percentage is an overall average - so some properties will drop in taxable value - but it's also contributing to an overall property tax revenue gain of $600,000 more than budgeted. That follows years of decline, such as the 4.2 percent drop in 2010.
Foreclosures still affect the market, but few of them are available in Ann Arbor. Eight single family homes were listed last week on Homepath.com, the Fannie Mae website. That compares to 10 that were found there today. In Ypsilanti, there were 11.
However, another foreclosure indicator - the monthly sheriff's deed sales totals of the homes heading into redemption periods after a foreclosure - shows 91 in January, compared to 88 a year earlier and 113 in 2010.
The number of sheriff's deeds sold in Washtenaw County in 2011 were 1,128, the lowest since 2006. So this year's number could at least signal that the 2012 foreclosures will at least remain stable when compared to 2011.
As for the spring market - the traditional season for residential listings and sales to start in earnest - area Realtors say signs point to continued price increases.
"Everything I have is selling," said Martin Bouma of Keller Williams in Ann Arbor. "Inventory is very low, and there's a lot of buyers."
He's seeing multiple offers above list price: "It's creating an urgency in buyers," he said.
The increase in prices isn't across the market, he points out. In fact, a look at January sales data from across the county shows the first month of the year was flat in terms of residential sales and dollar volume, while listings were up from 418 homes to 433 homes.
In some markets, the price increases that started in 2011 could begin to help the people who want or need to sell but found themselves "under water" on mortgages.
"That's still an issue out there," Bouma said.
Alex Milshteyn of Edward Surovell Realtors agrees with Bouma that early market indicators bode well for continued price gains in 2012.
"I have not seen a market like this since probably 2004," he said.
That year, the median sale price of homes sold through AABOR was $225,000, up from $220,000 in 2003, while the median condo sale price was $169,800, up from $169,000.
Seven years later, the median sale price through AAABOR was $159,000 - up from $155,000 at year-end 2010. For condos, the median sales price was $112,000 in December.
Another sign that the condo market is on a different track from houses: The condo market, based on average price per square foot, continued to decline last year. In 2011, the slide was 4.96 percent, totaling a loss of value of 24.49 percent since 2005.
Meanwhile, another residential real estate market dynamic that could finally play out this year is the number of unsold residential properties that were converted to rentals, Bouma said.
In the last two years, nearly 1,100 houses and condos were rented out - while 1,500 properties sold. For a seller-turned-reluctant-landlord, a rise in home prices may trigger a property being relisted - and, as Bouma points out, the numbers indicate a ¾-year's worth of inventory that could come back onto the market.
The result of all of the moving pieces in the market, he adds, is that "it's very difficult to price a house."
Click real estate data 2011 by Elementary Schools-.xls to see a chart listing sales price per square foot trends for all of the Ann Arbor Public Schools elementary schools and district-wide data from other areas. It was compiled by Martin Bouma of Keller Williams Ann Arbor.
See more information on the AAPS attendance area.
Paula Gardner is News Director of AnnArbor.com. She can be contacted by email or followed on Twitter.