Posted on
Sun, Aug 7, 2011 : 5:58 a.m.
Bongs & Thongs reminds downtown Ann Arbor of former 'red light district' as city blocks sex toys
By Lizzy Alfs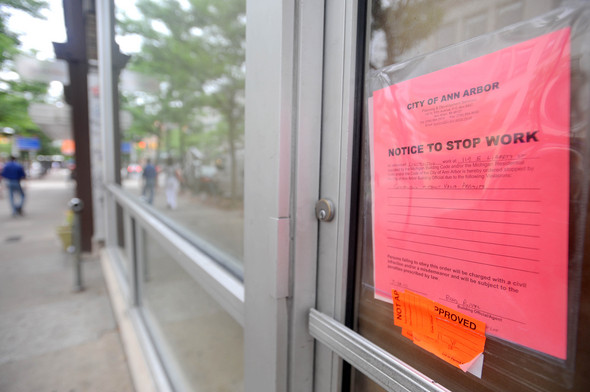 Angela Cesere | AnnArbor.com
For some local residents and business owners, the planned opening of a new adult novelties shop in downtown Ann Arbor evokes memories of an era in the 1970s and 1980s when a nearby stretch of downtown was sexually charged and populated by controversial businesses.
But the city's questioning of new retailer Bongs & Thongs' right to sell sexually stimulating products points to a little-noticed legal shift that gives the government the upper hand in the battle against similar retailers.
People like local landlord Bill Stamoulis welcome the shift. He distinctly recalls trying to avoid Fourth Avenue during the 1980s even though he owned a restaurant at the corner of Fourth and East Liberty Street.
His business, Bill's Coffee Cup, which operated in the space now occupied by Cloverleaf Restaurant at 201 E. Liberty St., was just down the street from an area he described as the "red light district" of downtown Ann Arbor.
With an adult bookstore, a massage parlor and prostitutes walking the street, Stamoulis said the situation on Fourth Avenue in the 1970s and 1980s was "extremely unpleasant."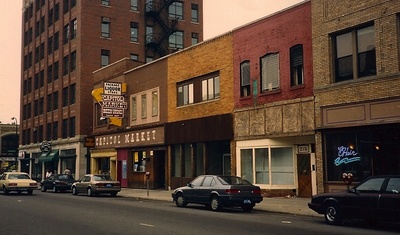 Photo from Ed Shaffran
"No one liked it. No one," Stamoulis said. "The local people would not walk on that side of the street. They preferred to go down on Liberty to Main so they could avoid the situation."
Now, Bongs & Thongs is set to open steps away from Fourth Avenue on Liberty Street near the Kilwins ice cream shop.
"I am not pleased about this," Stamoulis said. "What we don't want down there again is how it was back in the '70s and '80s. This store opening will probably bring back those days and memories."
Although Bongs & Thongs is causing some people to recall Fourth Avenue's red light district days, storeowner Kilo Hassan said he doesn't see the comparisons.
"We're none of that," he said. "I've never experienced this 'red light district,' and I don't want people to think negatively about my store. If I knew this would happen, I would have called it the Love Boutique."
City pressures businesses
Although many Ann Arborites value the city's uniqueness, including the funky businesses that line the downtown storefronts, Bongs & Thongs must change its product mix due to an obscure ordinance cited by city officials.
Meanwhile, the city has also cracked down on two local night clubs located within blocks of the corner of Bongs & Thongs. The city successfully sought the closure of the Fifth Quarter on Fifth Avenue and recently convinced a court to appoint a receiver to oversee operations at the Dream Nite Club on Fourth Avenue after a number of criminal incidents.
But in those incidents, the city cited criminal activity perpetuated by the patrons of the clubs as a reason for pursuing the closure of the nightspots.
With Bongs & Thongs, the city forced the owners to stop renovations, citing a city ordinance that restricts the products that can be sold by adult entertainment businesses downtown.
The zoning ordinance does not allow the sale of "devices of simulated human genitals or devices designed for sexual stimulation" in the D1 District of downtown if these items account for more than 20 percent of a business' sales, according to city documents.
The ordinance was approved in 1978 as city officials were grappling with the "red light" stretch on Fourth Avenue.
Bongs & Thongs, which plans to sell adult novelties and head shop products, recently signed a one-year lease to occupy the 2,600-square-foot space at 119 E. Liberty St.
Hassan said he expected to get some negative feedback from the community about the controversial store, but he was surprised to find that most concerns have been raised over the store's adult novelties section.
"I thought I'd get a hard time over our glass-blown tobacco products, not the other stuff," he said.
Hassan originally planned to open by July 20, in time for the Ann Arbor Art Fair.
But when he applied for a re-occupation license to open his store in the former Liberty Street Video space, his application was denied due to his planned inventory.
Even though Hassan said the ordinance seems somewhat vague, he has now altered his business strategy by removing all of these products from his inventory, he said.
"I just don't want to deal with it at all," he said. "I removed those items and gave the inspector my word that I won't sell anything that is offensive."
"Red light" district dissolved in 1980s
The city's role in forcing inventory changes at Bongs & Thongs isn't the first time the city has attempted to regulate the sale of certain adult novelty items in downtown Ann Arbor.
According to a July 1990 Ann Arbor News article that chronicled the "demise of Fourth Avenue's nasty reputation," the city had an eight-year court battle with a similar adult novelties store, the Danish News Company, during the 1980s.
The adult bookstore, owned by Terry Whitman-Shoultes, occupied part of the building at 209 N. Fourth Ave. beginning in 1980. There was also a massage parlor located upstairs.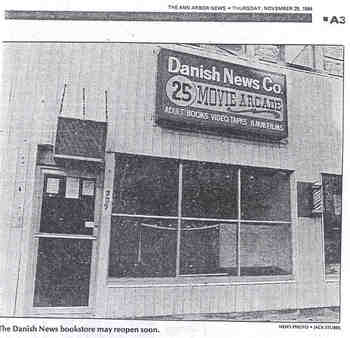 Ann Arbor News Archives
Shoultes opened Danish News nearly two years after the city added the adult entertainment ordinance to city code, and his store was cited for code violations several times. However, Shoultes continued to operate the business, according to documents from a lawsuit filed with the United States Court of Appeals' Sixth Circuit Court in the 1980s.
In 1982, the city tried to ban the sale of adult material on the premises, but Shoultes continued to operate Danish News, triggering years of court battles between the city and Shoultes.
After eight years, the lease for the adult bookstore was eventually terminated when local developer Ed Shaffran of The Shaffran Companies purchased the building.
"Everybody wanted to rid the area of the bookstore and massage parlor, including the city," Shaffran told AnnArbor.com. "It was me who—on technicalities—got them on violations of their lease and evicted them."
As the new building owner, Shaffran said he didn't want the bookstore or massage parlor in his building, and he wanted to turn the Fourth Avenue reputation around.
"It certainly was not a desirable area," he said. "I was cheered on because nobody wanted them there. There was certainly prostitution, and it was certainly a seedy section of town."
Susan Wineberg, local historian and author of "Historic Buildings: Ann Arbor, Michigan," said she tried to avoid Fourth Avenue during the 1980s even though she lived close to the area.
"I remember my mother was horrified that I lived so close to the raunchy neighborhood," Wineberg said. "I'm not sure what the catalyst for change was, but once the Danish News left, things started changing."
Ordinance is rarely enforced
Although Bongs & Thongs faces opposition from the city, Hassan said that people are just "doing their jobs" and he doesn't feel singled out.
Ann Arbor city planner Matthew Kowalski pointed out that the city has "pretty strong standards that are well defined" in the code about adult entertainment businesses. He said it helps to nurture a prosperous and functional downtown.
Kowalski also said that the city rarely has to enforce the ordinance because it hasn't been a recurring issue in downtown Ann Arbor.
"In the 11 years I've been here, this is the first time I've encountered something where we've had to test this ordinance or look into the details," Kowalski said. "It just hasn't been an issue."
More than 20 years since terminating the lease for Fourth Avenue's adult bookstore and massage parlor, developer Shaffran said he doesn't feel too strongly about the opening of Bongs & Thongs.
"We are living in a free, open society," Shaffran said. "If they're paying their right taxes and are legally conforming, then I guess they have every right to be there."
Shaffran recognized the concern some people have regarding the opening of Bongs & Thongs in relation to the old Fourth Avenue, but said it's up to property owners to bring in quality tenants.
"I think there's an assumption that if this comes then something similar will come, but we have to believe that adjacent property owners are conscious of the type of tenant they bring and how it will affect the geographical area," Shaffran said.
Jim Chaconas, an Ann Arbor-based commercial real estate agent, agreed and said that the city shouldn't have too big a role in regulating tenants.
"I don't think it's right for the city to dictate who your tenant should be or what your building should look like," Chaconas said. "But do I want Bongs & Thongs next to me? No. But if people don't want the store there, they won't shop there and it won't stay in business."
Lizzy Alfs is a business reporter for AnnArbor.com. Reach her at 734-623-2584 or email her at lizzyalfs@annarbor.com. Follow her on Twitter at http://twitter.com/lizzyalfs.