Posted on
Wed, Sep 7, 2011 : 2:23 p.m.
Borders' flagship store in downtown Ann Arbor to close for good Monday
By Nathan Bomey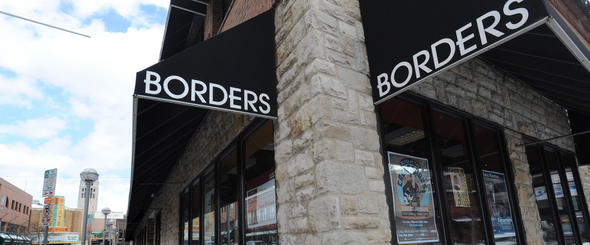 AnnArbor.com file photo
Ann Arbor-based bookstore chain
Borders Group Inc.
said today that it would close its flagship store for good Monday.
The two-story, 40,000-square-foot store at the corner of Liberty and Maynard streets in downtown Ann Arbor is one of 399 stores the chain is closing as part of its bankruptcy liquidation.
The store is located steps away from the South State Street spot where brothers Tom and Louis Borders launched the company as an 800-square-foot book shop in 1971.
Liquidation discounts have reached 60 percent to 80 percent of merchandise. It's unclear whether discounts will get any better before the store closes.
Meanwhile, a final closing date for the superstore on Lohr Road in Pittsfield Township has not been set, according to Borders' Facebook page.
The company has said that it would finish its liquidation sales sometime in September, but the exact timeline for each store's closure has been up in the air.
See previous coverage for more information about Washtenaw County's two Borders stores:
--Auctions may decide fate: Will Borders stores in downtown Ann Arbor, Pittsfield get new tenants?
--Borders 'now hiring' for its downtown Ann Arbor, Lohr Road stores as liquidation continues
--Liquidation starts: Borders store in downtown Ann Arbor enters its final days
--What's next for downtown Ann Arbor Borders store after chain closes?
--Downtown store closure also means a loss of arts and music venue
--Borders plans to liquidate, ending 40-year-old bookstore chain
--Borders' rise and fall: a timeline of the bookstore chain's 40-year history
--Column: Where are they now? Borders brothers long gone from Ann Arbor as chain nears bankruptcy
Contact AnnArbor.com's Nathan Bomey at (734) 623-2587 or nathanbomey@annarbor.com. You can also follow him on Twitter or subscribe to AnnArbor.com's newsletters.