Posted on
Sun, Feb 6, 2011 : 5:56 a.m.
Borders facing critical real estate decisions on future of stores across U.S.
By Paula Gardner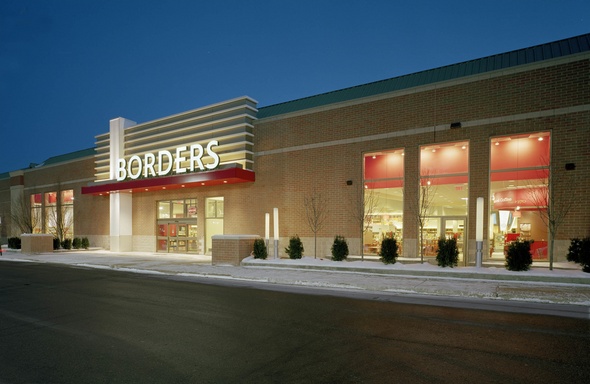 AnnArbor.com files
Borders Group Inc., born in Ann Arbor and now fighting for survival, ended its fiscal year on Jan. 30 amid dramatically different business fundamentals from previous years.
The corporate value, based on stock price, was $29 million, close to its historic low -and down from $663 million three years earlier. The headcount at the Ann Arbor headquarters totaled less than half the 1,200 who worked there two years earlier. Annual sales, which once topped $4 billion, were trending toward half that.
Yet the physical footprint of the nation's second-largest bookseller — which operates more than 500 superstores — remained relatively unchanged from peak years.
Borders publically has grappled with its turnaround for several years as it switched CEOs, laid off staff and sought financing in an industry that's quickly shifting to electronic delivery.
Those elements make the reports that Borders is stepping closer to bankruptcy sound valid. The numbers need to change.
As Borders executives make critical decisions for the company's future, it's that physical footprint — the stores and the headquarters, one of Ann Arbor largest office buildings — stepping to the forefront of the list of action items.
Experts have pointed to the number of stores, the lease durations and the rental payments as factors that must change if Borders is to survive. The company expanded quickly, starting in the years after it went public in 1995, and now holds more than $1 billion in lease obligations on stores that are too large for a business model turning to electronic delivery and online sales.
Now the company - as it reportedly considers a bankruptcy filing as early as this month - will be making a decision on the future of it 500-plus stores.
Those decisions, in turn, will create a ripple effect across hundreds of communities in the U.S.: Closures will yield lost jobs, lost tax payments and lost real estate value.
In Washtenaw County alone, where Borders operates three stores, the company generated $1.5 million in tax revenue last year.
THE STORES
"Our physical stores … remain integral to our future success," the company wrote in its annual filing with the U.S. Securities and Exchange Commission in January 2010.
While that may still be true as the company makes what may be its most critical decision for future survival, the stores are both lifelines for the future and barriers to survival. They're simply too big - and too costly, based on today's revenue.
The most concrete example of that: The company admitted in late January that it had stopped making rental payments on some of its stores.
The bookseller says more store closings are imminent, but little information is trickling out of headquarters that might indicate which stores are on the list.
"We're all waiting to see what happens," said Tony Schmitt, a commercial real estate broker at Mid-America Real Estate Group, where he specializes in retail properties from its Oakland County office. "And then we'll see how the retail real estate landscape is gong to change or stay the same.
"We're going to know that in the next 30-60 days," he said.
All Borders stores are leased - and as of Jan. 30, 2010, the average unexpired term was 8.1 years. A full 369 stores are in leases that won't expire until 2017 or later.
And the dollar obligation of the leases for the company is staggering: $562 million last year, or 19 times the $28 million value of its stock as of last week.
Standing behind those properties are owners - whether institutional or individuals - that now have a $562 million annual stake in the chain maintaining those lease payments. If the company files for Chapter 11 bankruptcy, Borders will have 210 days to assume or reject each of its leases.
As a result, the company could seek rental rate reductions - or just outright close stores. Either way, the landlord has to be poised to absorb a loss.
"Landlords have to know the rate they're getting from Borders is a rate they'll never see again," said Wendy Chapman, an Ann Arbor appraiser at Gerald Alcock Co.
Chuck Miller of Chuck Miller Development Co. in Orchard Lake owns 10 Borders stores in several states, including Michigan. He's also among the landlords who've gone unpaid.
"I'm sure most owners are doing what I'm doing," Miller said. "You try to take an objective look at each property. You note the prevalence of a vacancy in each store's (location) and you gauge the replacement rent."
Other factors to consider include the time and expense to the owner if a store like Borders leaves.
"At this point there are a lot of uncertainties," Miller said. "Most owners don't know what will happen. … Everything is being done speculatively until Borders comes out and gives definitive answers."
Some experts indicate Borders may not have determined those answers yet. Sources said the most recent wave of layoffs included key real estate personnel based at the Ann Arbor headquarters.
Rob James, president of EXP Realty Advisors in New York, has specialized in real estate valuations for companies in bankruptcy.
He said the chain is likely in the midst of analyzing each of its 511 superstores, going beyond the annual sales per square foot - which averages $173 across the brand - to allocating each store its share of costs for corporate expenses: distribution center and headquarters functions, for example.
"Once you allocate costs … that analysis will tell you which stores are profitable and which aren't and will probably close," James said.
Some high-sales stores could turn into profitable outlets with new leases that carry lower rates, James said.
But the chain has lost its chance to monetize one aspect of the bankruptcy code due to the economic downturn.
"Any leases that are below market traditionally would be sold," James aid. "However, in the current market, where you see flat and declining rents, I doubt there's much value in those leases (for another retailer)."
It's unclear on a property-by-property basis what kind of impact that could have on individual stores. But the impact of waves of store closings on shopping centers is visible in the Ann Arbor area, where Borders stores operate near vacated Circuit City and Linens N Things stores following those chains' bankruptcies.
Filling a 20,000-square-foot store has not been easy, thanks to the economy.
Nationally, that could be changing - giving hope to communities and landlords that any wave of Borders closings could result in new tenants for the vacated spaces.
"Retailers weren't looking to take on new space," said Malachy Kavanagh, a vice president at the International Council of Shopping Centers in New York. "That's starting to change," he said. "I've heard from a lot of shopping centers that there are now retailers looking to expand."
He continued: "Had this happened last year, it would have been a much more difficult environment for a landlord to fill the space." LANDLORDS HOPEFUL
Owners of the Ann Arbor area stores did not return calls seeking comment for this story. But they've watched Borders try to reposition its business for years. Agree Realty, for one, has been diversifying its portfolio, which now includes 13 Borders leases.
Nationally, at least 13 Borders stores are listed for sale.
The listings detail part of the Borders story: The properties are all 20,000 square feet or more in size, except for one small store in Las Vegas, and many tout the duration of the leases.
Many have prices that signal a high degree of investor risk.
Two, each of which were developed by Kimco Realty Trust, are listed for prices that reflect a capitalization rate - or rate of return based on the net operating income - around 8 percent.
One of those is in Canton Township, next to Ikea. James, the listing agent, said that alone makes the property valuable beyond what happens with the Borders lease. Borders, Miller said, has been known for picking prime retail locations in the best properties.
"Borders has exceptional real estate," he said. "They've been disciplined about taking the best locations in the marketplace."
That bodes well for landlords, and ultimately communities. It's also part of the long history of the local company that became a national name.
"Borders was thought of as a great company not just by the general public, but by development companies," Miller said. "It was a coup to have a Borders come into your property."
IMPACT WILL BE FELT
As experts consider the future of Borders, many cite the example of Circuit City, which filed for liquidation in 2008 instead of trying to reorganize under bankruptcy laws. About 30,000 people lost their jobs as 567 stores closed.
In the Borders case, many - including James - expect reorganization, preserving the brand and thousands of the 19,000 jobs in the company.
"I think they'll survive in a restructured format," James said. "There are a lot of positive things (about Borders)."
He cited the social aspects of going to a bookstore. "It's an experience you can't replicate online. They provide an important aspect of community."
That's felt acutely in Ann Arbor, the home of the chain, which maintains its flagship store on East Liberty Steet downtown.
John Fingerle, owner of Fingerle Lumber in Ann Arbor, is managing partner for the owners of the property the downtown store occupies. He joins the many people in this community who wonder what could happen to the store if it's on a list of Borders store closings.
"They still seem to get pretty good customer traffic," he said.
Mayor John Hieftje agrees. He spoke about the circumstances at this month's Downtown Development Authority meeting, when he mentioned that even in the uncertainty, Agree seems to be exploring which other retailers may be potential tenants if the Borders store closes.
"That would be a real loss to us," he said, describing the store's role as a downtown anchor. "… It's the last thing we would want to see happen."
As he watches the Borders situation and waits for resolution, Miller said he's questioned whether he should have devoted so much of his resources to building Borders stores and keeping them in his portfolio.
But he also said he's not regretting it. He's respected Borders over the years for how it established its business and how it operated. The downturn is painful to watch, but he knows the company is doing the best thing it can for its business. He's doing the same as a Borders landlord.
"I was proud of the fact that I was able to build bookstores," Miller said. "I think bookstores are good things for communities."
"Borders really did things right for a number of years," he continued, recalling the time he met founders Tom and Louis Borders. "It's a sad day to see a fine organization struggling to survive."
Paula Gardner is Business News Director of AnnArbor.com. Contact her at 734-623-2586 or by email. Sign up for the weekly Business Review newsletter, distributed every Thursday, here.
AnnArbor.com reporter Ryan Stanton contributed to this report.