Posted on
Wed, Oct 24, 2012 : 5:59 a.m.
Briarwood Mall moves Black Friday opening time to midnight
By Ben Freed
Black Friday will start four hours earlier this year at Ann Arbor's largest shopping center.
Briarwood Mall will open its doors to shoppers as the clock strikes midnight on Nov. 23, the day after Thanksgiving.
That's just one sign that local retailers and national chains are formulating their plans to make the most of the shopping bonanza that occurs as revelers emerge from turkey-induced stupor.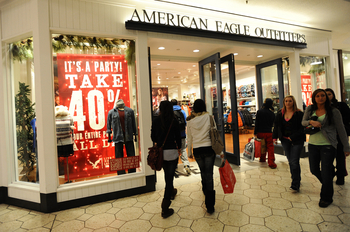 Melanie Maxwell | AnnArbor.com
Macy's and 21 other Briarwood Mall retailers opened their doors at midnight in 2011, while the rest of the shopping center near I-94 and South State waited until 4 a.m. to welcome shoppers.
The change this year came after they saw successful sales from those stores, Briarwood officials said.
While shoppers might actually not be getting the best deals, it has become tradition for many to line up and wait for hours to be first into stores offering "doorbuster" deals.
"It becomes a nice event for friends and families," mall director of marketing and business development Denise Murray said. "Mothers, daughters, parents, kids, and even grandparents, they all come out."
Murray said retailers were being encouraged to open at midnight, but that not every store would be participating. Greeters at the mall's entrances will have information for customers including store opening times and deal locations.
"There are a lot of different sales going on throughout the mall," Murray said. "Macy's is going to have new deals rolling out hour by hour, but they haven't released the details of those specials yet."
While both national chains and local retailers have been moving their opening hours up over recent years, there still is some hesitancy to leave Friday behind and open on Thursday night. According to a report from examiner.com, national chains including Wal-Mart, Old Navy, and Best Buy have all announced midnight opening hours again for 2012.
Local outlet malls have not been as hesitant to lure shoppers away from the Thanksgiving dinner table. Both the Tanger Outlets in Howell and the Great Lakes Crossing Outlets opened on Thanksgiving night last year and will do so again in 2012. Great Lakes will open at 9 p.m. for the second year in a row, while Tanger will open their doors one hour later at 10 p.m.
"Last year we opened on Thanksgiving night and we'll be doing that again this year," Great Lakes Crossing spokesperson Melissa Morang said. "Almost all of the stores will be open from that point on throughout the night... Last year it was a huge success."
The National Retail Federation reported that consumers spent a record $52 billion on Black Friday weekend in 2011, with nearly one in four shoppers reporting that they were at stores before midnight on Thanksgiving either shopping or waiting in lines.
Last year, many stores in the area, including Walmart, Best Buy, Kohl's, and Target, also moved their openings up to midnight to get a jump on the competition.
Last year's earliest opener, Toys'R'Us in the Arborland shopping center, let shoppers in at 9 p.m. on Thursday, has nationally scheduled the same opening time for Black Friday 2012.
One mall anchor that won't be joining in the fray is Midwestern high-end department store Von Maur. Store manager Marnie Harris said the store does not make a habit of extending holiday hours and will open at 9 a.m., just one hour earlier than its usual opening time.
"Being non-promotional and staying true to what we do has been successful for us," Iowa-based marketing manager Amy Davis told AnnArbor.com in 2009. "… There's no need to change that strategy. We think customers appreciate that. It sounds like a simple approach, but it works for us."
Murray said Briarwood's parent company, Simon Properties, is opening all of its regional shopping centers at midnight this year after testing the new hours at some locations in 2011.
"It's definitely for a different kind of shopper," she said. "But it's fun for those that take advantage of the opportunity."
Ben Freed covers business for AnnArbor.com. Reach him at 734-623-2528 or email him at benfreed@annarbor.com. Follow him on twitter @BFreedinA2