Posted on
Sat, Nov 24, 2012 : 5:59 a.m.
Buy local movement: Why it really does make a difference
By Lizzy Alfs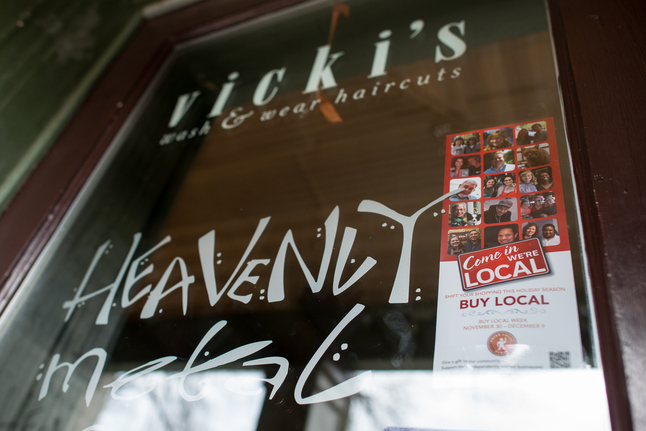 Courtney Sacco | AnnArbor.com
Buy Local. Stay Local. Support Local.
We hear the campaigns and we see the slogans, but do we understand it?
In many ways, supporting local businesses is what drives the local economy. We see trickle effects when people decide to make their purchases at small businesses, rather than online or at non-local big-box chains.
eLocal estimates that when purchases are made at local businesses, about 65 percent of revenue is reinvested into the community, compared to about 34 percent of revenue from national chains.
Of course, you can't always shop locally. I certainly don't. But there are choices we can make, such as buying coffee from Sweetwaters rather than Starbucks, or committing to make 15 percent of our purchases at local stores.
So, with the holiday shopping season in full gear — and on a day when shoppers are heading to local retailers to support Small Business Saturday — I'm looking at business owners to see how they're driving sales in this highly competitive retail market.
To help explain the importance of the Buy Local movement, I had a recent conversation with Hans Masing, the owner of the now-closed Tree Town Toys in Ann Arbor.
He's been there: he's a community member and entrepreneur, he operated a small business in Ann Arbor, he struggled to compete against retail giants, and ultimately, he decided to close his store last year.
But Masing, who now works at Ann Arbor's Cole Taylor Mortgage, remains a supporter of local businesses and a staunch believer that every individual can make a difference.
Here are some excerpts from the conversation we had about the local business environment:
You closed your toy store (located in Traver Village on Plymouth Road) last year. Can you talk about your reasoning and how competitors played a role?
Masing: When the recession started in 2008 or 2009, we saw a pretty significant drop in sales. Very quickly, what ended up happening was people had to begin focusing on the bottom line: how can I get this stuff as cheap as possible? We found we had tremendous pressure from online sales and from nationals. There was a lot of pressure as well from far-reaching legislation…(the Consumer Product Safety Improvement Act of 2008) killed a lot of our top quality lines we brought from Europe.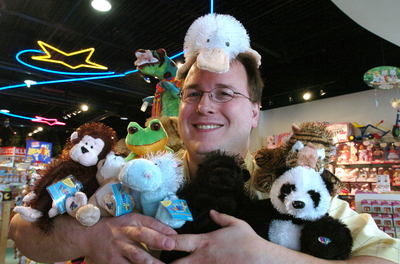 File photo | AnnArbor.com
It put us in a position where the business was viable, we could have continued, but it was an awful lot of work for just surviving.
It's a big question, but why do you think it's important that people support local businesses?
Masing: Mostly because it keeps money in the local economy. If you're buying at a big-box store, you're feeding money outside the economy to wherever their headquarters are…
But look at a local business — a dollar spent there stays in the economy. It goes to local payroll, to the owner, to local taxes, and it really adds up very, very quickly. One of the things about shopping local is consumers may be able to get a better deal online, but immediately the tax revenue is lost. Sure, we all want to save money and I get that, but it's the tax revenue that gets potholes filled and firefighters and police officers employed.
There's a term, United States of Generica, where you go into any town and find exactly the same stores and restaurants. That completely kills the local flavor. You don't see people raving about the local Applebee's…to maintain that here, you have to shop local and support local businesses.
Tree Town Toys was known for its community involvement, including the memorable shopping spree for Kathleen Edward. How important is that when you're a small business owner?
Masing: Local business owners are, by default, invested in the local community. They drive on the same streets that you do, their kids go to the same schools as yours, and you run into them all the time but may not even know it.
We liked to support the community as much as we could, by working with Mott Children's Hospital and local children's organizations…we would have regular events in the store so parents could bring kids in for crafts, we would do toy drives. We did the local Salvation Army toy drive every year. We also worked with a couple national charities, as well.
(As a small business owner), you can do a lot of intrinsic good for your community.
If local retailers can't be competitive price-wise, how can they convince people to patronize their stores?
Masing: Price is such a critical factor to consumers these days. But looking beyond price…put your customers first. Remember, they are the reason you're in business. Do everything you can to be out in front of your customers in a positive way and maintain a positive relationship with the community. Also, be honest with yourself about the viability of your business.
What's some advice you would give to shoppers?
Masing: I get that people are going to shop on price, but if they can just do some of their shopping locally, it will make a difference. I get the allure of wanting to save a certain percentage on something, but you know what, making 10 to 15 percent of your purchases locally this year would make a huge difference.
Things that are comparable on price, source them locally. Find the local source for it and shop there.
Do you think Ann Arborites are more apt to support local businesses?
Masing: Yes, absolutely. One reason we ended up in Ann Arbor is because it really is a very different community than many other places I've lived. I think we have the draw of the (University of Michigan), the major industries in the area, and sort of the uniqueness of all those factors put together. We have a community filled with amazing people and amazing ideas.
Do you have any final words of advice to small business owners?
Masing: Hang in there — you can do it. I know personally how good it can be, and I also know personally how bad it can be. The secret is finding the joy in the middle there. The journey is not the destination; the journey is the day-to-day, so enjoy it. We live in a country where free enterprise is encouraged; it's difficult, but it's also possible. The toy store didn't work out for me, but that doesn't mean I'm not going to try something in the future. We're exhaling for a little.
Readers: How do you support local retailers? Weigh in on the comments section below or email me. You can read about Washtenaw County's Think Local First organization here, and pledge to spend some of your holiday budget at local businesses here.
Lizzy Alfs is a business reporter for AnnArbor.com. Reach her at 734-623-2584 or email her at lizzyalfs@annarbor.com. Follow her on Twitter at http://twitter.com/lizzyalfs.