Posted on
Thu, May 24, 2012 : 12:10 p.m.
Deal signed for redevelopment of downtown Ann Arbor's ex-Borders store
By Lizzy Alfs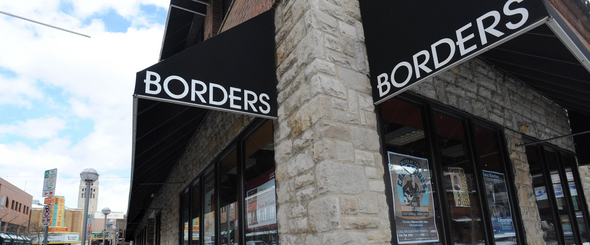 AnnArbor.com file photo
Editor's note: This story has been updated several times with additional information.
The developer behind the Landmark student high-rise — formerly 601 Forest — in downtown Ann Arbor just acquired long-term rights to redevelop the former Borders store on East Liberty.
"We are currently evaluating all uses for the property in order to maximize the benefit of this core property to the city and its residents." said Ron Hughes of Hughes Properties, in a release.
Hughes told AnnArbor.com no plans are finalized for the building yet and no timeline has been established. But, he said: "Whatever we finally do on that site will be a benefit to the city and its residents," adding that it's a "core location" in Ann Arbor.
The long-term lease affects the two-story, 44,000-square-foot retail space at the corner of East Liberty and Maynard.
The building — once a Jacobson's department store — was Borders' flagship store before the Ann Arbor-based bookseller went out of business in 2011. The property also represents an anchor-store location.
The other portion of the building, formerly a portion of Borders' corporate headquarters, is office space that recently was acquired by First Martin Corp.
First Martin purchased the space, which is located on three levels, for an undisclosed price from Farmington-Hills based real estate firm Agree Realty Corp., which still owned this portion of the property.
Due to a complex land-lease deal, Agree also once controlled the front retail space, but the ownership of that space shifted recently after Malcolm Properties LLC, a company partly owned by a family trust, struck a deal with Agree.
Agree also defaulted on a loan in 2011 for the bookstore chain's former Phoenix Drive headquarters. That 330,000-square-foot property was listed for sale for $6.9 million with Colliers International's Ann Arbor office in April after Ann Arbor-based McKinley Inc. was appointed to serve as property and asset manager for the building.
John Fingerle, owner of Fingerle Lumber Co. and manager of Malcolm Properties, said in an email that Malcolm Properties is "not involved in the determination of the (downtown) property's use" moving forward. He directed questions about the future of the property to Hughes.
Colliers has also been retained as the broker of the East Liberty Street property as it is redeveloped.
The news comes shortly after deals were finalized for tenants to take over Washtenaw County's two other former Borders locations: Lohr Road in the Waters Place Shopping Center and Washtenaw Avenue in the Arborland Center.
Columbus, Ohio-based Big Lots, a retail chain that specializes in closeout and overstock merchandise, signed a lease for the 28,500-square-foot Lohr Road space in April.
Two days later, it was announced that Five Below, a discount retailer that targets teen and pre-teen customers, and beauty superstore Ulta signed leases to split the 22,941-square-foot space in Arborland.
AnnArbor.com's Paula Gardner contributed to this report.
Lizzy Alfs is a business reporter for AnnArbor.com. Reach her at 734-623-2584 or email her at lizzyalfs@annarbor.com. Follow her on Twitter at http://twitter.com/lizzyalfs.