Posted on
Mon, Jun 20, 2011 : 6:45 a.m.
Can philanthropy save Detroit Public Schools?
By Nathan Bomey
It's a wonder why philanthropists haven't stepped forward to do something about Detroit.
They've been largely absent. Until now.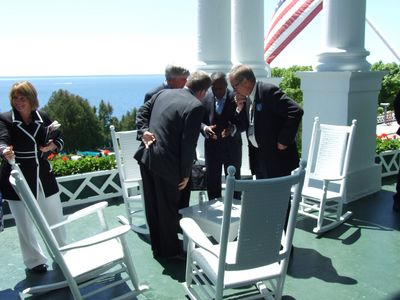 Nathan Bomey | AnnArbor.com
The Detroit Free Press
reported late Sunday night
that philanthropist
Eli Broad
's $2 billion
Broad Foundation
would provide "significant amounts of money" to a new authority to force more changes in the remarkably dysfunctional
Detroit Public Schools
system.
It sounds a lot like Facebook co-founder Mark Zuckerberg's $100 million donation to an initiative led by education reform advocates to improve Newark Public Schools. (Supported, of course, by Democratic Newark Mayor Cory Booker and Republican Gov. Chris Christie.)
Or perhaps the Broad Foundation initiative is similar to former Washington, D.C. schools chancellor Michelle Rhee's effort to pool philanthropic dollars to nudge teachers to give up tenure in exchange for higher salaries.
Regardless of the structure of the funding, it's clear that Michigan Gov. Rick Snyder, a first-time politician and former Ann Arbor venture capitalist, views private dollars and outside enforcers as a way to force changes in Detroit.
If there's one thing that Snyder knows, it's the power of outside capital to spark innovation. That's clearly what he's hoping for here.
But Detroit's public school system needs more than just philanthropy. It needs a coordinated, multi-faceted campaign — supported by nonprofits, businesses, universities and, yes, the Ann Arbor community — to rebuild and rethink the entire school system. (Which is why it's nice to see the Free Press report on speculation that Eastern Michigan University is set to play a role in retraining Detroit teachers.)
Consider the words of schools reform advocate Geoffrey Canada, who famously appeared in the "Waiting for Superman" documentary on the U.S. education system and told the Mackinac Policy Conference earlier this month that Detroit should start small. He suggested that Detroit should start by trying an innovative new system on a small platform.
"I would say, get a district of schools, some feeder schools, a middle school and a high school and make that system work and then expand that to a larger area," Canada said.
Oh — and he also suggested giving public schools more power to fire ineffective teachers as part of tenure reform, which the Michigan Legislature is weighing.
But Canada was adamant that firing poor teachers was only part of the solution. He suggested that the business community — which, by its very nature, generates philanthropists — must decide to care about education reform.
"I have become increasingly adamant that our business community has allowed this to happen to our country," he said. "And if they — and you — don't step up, we're going to destroy America."
Contact AnnArbor.com's Nathan Bomey at (734) 623-2587 or nathanbomey@annarbor.com. You can also follow him on Twitter or subscribe to AnnArbor.com's newsletters.