Posted on
Wed, Apr 4, 2012 : 4:34 p.m.
Former 'lonely corners' undergo transformations in downtown Ann Arbor
By Paula Gardner
South Main Street between William and Liberty has been described as the "gold coast" of Ann Arbor, and South State near the University of Michigan Diag shows escalating retail allure.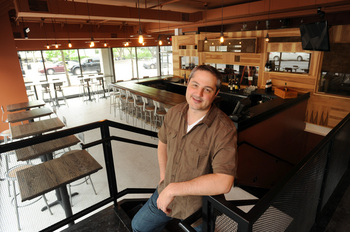 Melanie Maxwell | AnnArbor.com
Those are the places that get a lot of attention from retailers, from landlords and from shoppers. They drive much of downtown's image as busy and thriving.
In contrast, some corners in downtown remain "windswept," which is the description that Downtown Development Authority Director Susan Pollay uses in a recent Concentrate article to describe the places where building design does not invite a warm response from pedestrians.
And then there are areas that, once "windswept," now evoke a completely different response, like South Division between East Liberty and East Washington.
Some of Ann Arbor's loneliest corners have undergone transformations thanks to new businesses that took a risk by setting up in areas known for very little pedestrian traffic, according to the article in Concentrate.
The article talks to some of the business owners who are influencing that transition, like Adam Baru and Sava Lelcaj.