Posted on
Mon, Mar 11, 2013 : 2:10 p.m.
Grand Traverse Pie Co. closes less than a year after opening in downtown Ann Arbor
By Lizzy Alfs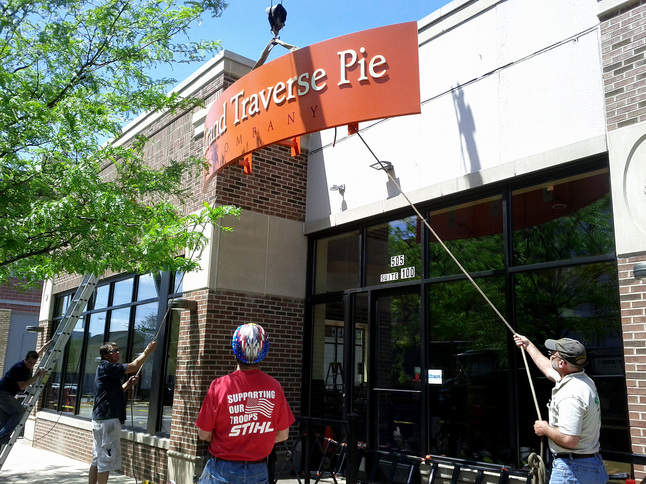 Angela Cesere | AnnArbor.com file photo
Grand Traverse Pie Company
franchisee
Dave Ziegler
said he made a tough business decision this month when he closed his restaurant in downtown Ann Arbor.
"It just turns out that our menu did not seem to be the right fit for downtown Ann Arbor," Ziegler said.
The restaurant at 505 E. Liberty St. closed on Saturday less than a year after opening.
"It was a business decision to get out of it before we got in trouble," Ziegler said.
Ziegler and his wife, Beth, own the Grand Traverse Pie Co. restaurant at 291 N. Zeeb Road. In May 2012, the couple opened the 3,185-square-foot restaurant in the former @burger space on East Liberty Street.
Ziegler said business is strong at his Zeeb Road location, but downtown Ann Arbor diners just didn't catch on to the restaurant's fast-casual menu. He said the diverse dining scene downtown creates a lot of competition for restaurant owners.
"We're doing really well (on Zeeb)," he said. "Out of all the Grand Traverse Pie Company locations, Zeeb is usually one or two in all categories in sales. For some reason, our menu just didn't seem to attract enough people in downtown Ann Arbor."
He added: "We just appreciate the guests that we were able to serve there, and we feel bad that we're not able to stay there."
Ziegler is in the process of vacating the East Liberty Street space. Representatives with landlord McKinley Inc. said there are no immediate plans to announce regarding the space.
Founded in Traverse City by Mike and Denise Busley, there are 14 Grand Traverse Pie Co. restaurants in Michigan and Indiana. The restaurant's menu consists of pies and other sweets, deli sandwiches, salads, soups and breakfast foods.
Lizzy Alfs is a business reporter for AnnArbor.com. Reach her at 734-623-2584 or email her at lizzyalfs@annarbor.com. Follow her on Twitter at http://twitter.com/lizzyalfs.