Posted on
Sun, Jan 29, 2012 : 5:59 a.m.
Is high turnover for downtown Ann Arbor restaurants concerning?
By Lizzy Alfs
The mix of downtown Ann Arbor restaurants is quickly changing.
In recent months, turnover has accelerated with some established restaurants exiting and newcomers faltering while others flourish.
Despite the high churn rate, commercial real estate agents said that many entrepreneurs, corporations or franchisee owners are looking to open new restaurants in the downtown area.
"Change is inevitable, and it's not necessarily bad," said Swisher Commercial agent Mike Giraud, a long-time Ann Arbor resident.
Recent changes to Ann Arbor's restaurant scene include:
--Champion House, at 120 E. Liberty St., closed this month after 20 years downtown.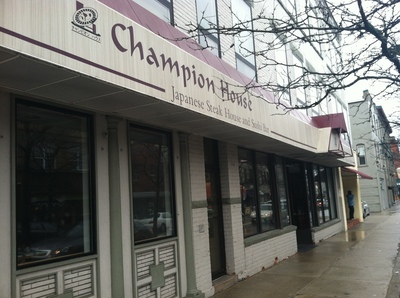 Lizzy Alfs | AnnArbor.com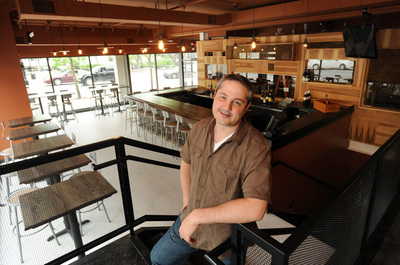 Melanie Maxwell | AnnArbor.com
--The 40-year-old
Parthenon
restaurant announced this
month that it would close
, making way for
Cafe Habana
, which is exiting its East Washington Street space to renovate the Parthenon's space at the corner of Main and Liberty.
--The Blue Tractor brewery will expand into the adjoining space formerly occupied by Cafe Habana, which is closed until it completes its renovations at Parthenon.
--A Grand Traverse Pie Co. franchisee plans to open a restaurant within weeks in the East Liberty Street space formerly occupied by @burger, a Big Boy Restaurants chain concept that closed last summer.
--Packard Pub, a bar appealing mostly to University of Michigan students, has not reopened after closing for winter break, and a bankruptcy lawyer listed as a contact on the bar's door has not responded to requests seeking comment.
--In 2011, Mani Osteria opened on the corner of East Liberty and Division streets; the Ravens Club took over the former Full Moon space on South Main Street; La Marsa Mediterranean Cuisine opened on South State Street; and Downtown Home & Garden owner Mark Hodesh launched his seasonal outdoor food courtyard, Mark's Carts.
"For basically every business, whether its restaurant or retail, there's a life cycle. Some are long, some are short," Giraud said.
The key, he added, is a business owner's market analysis and the ability to adapt to trends.
"People's tastes change. It used to be all about red meat and potatoes, and now it's about healthy food or local food," he said. "If you don't adapt and initially read your market correctly, your life cycle obviously shortens."
Nick Stamadianos, owner of the Cloverleaf Restaurant, said he's also watched the market change in his 20 years on the corner of East Liberty Street and Fourth Avenue.
Stamadianos said his business has struggled in recent years, largely due to a decline in foot traffic downtown.
"Look outside," he said. "It's dead."
Stamadianos said the downtown Ann Arbor environment has changed considerably in the past decade, particularly since the economic downturn in 2008. The reason he's been able to survive, he believes, is because Cloverleaf is a family-run business, which keeps operating costs low.
"To survive, it helps to do everything yourself, which you can't do in a larger restaurant. We cut corners. You have to be a really hard worker. We're always here, seven days a week, starting as early as 4 a.m.," he said.
Stamadianos and his son, George, attribute the decline in traffic downtown and the struggling business at his restaurant to several things: parking rate increases, competition in the restaurant business, the delivery business, economic factors, construction projects and Borders' closing.
While they envision Cloverleaf still sticking around for years, Stamadianos warned, "A lot of people are going to walk away this year."
Other business owners have expressed concern about the same issues, particularly the parking rate increases downtown and construction projects, such as the underground parking structure that's kept Fifth Avenue closed since September 2010.
The owners of Jerusalem Garden and Earthen Jar - which are both located on the stretch of Fifth Avenue that's closed - have both expressed concern about the project's effect on business. Pushpinder Sethi, the owner of Earthen Jar, told Ann Arbor City Council in July 2011 that he's losing $6,000 a month in business.
"That is very hard for us to survive in this situation," Sethi said at the time.
Downtown Ann Arbor has also seen a decline in the retail business in recent months, with several owners choosing to close and others reporting a decline in profits. Among the businesses that have recently closed or announced plans to close: Poshh, This & That, Organic Bliss and Sole Sisters.
Some business owners have also cited downtown Ann Arbor's high rental rates as an issue.
But Jim Chaconas, a local commercial real estate broker with a long history in Ann Arbor, said the rental rates downtown are "minor" compared to cities on the east or west coasts, and in cities like Birmingham, Mich.
The important lessons for business owners, he said, are to be well funded, experienced and have a good business plan.
"If you've got the right concept, you're well-funded and you know how to work, you'll do well," he said.
He also added that the turnover in Ann Arbor during the last year is fairly typical.
"It's normal. This year we've had a little more change, but we've also had a lot of people that have aged out of their business," he said.
Chaconas pointed to some recent restaurant startup success stories in the past year, such as Mani Osteria, Mark's Carts and the Ravens Club.
Hodesh said his outdoor food courtyard concept worked "great" in its first year.
"People liked all the aspects of it. It got people coming to a block that didn't have much going for it. It was activating downtown. It was also an opportunity for entrepreneurial people to give business a try for small money. People bought into it," he said.
He added: He sees a "positive story" in the changes downtown.
The fact that one restaurant closes and another opens shows "pent up demand."
"It's as though people looking for opportunities are backed up, and when one piece moves, everybody jumps in on it," he said. "People are scrambling for available space. Years ago, vacancies would last months."
For Hodesh, that's the unique thing about Ann Arbor. Sure, businesses might close, but "there is someone there to take their place."
"This city feels strong to me," he said.
Maura Thomson, executive director of the Main Street Area Association agrees: "I'm nothing but optimistic about downtown Ann Arbor. I look at the list of openings and see each one as yet another reason why people want to visit our downtown."
Although the mix of downtown restaurants has been changing quickly, Giraud pointed out that downtown Ann Arbor has always had a mix of restaurants, including national or regional chains and family-owned businesses.
"There's always national chains looking at Ann Arbor," he said. "McDonald's was here, Burger King was here, Taco Bell was here, and they've come and gone. Sometimes businesses make it and sometimes they don't."
The key for the Cloverleaf owners, George Stamadianos said, is to remember that not everyone wants the same type of restaurant at the same price point.
"When I got frustrated recently, a friend reminded me: A lot of the little people count on us. We're an inexpensive meal for people who can't afford the more expensive things downtown."
Lizzy Alfs is a business reporter for AnnArbor.com. Reach her at 734-623-2584 or email her at lizzyalfs@annarbor.com. Follow her on Twitter at http://twitter.com/lizzyalfs.