Posted on
Mon, Jan 30, 2012 : 5:57 a.m.
Jensen's Community Pharmacy opens in Saline shopping plaza
By Laura Blodgett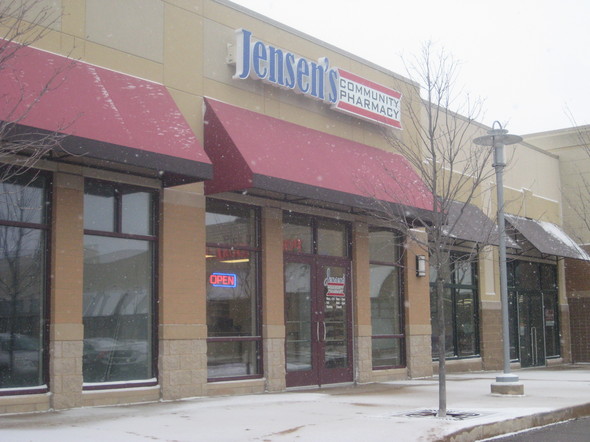 Laura Blodgett | For AnnArbor.com
Another independent pharmacy has just opened in Saline in the hope that its personal touch will attract some of the hefty prescription business from the large chain drugstores in the area.
Jensen's Community Pharmacy is located in The Oaks shopping plaza at 968 E. Michigan. Owner and pharmacist Steven Jensen hopes its proximity to the Automotive Components Holdings plant across the street will draw in customers.
"The way that the business district has changed (in Saline) shifting east to these strip malls, I figured foot traffic would help business quite a bit," said Jensen.
Jensen graduated from the University of Michigan in 2003 with a doctor of pharmacy degree and began working as a pharmacist at a Rite Aid in Ann Arbor. He decided to open his own pharmacy after becoming disillusioned with the corporate model of a pharmacy.
"I want to go out and talk to people when they want to know about over-the- counter products or if they need to be seen by a doctor, instead of just calling out 'aisle 13' when someone is looking for something," said Jensen. "But with the way they staff the stores now, you would kill yourself trying to do everything the way you want. It just couldn't all be done."
With his own pharmacy, Jensen hopes to combat this with old-fashioned service and the ability to customize his inventory to meet the needs of his clientele.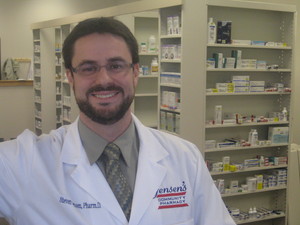 Laura Blodgett | For AnnArbor.com
"I'm hoping to be able to staff the place the way I want to be able to get out in the aisles and be available for counseling," said Jensen. "If customers want to bring in their whole medication list and find out when is a good time to take them all, I can set up a regime for them."
Though Jensen is aware of Saline Pharmacy, another independent pharmacy that opened last summer at 75 E. Bennett St. Jensen's own plans were already well under way at that point, and he said he's not worried about too much competition.
"With the amount of business that the local pharmacies do here at CVS and Walmart, there is definitely a market for independents to come in and take a slice of the pie."
Jensen currently employs one full-time pharmacy technician in addition to himself. As business grows, he will add more technicians or another pharmacist to meet demand.
In addition to prescriptions and compounded medications, Jensen offers over-the-counter medications and home medical devices, as well as crutches, walkers and wheelchairs for rental. He has a small snack area and cooler with beverages for sale.
Jensen is the first occupant of the 2,400 square foot space, which needed to be finished from a cement slab base. The Oaks has seen a surge in tenants including ACE Hardware and Dollar Tree, and Jensen hopes Gabriel's Hoagies opening soon next door will bring in more business for him.