Posted on
Wed, Jun 6, 2012 : 2:25 p.m.
Mani Osteria owner plans to open new Mexican restaurant in downtown Ann Arbor
By Lizzy Alfs
Steve Pepple | AnnArbor.com
Mani Osteria & Bar
owner
Adam Baru
plans to get back to his restaurant roots after signing a deal last week to open a Mexican restaurant in downtown Ann Arbor.
The location: the vacant 2,600-square-foot space neighboring Mani at the corner of East Liberty and South Division streets. The building is known to longtime Ann Arbor residents as the former Handicraft Furniture.
Baru said the food at the yet-to-be-named "modern Mexican" restaurant will be the equivalent of what he's done with pizza at Mani: fresh and light, and not covered in sauces and cheese.
"We're taking traditional Mexican street food, such as tacos, guacamole, salsas, antojitos…and just taking them and doing sort of our modern take on those items," he said.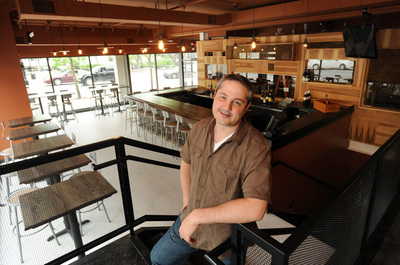 Melanie Maxwell | AnnArbor.com
The food will be made from scratch — including the corn tortillas — using all fresh produce and sourcing locally when possible. It's a food concept Baru knows well: He makes frequent trips to Mexico and he also opened a large Mexican restaurant in Philadelphia for Iron Chef's Jose Garces.
"My prior experience is running a Mexican restaurant of similar quality and concept," he said. "Mani was brand new to me and a leap of faith; I feel this is a cuisine and a type of operation I've done before."
He added: "The other piece of it is obviously, from 10 years of going down to Mexico to visit my wife's family, I obviously have a lot of menu ideas and inspiration from traveling down there."
Baru is opening the Mexican restaurant with Mani chef Brendan McCall, who will oversee culinary at both restaurants.
He hopes to start construction by the end of June and is looking at a three-month timeline once he gets liquor license and site plan approval. He'll also hire a few dozen employees, while some current Mani employees will transfer or work at both restaurants. He's using the same contractor, architect and designer as Mani, so he said the new restaurant will have a similar look and feel.
Baru and McCall are also planning to take a trip to Mexico later this month to get design ideas, food inspiration and hopefully a name for the new restaurant.
Baru is an Ann Arbor native who moved back to Ann Arbor to open Mani last year. After one year in business, the restaurant has flourished within the Ann Arbor community and also has been recognized as one of Metro Detroit's best new restaurants.
He said the intent from the beginning was to take on additional projects in the area if he found success with Mani.
The convenience of having the two restaurants next door to each other — and sharing an interior wall — is what pushed him to sign the lease. He can oversee operations at both restaurants, which is something he said his essential to his success.
"(Ann Arbor is) the community I want to work in, and I've always said that the reason why I would want to open more (restaurants) is it creates opportunity," he said. "It creates opportunity for me and it creates opportunities for those people who have worked so hard at Mani."
He added: "The community has been unbelievably supportive of (Mani), and I think once we get this new Mexican concept up and running, they'll find there's a lot of similar spirit between the two."
Lizzy Alfs is a business reporter for AnnArbor.com. Reach her at 734-623-2584 or email her at lizzyalfs@annarbor.com. Follow her on Twitter at http://twitter.com/lizzyalfs.