Posted on
Tue, Sep 4, 2012 : 5:59 a.m.
The Shoppes at Plymouth Road: Plans submitted for retail, restaurant development in Ann Arbor
By Lizzy Alfs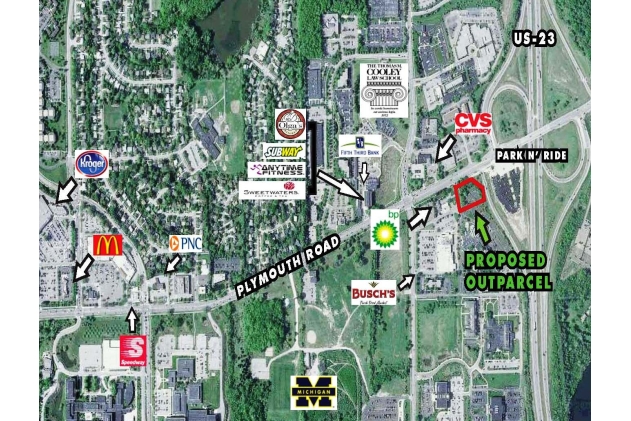 Photo from CBRE
Five years after Pfizer
shuttered
its Ann Arbor research complex and retail activity
dwindled
in the Plymouth Road corridor, developers are starting to take notice of the area again.
An Ohio-based developer submitted plans to the city of Ann Arbor last week that would allow him to construct a 9,490-square-foot building on the vacant outlot in front of the Holiday Inn hotel, located just east of Green Road.
Ken Hicks of Diverse Development and the current property owner, Ann Arbor Farms Hotel Corporation, are requesting a land division from the 10.58-acre hotel property for the 1-acre outlot. They are also requesting a rezoning from R-5, motel/hotel, to C-3, fringe commercial.
Hicks then plans to construct a single-story, 9,490-square-foot retail building with one drive-thru and 33 parking spaces.
"This use will be consistent with the development along Plymouth Road and will be used by the tenants of the hotel, also," according to the plans.
The 10.58-acre property's assessed value was $4,917,000 for the 2012 tax year, according to city documents. The 1-acre outlot is listed with Lisa Loesel of CBRE for $995,000.
Loesel said the outlot, which has been listed for sale since December, is currently under contract with the developer. She said she received a lot of interest and had several offers from potential buyers.
Hicks could not be reached for comment regarding his plans. The requests will be considered at Ann Arbor Planning Commission's Oct. 16 meeting.
The development proposal comes just weeks after developers broke ground on a larger retail and office project less than a mile west on Plymouth Road.
Developers Louis Johnson and Jack Edelstein are constructing a 21,000-square-foot commercial and office building on a 1-acre parcel in front of Plymouth Road Mall, just east of Nixon Road.
They got approval for the project in 2007, but it was sidelined when Pfizer closed its research center and the economy turned south.
Edelstein said they received "a lot of interest" from potential tenants, noting the increase in traffic since the University of Michigan purchased the Pfizer site.
Tenants on the 11,000-square-foot first-floor will include Starbucks, Little Caesars Pizza, DFCU Financial and LaVida Massage. Negotiations are under way with an office tenant for the 9,000-square-foot second-floor.
Next door to that project, Ann Arbor-based First Martin Corp. recently completed a reconfiguration of its south end cap, the former Blockbuster space, in Traver Village shopping center. The project relocated the site's frontage to give retailers storefronts directly off Plymouth Road.
Bank of Ann Arbor has since moved a branch from the rear of the shopping center into about one-third of the reconfigured space.
Lizzy Alfs is a business reporter for AnnArbor.com. Reach her at 734-623-2584 or email her at lizzyalfs@annarbor.com. Follow her on Twitter at http://twitter.com/lizzyalfs.