Posted on
Tue, Jul 27, 2010 : 2:51 p.m.
Redesigned pizza recipe leads to second-quarter sales bump for Domino's Pizza
By Nathan Bomey
Ann Arbor-based Domino's Pizza is still reaping the benefits of its decision seven months ago to introduce a revamped core pizza recipe.
Domino's said today that "sustained positive consumer response to the company's
improved pizza" helped generate an 8.8 percent sales increase during the fiscal quarter ended June 20, compared to the same period last year.
The company also said that strong overall sales volume and continued growth at its international stores boosted the bottom line.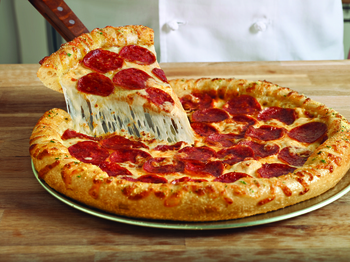 Photo courtesy of Domino's Pizza
"The increased sales were not just driven by trial, but by repeat orders from our new larger customer base," Domino's CEO J. Patrick Doyle said in a statement. "I continue to be bullish on the performance of our U.S. business. Meanwhile, despite the tough global economy, our international business continues to thrive - proving the strength of our international franchise business model."

The latest financial results follow similarly strong earnings reported in the first quarter, when U.S. stores, benefiting from an aggressive marketing campaign tied to the new recipe, reported a 14.3 percent same-store sales increase.

Domino's, detailing its second quarter financial results today, reported net income of $22.6 million, up from $14.5 million in the second quarter of 2009. Its total revenue -- a figure that does not include sales at stores owned by franchisees -- rose 14.5 percent to $362.4 million.
The firm's global retail sales, which measures total sales at all Domino's locations, rose 12.5 percent.
Domino's reported its 66th consecutive quarter of growth at its international stores, where sales rose 6.2 percent compared to the last second quarter. The company opened 73 new foreign stores during the second quarter and closed 11 for a total of 4,126.
In the U.S., Domino's opened 21 stores and closed 22 for a total of 4,910, including 4,453 owned by franchisees.
Domino's employs about 500 workers at its headquarters in Ann Arbor Township and 10,500 full-time workers at its company-owned stores.
Contact AnnArbor.com's Nathan Bomey at (734) 623-2587 or nathanbomey@annarbor.com. You can also follow him on Twitter or subscribe to AnnArbor.com's newsletters.