Posted on
Thu, Mar 18, 2010 : 11:20 a.m.
Rick Snyder vaults into tie for first in Michigan's gubernatorial race, poll shows
By Nathan Bomey
Ann Arbor venture capitalist Rick Snyder, a virtual unknown in Michigan's political circles before launching a gubernatorial campaign last summer, is now tied for first in the Republican primary race, according to a new poll.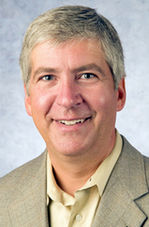 Five months before the primary, Snyder finds himself in a statistical tie for first with U.S. Rep. Pete Hoekstra and Attorney General Mike Cox, the Washington Post reported.
Hoekstra and Cox each drew support from 21 percent of likely GOP voters, and Snyder received 20 percent, according to the poll by Inside Michigan Politics and Lansing-based Marketing Resource Group.

"Rick's rapid climb in the polls is a result of his clear vision and plan to reinvent Michigan and the fact that he's a successful entrepreneur who's created jobs, not a career politician who's created problems," Snyder campaign spokesman Jake Suski said in an e-mailed statement.

"Rick is still less well known than the other candidates in the race, but he's gaining the voters' support at an incredible pace because they want to hire someone who's best suited for the job. Rick's a problem-solver who has a record of delivering results and it's clear that voters are looking for fresh leadership to lead Michigan into a new era."

Snyder is a former president of computer-maker Gateway Inc., former executive chairman of the Michigan Economic Development Corp. and founder of Ann Arbor SPARK. He was consistently polling at 2 percent or 3 percent until launching an advertising campaign in February in which he labels himself "one tough nerd."
The Washington Post reports:
Snyder has received considerable positive press for his "one, tough nerd" ad -- a pitch-perfect commercial that casts him as an outsider to the political process whose studiousness and success in the private sector are the right fit for the economically-battered state. Expect Snyder's ad to be copied relentlessly around the country this year as candidates seek to find way to break through the clutter and prove to voters they aren't just like other politicians.
The news comes after a poll released last week showed Snyder surging past Cox into second place behind Hoekstra. In that poll, Hoekstra had 28 percent, Snyder 18 percent, Cox 12 percent and Oakland County Sheriff Michael Bouchard 8 percent.

Snyder's decision to invest at least $2.6 million from his own financial resources helped fund the early advertising push. But he's also received a swarm of financial support from business leaders in Washtenaw County. His competitors have not started TV ads.
Snyder is currently conducting a series of town-hall forums throughout the state. He'll visit Washtenaw County on March 25 for a forum at Cobblestone Farms.

Contact AnnArbor.com's Nathan Bomey at (734) 623-2587 or nathanbomey@annarbor.com or follow him on Twitter. You can also subscribe to AnnArbor.com Business Review's weekly e-newsletter or the upcoming breaking business news e-newsletter.