Posted on
Thu, Aug 22, 2013 : 12:56 p.m.
Shopping frenzy: Hundreds of people swarm Arbor Hills center on opening day
By Lizzy Alfs
Hundreds of eager shoppers stood in line Thursday morning to be among the first customers at Ann Arbor's new Arbor Hills shopping center.
The parking lot at the development on Washtenaw Avenue between Huron Parkway and Platt Road was nearly full by the time Arbor Hills celebrated its grand opening at 10 a.m., and cars continued to circle the parking lot throughout the morning.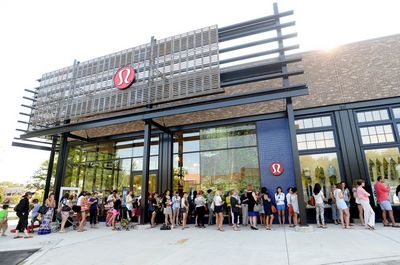 Melanie Maxwell | AnnArbor.com
At 9:30 a.m., shoppers lined the sidewalk outside The North Face and Madewell, waiting to get opening-day discounts. Lululemon athletica opened its doors early to a steady stream of customers.
"We're big lululemon (athletica) fans," said Lynn Osaer, a Northville resident and one of the first customers to shop at the yoga-inspired clothing store on Thursday.
"We normally go to Somerset (Collection) and downtown Birmingham...but this is a twenty-minute drive from Northville. It's closer than Somerset. I'll definitely be back."
Arbor Hills is a four-building, 90,700-square-foot outdoor boutique shopping center. There are 18 confirmed tenants, and 11 of those celebrated grand openings on Thursday. Construction crews are working to finish individual build-outs at the seven remaining stores, which will open in the next two months.
Arbor Hills development on Washtenaw Avenue
The developers have 18 signed leases, including national, regional and local tenants
The center has 310 parking spaces — more than what's required by city of Ann Arbor ordinance. Drivers who couldn't find an open space on Thursday parked along the Arbor Hills sidewalks and even across Washtenaw Avenue at the Huron Village shopping center, which is anchored by Whole Foods Market.
"We parked at Whole Foods and ran across Washtenaw," said Carrie Matson, who drove to the shopping center from Jackson with her friend, Mindy Ray. Matson and Ray were looking forward to shopping at Anthropologie.
North Shore Properties Group's Max Reiswerg, one of the developers of the center, estimated about 35 percent of the cars in the parking lot were from construction crews and people working on finishing build-outs.
After years of planning and months of construction, he said it was satisfying to see Arbor Hills open to shoppers.
Victor Maniaci and Brittany Cymes were the first customers in line at Madewell, a women's clothing store owned by J. Crew. Maniaci and Cymes live in a neighborhood across Washtenaw Avenue from Arbor Hills and were generally pleased with how the development turned out.
"I think it's a good thing, because it's sort of taking the whole area of Ann Arbor and progressing it toward something bigger, a more metropolis-type setting," Maniaci said.
Cymes added: "It's different. They brought over (all the tenants) from Somerset Collection. …There's really no reason to leave the city now."
Maniaci and Cymes both said traffic on Washtenaw is already heavy, but they're happy a traffic signal was installed at the Washtenaw and Platt Road intersection. Maniaci said there should be an overcrossing that connects the Huron Village center to Arbor Hills.
"The light is good because there was an accident last year," Cymes said.
In Aug. 2012, a man driving a Ford Explorer on Washtenaw Avenue near the Platt intersection hit a woman on her bicycle. The bicyclist suffered "catastrophic" injuries, according to Ann Arbor police Sgt. Bill Clock.
The new traffic light was planned as part of the Arbor Hills development when the site plan was approved in 2011.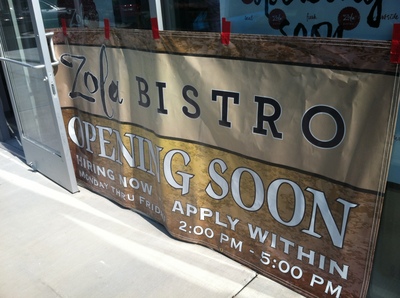 Lizzy Alfs | AnnArbor.com
John Reyes — a Washtenaw County resident who came to the center's opening day to check out lululemon and Sur La Table — said he loves the addition of Arbor Hills to the Ann Arbor area retail scene.
"I love it. The quality of the stores are better than everywhere else," he said.
Arbor Hills' restaurant tenants — Metro Detroit-based Pizzeria Biga and Zola Bistro, a restaurant by the owners of Ann Arbor's Cafe Zola — are still working on build-outs. Zola Bistro has a "Now Hiring" sign above the restaurant space.
Jason Friend, owner of the Glassbox Coffee & Juice in Arbor Hills, had a busy morning as shoppers filed into Glassbox to get their coffee fix. The Arbor Hills coffee shop is Friend's second location in Ann Arbor after he opened one on South University in March.
The Arbor Hills Glassbox Coffee & Juice has 14 fresh juices on the menu, and a Steampunk brewing system — a pricey, American-made coffee machine that can quickly brew coffee in different styles, including French press and pour-over.
Reiswerg said he's negotiating a deal with a high-profile restaurant user to take another space in Arbor Hills, and there is one 3,200-square-foot retail space available.
The video below shows the first shoppers entering Madewell, a women's clothing store owned by J.Crew, at 10 a.m. on Thursday.
Lizzy Alfs is a business reporter for AnnArbor.com. Reach her at 734-623-2584 or email her at lizzyalfs@annarbor.com. Follow her on Twitter at http://twitter.com/lizzyalfs.