Posted on
Thu, May 17, 2012 : 5:58 a.m.
New restaurant close to opening in Ann Arbor's ex-Flim Flam space
By Katrease Stafford
The Songbird Cafe is set to open June 1 in a space on Plymouth Road previously filled by the former Flim Flam Family Restaurant on Ann Arbor's north side.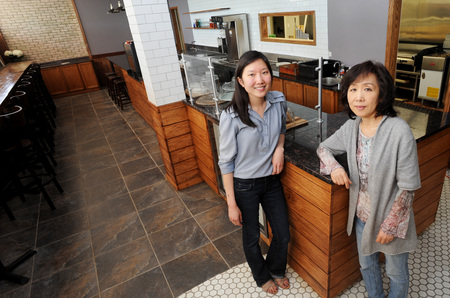 Melanie Maxwell | AnnArbor.com
The coffee bar portion of the restaurant is slated to open first and the kitchen will open toward the end of June, according to co-owner Jenny Song.
The Song family signed a lease last December after the space was listed for $16 per square foot per year.
The cafe, which is located at 2707 Plymouth Road in the Plymouth Road Mall, is 3,200- square feet and seats about 85 people, Song said.
Song, who co-owns the restaurant with her mother Youn Song, said they completely changed the look and feel of the restaurant.
Song said the space had not been updated in more than 20 years. Renovations began in February and took about four months to complete. She declined to disclose the renovation costs.
"The previous look didn't really match the concept of our cafe, so all of the flooring is different and the layout is a bit different as well," she said. "We have a coffee bar that is more of a casual space. We have a dining area that we want people to come and have meals in, but also be able to come in and study."
Song believes the space is more inviting since they added warm, earth tone colors and new light fixtures.
"We just have a very different atmosphere that we wanted to create," she said. "There are a lot of vintage touches, but we wanted to be updated as well.
"What we are really going for is something that's more of a local, high quality artisan feel."
Song grew up in Ann Arbor, graduating from Huron High School and the University of Michigan before heading to the University of Chicago for a master's of business administration.
She said the family chose the area not just because of their personal ties—they believe the north side of town needs a business that can offer something new.
"I think the area needs something that's a little bit outside of the box so we're going to be offering something unique," Song said. "For this north side area, that's been something that's missing. Knowing the local community and this side of town made us want to open up something that wasn't here."
The cafe will focus heavily on brunch and lunch offerings, Song said. The menu will consist of a variety of sandwiches fused with traditional and unique aspects and the cafe will also have a full salad and coffee bar. "For our coffee bar, we have baked goods that will be both supporting local bakeries and a few items that will be in house," she said. "We'll have a full menu of espresso tea and coffee."
Song said most of the hiring has taken place, but additional employees will be needed when the kitchen opens. Training has already begun, and Song expects to have close to 15 people on staff by the end of June.
"We've hired our entire front of the house staff," she said. "For the kitchen, we're looking for people that have a lot of passion for food and are open to exploring new ingredients and recipes. "
Song said there is a growing "foodie culture" in the Ann Arbor area and she is hoping to capitalize upon that.
"There are a lot of foodies in Ann Arbor and a growing foodie culture," she said. "We want to tap into that and be able to explore the different cultures and combinations that people haven't seen before."