Posted on
Fri, Jan 27, 2012 : 2:41 p.m.
Rider's Hobby Shop to close after Tree Town Toys left shared space
By Lizzy Alfs
Rider's Hobby Shop plans to close its store in the Traver Village Shopping Center on Plymouth Road in Ann Arbor in about three weeks, owner Brent Martin announced today.
The store - which was originally set to close in summer 2011 due to a decline in sales - had a few more months of life after moving into a shared space with Tree Town Toys in September.
Hans Masing, co-owner of Tree Town Toys, and Martin struck a partnership to run the two businesses out of one location, with Rider's Hobby subleasing half the 5,000-square-foot store.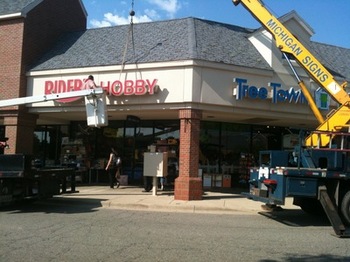 Photo from Hans Masing
But when Tree Town Toys
announced its plans to close
when its lease expired Dec. 31, Rider's Hobby was left operating out of the entire space.
"It's really too bad, because we had a good solution," Martin said. "It was working for us, but the solution only worked as long as we had the ability to partner with Tree Town. Their surprising us by closing created a situation where we couldn't make it on our own."
He added: "If we had to bear all of the rent and utilities and everything else on our own, it just put us back in the same boat we were in before."
Although Martin wasn't aware of Tree Town Toys' plan to close when he moved into the shared space, he said he doesn't regret the decision.
"We don't regret the fact that we tried," he said. "What we were trying to do all along was keep the business open."
The most difficult part of closing, Martin said, is losing his six "wonderful" employees and saying goodbye to his loyal customers.
"It's sad to think that this creative outlet for the community isn't going to be around anymore, but we just thank all our customers over the years and we enjoyed getting to know so many people," he said.
The inventory in Rider's Hobby is currently marked 20 percent off, and the discounts will increase over the next few weeks.
As for Masing and his wife, Tricia, they decided to close their brick-and-mortar store to focus on DragonFlyDepot.com, a warehousing business that provides toy fulfillment and logistics to national charitable organizations and 40 stores throughout the country.
Masing also told AnnArbor.com he saw a decline in sales at his business over the last couple years due to a number of obstacles, including Michigan's tough economy, federal toy regulations and big-box competitors.
Ann Arbor-based First Martin Corporation owns the Traver Village Shopping center. The company is marketing the Tree Town and Rider's space, along with a 6,960-square-foot former Blockbuster, which First Martin plans to separate into several retail spaces.
Lizzy Alfs is a business reporter for AnnArbor.com. Reach her at 734-623-2584 or email her at lizzyalfs@annarbor.com. Follow her on Twitter at http://twitter.com/lizzyalfs.