Posted on
Sun, Oct 2, 2011 : 5:58 a.m.
Why Con-way Inc. moved its headquarters from Silicon Valley to Ann Arbor area
By Nathan Bomey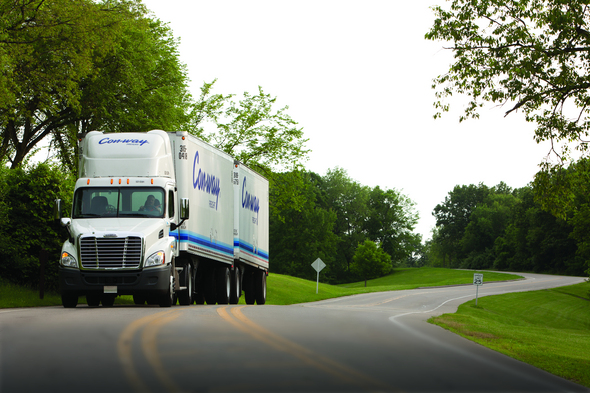 Photo courtesy of Con-way Freight
Con-way Inc.
earlier this year
quietly
became the largest company — by number of employees — that's headquartered in
Washtenaw County
.
The shipping and logistics company — whose Con-way Freight division was already headquartered in Ann Arbor Township — officially moved its corporate offices from San Mateo, Calif. to the township in April, completing a move that was announced in late 2010.
It wasn't a large number of people — only about 15 corporate employees joined the 300 Con-way Freight workers already based at the company's office on Old Earhart Road east of U.S. 23. and south of Plymouth Road.
But the move makes Ann Arbor Township the headquarters for a $5.1 billion company that has about 31,000 employees throughout the country and serves as a bellwether for the national economy. The company closed its Silicon Valley office as a result of the move.
"It was hard to attract the talent we needed to want to work in Silicon Valley," Con-way Inc. CEO Douglas Stotlar told AnnArbor.com. "None of the benefits to working in Silicon Valley applied to our industry. Being here in this community has been really actually very good for us for attracting talent. We've been able to increase our levels of skills and sophistication because we're here in Michigan."
But don't expect growth any time soon.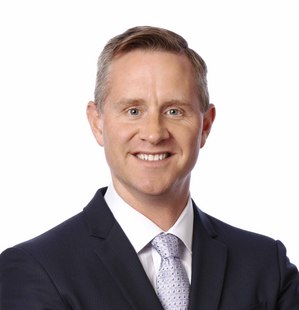 Photo courtesy of Con-way Freight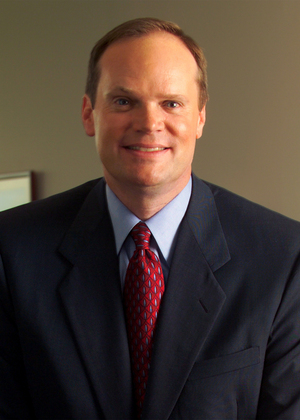 Photo courtesy of Con-way Inc.
"Our goal is to keep corporate at this size or smaller if we're doing our job because the work gets done in the field where our hourly workers touch our customers every day," he said. "We're a support function, so we can't continue to be growing our footprint here because all it really does is create a burden on the rest of our organization."
With some 365 trucking centers throughout the U.S., Con-way Freight, the largest division of Con-way Inc., is a less-than-truckload company with 21,000 employees and more than 32,000 tractors and trailers shipping products to a broad mix of clients.
Con-way Freight is gradually emerging from a turbulent period for the shipping industry, which has suffered during the country's prolonged economic slowdown. The company closed 43 shipping centers in November 2008, and several competitors contracted, too.
In August 2010, Con-way Freight's president, John Labrie, exited — and Stotlar temporarily stepped in as president of Con-way Freight. He relinquished the role as Con-way Freight president last week and hired Con-way Freight vice president of operations Greg Lehmkuhl as president. Stotlar remains CEO of Con-way Inc.
Stotlar and Lehmkuhl spoke to AnnArbor.com's Nathan Bomey. Excerpts:
AnnArbor.com: Greg, what are your key objectives as you take on this new role and what direction do you see Con-way Freight headed?
Greg Lehmkuhl: We expect to continue to engage our employees, to take care of our customers, to focus on our cost structure and to improve the overall sophistication of our business. So I don't see any real strategic shift with the transition from Doug to myself.
AnnArbor.com: Doug, why was Greg the right person for this business?
Doug Stotlar: Greg has great leadership skills. Greg has a background in lean methodologies of running, setting up plants and warehouses using lean methodologies, which at its core is about respecting employees, looking out for the customer, continuous improvement and servant leadership.
AnnArbor.com: Are you confident that you can continue to thrive despite the fact that we're still in this economic slowdown?
Lehmkuhl: I am. Like any business we're going to be impacted by economic instability and lack of predictability on what GDP will do in the coming years.
With that said, we have enough volume in our network right now to operate very efficiently and effectively, to take care of customers, to meet service expectations and to drive profitability to the bottom line.
AnnArbor.com: Do you think we're headed toward a double-dip recession?
Stotlar: I don't see that and I'm certainly not hearing that from our customers, although I can't tell you that anybody's particularly excited about the prospects over the next 12 months either. It feels like we're probably going to see more of the same.
As an industry and a company we're in a lot better position than we were at the beginning of the last downturn.
We've seen a meaningful amount of capacity come out, (but) margins have not been fully restored in the industry. Even with some downward pressure from a volume standpoint, I don't really see the industry's behavior changing.
It's all about margin expansion and continuing to try to get a return on the investments you're making.
AnnArbor.com: There's a lot of angst over the future of the Michigan economy. Is this a good place to do business?
Stotlar: Well, I think Michigan's becoming an easier place to do business in. Some of the recent taxes that the governor made are a little more business friendly. But as a network company we have to do business in all 48 contiguous states, as well as Canada and Mexico. I can't say Michigan gives us a tremendous advantage that any other state would.
The biggest thing that we need is: Can we attract the type of talent we need here in Ann Arbor to make a difference for the business? And indeed we have because the universities are here and the big automotive footprint and the type of talent the automotive companies are able to attract.
AnnArbor.com: Greg, how do you see employment levels at Con-way Freight changing over the next 12 to 18 months even as the economy stays stagnate?
Lehmkuhl: With the assumption that the economy will stay stagnate, our employment will too. We'll be able to keep people employed and stay at the same level we are now, just under 21,000 nationwide.
AnnArbor.com: Are there new market opportunities you can pursue? Are there things you're exploring to boost revenue right now or is it really more about efficiency?
Lehmkuhl: It's more about the type of customers we want to attract in our network. We want to leverage customers whose freight fits well into our network and can drive efficiency, effectiveness and that we can make money on.
Stotlar: If you really want to grow dramatically beyond what GDP's going to allow you to grow, you have to bloody somebody else's nose to get the business — and that's not the mode any of us in the industry are in right now.
We're all about margin expansion. In such a capital-intensive business, we want to get good returns on the capital that our shareholders have already allowed us to put to work.
AnnArbor.com: Some of your competitors have pushed to squeeze out as much time, even down to the second, to boost shipping speed. Are you doing the same thing?
Lehmkuhl: Absolutely. Part of our lean approach to our business is about squeezing lead time and reducing lead time. That's why a huge segment of our customers choose us, because of the speed we're able to offer.
Stotlar: And the reliability of that speed. We've been the industry leader in that space and we haven't given that up yet.
AnnArbor.com: Has Con-way taken a position on the new proposed Detroit-to-Canada bridge that Gov. Rick Snyder is supporting and that many Michigan businesses are supporting? Are you backing that bridge?
Stotlar: Well, we're backing increased capacity going over the river to Canada. We're not necessarily picking a horse in who wins that race, but we're supportive of the increased capacity because any time you have a restriction like that, it limits the efficiency.
We cross that bridge and other crossing points into Canada multiple times every night. The more congestion you have, the harder it is for us to do our job and keep the velocity of our network where it needs to be.
AnnArbor.com: Snyder is going to be revealing his special message on how to improve the roads throughout Michigan in October. What do you advocate in terms of boosting transportation infrastructure spending in Michigan and the rest of your network?
Stotlar: We're supportive of highway infrastructure, bridge infrastructure just as a state of good repair. We want society to have good safe roads to operate on.
Obviously the poorer condition of the infrastructure, the more it costs us from a maintenance standpoint because it just beats our equipment up. The highways are our production line, so we need a good sound infrastructure to be able to support what we do on a daily basis.
AnnArbor.com: Do you support proposals to increase the gas tax to fund some of that infrastructure spending?
Stotlar: We're right there with the rest of the industry, supportive of increased user fees primarily in the form of gas taxes or diesel taxes to do it, and we can't get any political backing.
AnnArbor.com: Wouldn't that hurt your margins though?
Stotlar: I'm assuming if it's going up we know what that cost impact is and it's going to get reflected in pricing. There's no free lunch here.
Contact AnnArbor.com's Nathan Bomey at (734) 623-2587 or nathanbomey@annarbor.com. You can also follow him on Twitter or subscribe to AnnArbor.com's newsletters.