Posted on
Thu, Dec 29, 2011 : 9:28 a.m.
From the end of Eve to the launch of Mani: a look back at the year in food
By Jessica Webster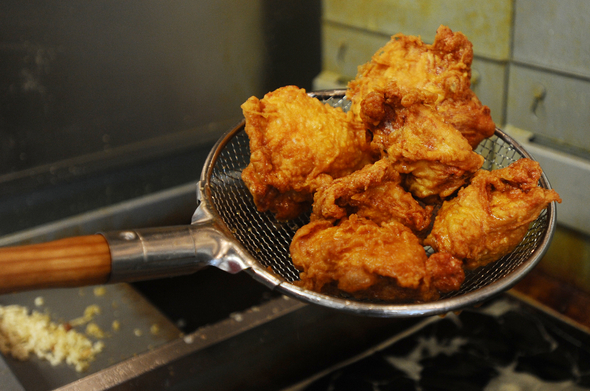 Melanie Maxwell | AnnArbor.com
2011 has been full of ups and downs for
Ann Arbor
foodies. We had several new restaurants with great food open and connect in a big way with the
food
community. And we learned that it takes more than just a clever concept for a restaurant to succeed in this town.
We started the year on a low note, with the news that eve the restaurant was closing. For many, it was a sad goodbye to a favorite special occasion destination. Chef Eve Aronoff's fast-casual Cuban-inspired second restaurant, Frita Batidos, hit its stride in big way though, especially once she secured a liquor license.
Zingerman's took over the Kerrytown location of the former eve, turning the dark, cozy space into a catering and special events destination and using the kitchen for food prep during the construction of the deli's $6.7 million, 10,400-square-foot addition.
Speaking of Zingerman's, they grabbed national attention once again in 2011. Zingerman's Roadhouse chef and founder Alex Young finally snagged his James Beard award (for Best Chef, Great Lakes Region) after four years of being nominated. This puts him in the company of some of the best chefs in the nation.
Soon after, Oprah Winfrey chose Zingerman's Candy Manufactory's Zzang Bars as one of her "favorite things." Zzang Bars were also featured on an episode of the Food Network show "Kid In A Candy Store."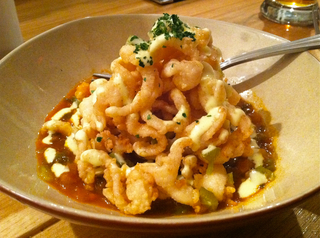 Jessica Webster | AnnArbor.com
But Ann Arbor isn't just about Zingerman's. We've had a whole spate of exciting restaurant concepts debut in the past year. One of my favorites is Mani Osteria, an Italian joint featuring small plates, house-made pastas and wood-fired pizzas that's bringing some big-city glam to the corner of East Liberty and Division. We've eaten our way through most of the menu — several times now — and my whole family is hooked, even the 9 year old. Do not miss the pickled tomatoes, the calamari in spicy tomato broth, and the red onion and pistachio pizza.
Within a week of Mani's opening, we also welcomed The Ravens Club, a prohibition-themed restaurant with an interesting, locally-sourced menu and cocktail list. The Ravens Club also features regular live jazz, making it a very welcome addition to the scene indeed.
Ann Arbor entered the era of the food cart in the spring when Downtown Home & Garden owner Mark Hodesh launched Mark's Carts, taking the food cart concept to the courtyard behind Downtown Home & Garden. The courtyard was perennially crowded with happy locals seeking everything from head cheese hoagies to vegan barbecue.
One of the original Mark's Carts vendors moved their business into a permanent space near the Burns Park neighborhood in late fall. Take-out and catering from Eat is now available in the building recently vacated by the short-lived (and lamented) Marcano's South American Take Out on Packard.
Just a few blocks away on State Street you can find another new food business led by enthusiastic locavores. Biercamp, located at the south end of The Produce Station parking lot, features house-made sausages, jerky, brats, bacons and charcuteries, as well as a rotating take-out hot meal. We tried the pulled pork sandwich and were instantly smitten.
On the other side of town, the opening of Seoul Street on Plymouth Road sent local foodies into trembling fits of elation. They may not have the best bi bim bop in town, but their Korean fried chicken has become the talk of the town. Since every order is prepared fresh, it can take twenty minutes or more for your food to be ready, so consider calling ahead. Both the soy garlic and the hot and spicy glazes are delicious.
Just down the way on Plymouth Road, we lost a long-time favorite family restaurant when Flim Flam closed their doors after 30 years. Other notable closings included @Burger, a digital-age burger restaurant concept from Big Boy with a name that wasn't Google-friendly, and Squares — whose entire concept revolved around square sandwiches and plates.
As we look toward the new year, we're excited to see what's next. The Song family, whose BeWon Korean Cuisine may well have the best bi bim bop in town, is planning to open a new restaurant in the space vacated by Flim Flam. What else can we expect? Keep your eye on the AnnArbor.com Food & Grocery and Business Review sections to find out.
What were your local food highlights for 2011? Share them in the comments section below.
Jessica Webster leads the Food & Grocery section for AnnArbor.com. You can reach her at JessicaWebster@AnnArbor.com.