Posted on
Mon, Aug 15, 2011 : 12:45 p.m.
Made in Michigan: Local chefs take pride in using locally-sourced foods, creating a revolution in Midwest's food sensibility
By Jessica Levine
Jessica Levine I Contributor
Dinnertime chat among several celebrity chefs, restaurateurs and writers has lately revolved around what they say is Americans' propensity for mediocre food — particularly citing our tastes for Kraft Grated Parmesan, breaded meatballs and strip-mall Italian eateries.
David Chang, head of New York City's Momofuku Restaurant Group, said of the aforementioned cheese that, "[Americans] are more comfortable just staying in the middle — being like, hmm, I can buy this Kraft Parmesan cheese, or I can buy this wheel of Parmigiano-Reggiano. And they either don't want to risk spending the money or they don't want to risk learning something new."
Something new?
This arrogance is a slap to our sensibilities and tastes, especially here in Michigan, where diners and chefs alike embrace traditionally ethnic and fresh flavors.
Eve Aronoff, owner of Ann Arbor's Frita Batidos and a 2009 "Top Chef" contestant, exemplifies this with a Cuban-inspired menu.
"In creating Batidos, I honed in on Cuban culture, inspired by the ingredients I love and respect," she said.
"I make a tropical fruit chutney, which has fresh mango, pineapple, serrano chilies, dark rum, maple syrup, a Thai sweet chili sauce and rice wine vinegar, for example."
Furthermore, the restaurant makes every effort to use beef, pork, chicken, turkey, cheese and produce sourced from Michigan or other Midwest vendors.
So despite even the criticism some local chefs have garnered from AnnArbor.com readers, Aronoff and others are vocal advocates of a growing trend in Michigan that favors local companies and ingredients. While the Changs of the world denigrate our spending and eating habits, chefs in the Midwest are working to establish a unified state brand comprised of fruits and vegetables, wineries and breweries, soft drinks, hot dogs, fish, pizza — you name it.
Steven Grostick, executive chef of Novi's Toasted Oak Grill and Market, is a big proponent of these local foods; so much so that in July, he prepared an "I Cook Michigan" dinner at the James Beard House, a high honor in the culinary world granted by the James Beard Foundation.
His menu included Coney Dogs with Bad Axe Venison Coney Sauce, Faygo Root Beer-Braised Short Ribs, Hunter's Sausage with Michigan Sweet Corn Chutney, Farm-Picked Strawberry and Rhubarb Pie and Ray's Vanilla Bean Ice Cream Milkshake with Salted Caramel and Michigan Whiskey.
"We are different from other people," Grostick said. "Those of us that are still in Michigan through all of these hard economic times — we are very true, and we like to earn our money and spend our money here. That's how I stay true; I'd rather not use some of the big conglomerates from California if I've got all of that beautiful stuff here."
Other chefs in southeast Michigan enthusiastically agree; Chef Alan Merhar of Evans Street Station said that "a homegrown Michigan tomato can't be beat: our apples are crispier and have more intense flavor, and our corn is sweeter than anything else I've come across."
The Common Grill's Craig Common simply called local flavors "dynamite."
Responding to customer demand, entrepreneurs are beginning to start businesses selling local products. Cafe Ollie co-owners Mark Teachout and Danielle Scherwin have planned to open the Mi General Store later this summer next to their restaurant in Ypsilanti's Depot Town. According to Teachout, the space will feature Faygo, Zingerman's, Guernsey, Calder Dairy and Four Corners Creamery brands, along with a huge variety of wines and microbrews.
This sense of camaraderie, Grostick maintains, makes us different from other states. We are unabashedly tied to tradition and nothing is more fundamental to tradition and culture than what we eat. Trained as a French chef at the same school attended by Julia Child, Ann Arbor native Aronoff concurs.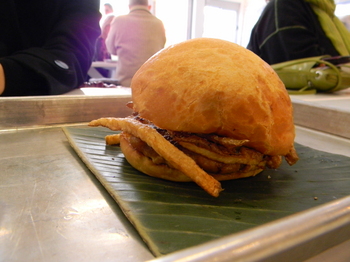 Jessica Levine I Contributor
"To me, the philosophy of French cooking revolves around making things with care, from scratch, following the seasons, respecting the food and trying not to be wasteful, encouraging warmth and conviviality around cooking and eating," she explained.
"These values are the foundation of most traditional cuisines and culture — and are present in my cooking in general — at [former restaurant] Eve, at Batidos and at home."
Yet traditionalist chefs are now under fire, being challenged by foams, bubbled caviar and the use of liquid nitrogen.
In a recent episode of Travel Channel's "Anthony Bourdain: No Reservations," the host sat down to a 52-course meal (priced at around $400) at Spain's now closed elBulli. Along with Jaleo's Jose Andres and the restaurant's "forward-thinking" owner and chef, Ferran Adria, the trio dined on frozen hot gin fizz (hot on the lip, cold when swallowed), gorgonzola globes (like a chocolate Easter egg but creamy), a planned sequence of Japanese dishes like tuna bone marrow, tofu tiramisu infused with sake and black truffle cakes.
Sounding like a sycophant, this veteran chef of 28 years called this the best meal of his life, served in the world's best restaurant. Bourdain supposes that Adria, the scientist, the chef, the creative energy behind these meals, has changed the way we cook and the way we eat forever.
Adria adamantly denies he is the father of the trend in cooking commonly referred to as molecular gastronomy — described by food chemist Harold McGee as "the scientific study of deliciousness." Instead, he suggests his approach to cooking is an effort to make people happy and to give them something to think about; and, secondly, via all five senses, to create emotions during the dining experience.
It is this philosophy that has prompted lively debates: Does the best food come from an adherence to the traditional, or do we push the bounds of the accepted and untried?
As Grostick explains it, he is not "trying to reinvent the wheel" with meals like grilled cheese, soup and fried chicken, though he does acknowledge that those chefs on the cutting edge of contemporary cuisine still use elements of the tried and true.
Grostick cites St. Clair native and renowned Chicago chef, Grant Achatz; an admirer of Adria, Achatz seeks to create dishes engaging all five senses. His version of pheasant, served with shallot, cider gel and a sprig of burning oak leaves is, Grostick believes, Achatz's tribute to Michigan's autumns and the sleepy smell of leaf smoke.

"If you really think about it, this is based on traditional culinary method," said Grostick.
"It's like when your mom would open up the crockpot of pot roast, and that aroma filled the kitchen, or when mom cooked an apple pie. If you really delve deep into it, chefs like Achatz are using traditional cooking methods but they are infusing it with methods that make carrots look like cheese puffs."
But when we go out for dinner, are we really craving cheese puff-looking carrots?
Some think so, or at least, think we should. According to Chang, Bourdain and other culinarians, we are facing a gastronomic revolution; it is time, they say, to leave Kraft Grated Parmesan in the shaker and replace it with something akin to a hot gin fizz.
Meanwhile, chefs like Aronoff, Grostick and Zingermans' Alex Young, continue to satisfy our Middle-American palates by preparing chorizo burgers, brats, macaroni and beer.
Maybe because, as Grostick says, we are different.
Jessica Levine profiles the culture, history and personalities of Washtenaw County restaurants for AnnArbor.com. Contact her at levineeats@gmail.com.