Posted on
Mon, Feb 6, 2012 : 3:03 p.m.
Friday live-music happy hour tradition returning to Live nightclub
By Bob Needham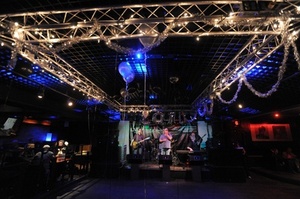 File photo | AnnArbor.com
The long-running tradition of a Friday happy hour featuring
Drivin' Sideways
and other local bands has found a home—right where it was.
The happy hour—which caters to a middle-aged crowd and has at various times been based at the Blind Pig, Heidelberg Club Above and elsewhere—was most recently a fixture at Live at PJ's, until a recent change in ownership forced it to look for a new home.
But the new home turns out to be the old home, now renamed simply Live, after an email campaign aimed at the new owners.
After the ownership change, Drivin' Sideways sent a message to the happy-hour email list, asking fans to write to Live and ask the new owners keep the event alive. Chris Goerke, a member of Drivin' Sideways who has been organizing the happy hours in recent years, said fans wrote more than 120 emails of support in five days.
"That kind of pushed it on through," Goerke said. "The new owners are real reasonable and happy to keep the tradition going there."
Drivin' Sideways will play the first three dates of the reincarnated event, Feb. 17 and 24 and March 2, as well as March 16. George Bedard and the Kingpins are scheduled March 9, with the Vibratrons on March 23 and FUBAR on March 30. If these shows are deemed successful, future dates will be listed on Drivin' Sideways' website.
The format remains the same: Doors open at 6 p.m., with music starting around 6:30. Happy hour ends at 9 p.m. There is no cover charge, but donations are taken to pay the band.
Meanwhile, Live reopened over the weekend after a brief renovation period. And two other regular live-music dates displaced by the ownership change have found other homes.
Bob Needham is director of entertainment content for AnnArbor.com. Reach him at bobneedham@annarbor.com or 734-623-2541, and follow him on Twitter @bobneedham.