Posted on
Thu, Apr 22, 2010 : 11:13 a.m.
Nervous But Excited put their spin on classic duets
By Bob Needham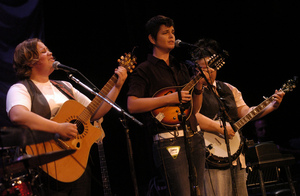 The upswing continues for Nervous But Excited.
This female acoustic duo —Â Sarah Cleaver and Kate Peterson — was the only local act featured at this year's Ann Arbor Folk Festival, and this weekend the pair play a showcase at The Ark, designed in part to celebrate the release of a new EP.
And it is worth celebrating. "Just the Two of Us (Our Duo Doing Duos)" is a nice little treat for local acoustic-music fans. There are no grand statements here, and no original songs. It's just a good idea, well-executed: a half-dozen covers of duets from the past, of varying familiarity.
Three of the selections fit very smoothly into Nervous But Excited's modern acoustic niche — Indigo Girls' "Devotion," the Weepies' "The World Spins Madly On," and Tegan & Sara's "Nineteen" are all enjoyable interpretations, if not much of a stylistic reach.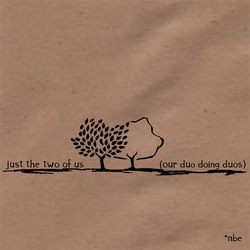 The other songs are the ones I find myself liking most, in part because the choices are a bit surprising: the Righteous Brothers' "You've Lost That Lovin' Feeling," K-Ci & Jojo's "All My Life," and, perhaps best and weirdest of all, a quick stab at Roxette's "The Look."
To me, one mark of an effective cover version is whether it makes you pay new attention to lyrics that have long faded into the background. These tracks do that, even making me respect "Lovin' Feeling," a song I've never particularly liked in the past. Listen to Nervous But Excited "You've Lost That Lovin' Feeling," (MP3).
Of course, the sound here is gorgeous throughout, featuring beautiful harmonies and accomplished playing; in keeping with the theme, Peterson and Cleaver are the only performers on hand. They produced the EP themselves with Susie Giang, recording it at Jim Roll's Back Seat Productions. Physical copies of the initial pressing of the disc will feature handmade packaging, block printed with sustainable materials.
Adding to the fun, the duo produced a special series of video "songisodes" to go along with the new release, all available on YouTube.
This new EP is a nice addition to NBE's catalog, and more evidence that their career is full of promise.
"Just the Two of Us (Our Duo Doing Duos)" will be available at the Ark show, and the tracks will be available digitally and for mail order starting Saturday at the Nervous But Excited website.
Bob Needham is director of entertainment content for AnnArbor.com. Reach him at bobneedham@annarbor.com or 734-623-2541, and follow him on Twitter @bobneedham.