Posted on
Thu, Feb 9, 2012 : 10:15 a.m.
Valentine's Day (and weekend) guide: events and more in Ann Arbor area
By Jenn McKee
Valentine's Day may always be Feb. 14, but your choices for ways to celebrate (or studiously avoid) the holiday of love are nearly endless.
Plus, when the 14th falls on a Tuesday, as it does this year, even the "when" of the holiday's celebration is up for some serious negotiation.
So here's a quick overview of some of the local options available this weekend, up through Valentine's Day proper, loosely organized by category. If you've got other suggestions, add them in a comment at the end of this post: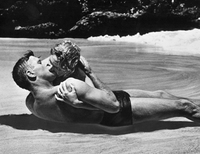 For movie lovers:
The Michigan Theater
's special Valentine's Day movie this year is "From Here to Eternity"—but in the days leading up to that, you could check out
"Happy: The Movie,"
followed by a panel discussion, on Saturday at noon at the Michigan;
"I Am Trying to Break Your Heart,"
a documentary about the creation and distribution of Wilco's landmark album, "Yankee Hotel Foxtrot," on Monday at 7 p.m.; and several screenings of this year's Oscar-nominated short films. Meanwhile, those with a taste for opera might enjoy a broadcast of
"Gotterdammerung,"
part of "The Met: Live in HD" series, which is scheduled for Saturday at noon at the Quality 16.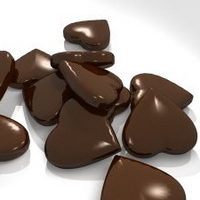 For chocolate/sweet toothed lovers:
In addition to Ann Arbor.com's recipes for
handmade chocolates
, a
chocolate souffle
, and
handmade chocolate truffles
, there's a
class for making dark chocolate cream puff swans
at Hollander's on Friday from 2-3 p.m; and the sixth annual
Chocolate Crush fundraiser for Wild Swan Theater
happens Friday at 7:30 p.m. at Lake Forest Golf Club. Those who like a little shopping with their chocolate should check out
Chelsea's Chocolate Extravaganza
on Saturday from 10 a.m. to 5 p.m. On Sunday, Sweet Heather Anne offers instruction on
Valentine's Day Cookies
from noon to 3 p.m., and on Monday, you can learn about
Sweetheart Cake Truffles
; and there's a
special chocolate gelato tasting
at Zingerman's Creamery on Sunday from 4-6 p.m. On Tuesday, a
creative cookies
class happens Tuesday night at Zingerman's Bakehouse, from 5:30-9:30 p.m.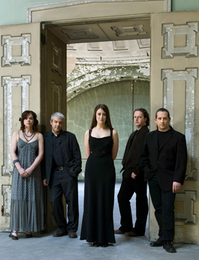 For live music lovers:
Bluegrass band
NewFound Road
comes to the Ark, and
Chamber Ensemble of the Shanghai Chinese Orchestra
comes to Rackham, on Friday night. On Saturday,
"Franc D'mbrosio: Broadway - A Songbook for Love"
happens at Tecumseh Center for the Arts at 7:30 p.m. On Sunday,
Michigan Chamber Players
play at Rackham at 4 p.m., and
My Folky Valentine
returns to the Ark at 7:30 p.m. On Monday,
Miss Tess and the Bon Ton Parade
play the Ark. And on Tuesday, a Neutral Zone fundraising concert called
"The Broadway We Love,"
featuring a group consisting of
Aaron Sanko, Brian Buckner, Jesse Kramer
, and
Joe Fee
, plays Kerrytown Concert House at 8 p.m.; the
Ann Arbor Youth Chorale performs a Valentine's Day concert
at the Ann Arbor District Library main branch at 7 p.m.; and Irish music super-group
Solas
plays the Ark at 8 p.m.
For dance lovers: Ann Arbor Community of Traditional Music and Dance (AACTMAD) has a few events coming up, including a swing dance party on Friday evening; square dancing on Sunday; and English Country Dance on Tuesday. On Saturday, the Chelsea Education Foundation fundraiser, An Evening in Paris, offers dinner and dancing; but if something far more German sounds up your alley, check out the Mardi Gras Fasching Dinner/Dance happening Saturday night. Finally, if you're more a fan of watching dancers do their stuff, consider the University of Michigan ballroom dance team's 12th annual competition, happening all day Saturday at Saline Middle School.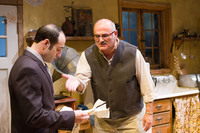 For theater lovers:
There's a bounty of available options at this time of year. My personal pick would be the
Purple Rose Theatre's "A Stone Carver,"
which recently
added a Valentine's Day performance
to its schedule. For the weekend, on the dark comedy side,
Performance Network's "God of Carnage"
provides laughs as well as lots to talk about, while Encore Theater's
"Smokey Joe's Cafe"
revue offers a musical tour of Lieber and Stoller's 1950's pop catalog. Also, the University of Michigan musical theater department kicks off its studio production of the Tony Award-winning musical
"Spring Awakening,"
and Eastern Michigan University is offering both Sarah Ruhl's drama,
"Dead Man's Cell Phone,"
and Nilaja Sun's critique of the American education system,
"No Child"
; The New Theatre Project will present preview performances of an edgy new sex comedy titled
"If You Start a Fire [Be Prepared to Burn]"
; the Burns Park Players continue their run of the musical
"Once Upon a Mattress"
; and, perhaps for the goth Valentine, there's the Huron Players' take on Stephen Sondheim's
"Sweeney Todd."
Those who like to hear new plays might want to consider
Performance Network's Fireside Festival
, which offers staged readings each evening at 7 p.m., from Sunday-Wednesday.
For the unconventional Valentine:
First, you might want to consider a dinosaur-themed card created by a new company called Joy and Raptor—founded by 3 recent U-M graduates—at
www.joyandraptor.com/
. Then, consider seeing one of
Bil Dwyer
's two sets of stand-up at the Ann Arbor Comedy Showcase on Friday night, at 8 and 10:30 p.m.; or head to Frenchie's for
"Love is a DRAGshow,"
a fun fundraiser for Ozone House in Ypsilanti, on Friday at 10 p.m. You might also consider a stroll downtown on Friday evening and Saturday to check out the 10th annual
Ice Carving Extravaganza
on Main and Liberty streets; and for the growing "Downton Abbey" set, there's the
Victorian Valentine Teas
event, which happens Saturday at 2:30 p.m. at Kempf House (and often sells out, so check in advance). Ann Arbor Civic Theatre hosts its
chili cook-off and beer tasting fundraiser
on Sunday at noon at Ypsilanti's Corner Brewery. For the literary Valentine, there's
Writers We Love
, part of the How I Write series, on Monday at 7 p.m. at North Quad, which will this time adopt a "speed dating" format as clusters of attendees chat with local writers seated at tables. And for lovers of drink, there's a cocktail class titled,
"Pink Drinks that Don't Suck"
on Monday at 7:30 p.m. Lastly, you can show your Valentine you're over the moon for him/her at a
planetarium show
, which happen daily.
For little Valentines: Local libraries have several kid-friendly Valentine events, including an Un-Valentine's party at Dexter District Library on Saturday; the Ypsilanti District Library on Michigan Ave. offers a Valentine's candy-making program on Saturday at noon, and YDL Superior Township offers a chocolate and sweetheart cards event on Saturday from 2-4 p.m. There's a Roses are Red card-making program at the Pittsfield branch of AADL, also on Saturday; and a Valentine's Day celebration at YDL on Monday.
Jenn McKee is the entertainment digital journalist for AnnArbor.com. Reach her at jennmckee@annarbor.com or 734-623-2546, and follow her on Twitter @jennmckee.