Posted on
Tue, Mar 27, 2012 : 5:59 a.m.
37 streets in Ann Arbor being resurfaced this summer: Did your street make the list?
By Ryan J. Stanton
Ann Arbor residents can expect to see nearly double the number of streets under construction throughout the city this summer compared to years past.
"It's going to be a busy summer. Lots of orange barrels," said City Administrator Steve Powers, welcoming the increased improvements.
With the money the city is saving from having state and federal grants pay for a large portion of the Stadium bridges project, the city is putting its local street millage dollars to use with more than three dozen resurfacing projects planned.
In addition to previously reported projects on Packard Road, Hill Street and Dexter Avenue, the city released a list of 33 more street resurfacing projects expected to be completed between April and November. That includes six major streets and 27 residential streets.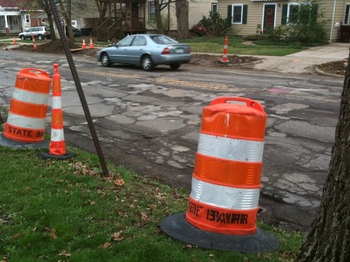 Ryan J. Stanton | AnnArbor.com
In addition, the city is planning to resurface East Stadium Boulevard from Washtenaw to Packard as part of a separate contract.
Major street projects on the new list include portions of Huron Parkway, West Liberty Street, Glen Avenue, Geddes Avenue, South Fifth Avenue and South Seventh Street.
Some of the residential streets getting resurfaced include Canal, Pineview, William, Fourth, Third, Berkshire, Woodside, Forest and Meadowbrook (see full list below).
Because of the large number of street projects this summer, the city has sorted them into two separate programs this year, Program A and a Program B.
Barrett Paving Materials Inc., with offices in Ypsilanti, won both competitive bid processes. The City Council is expected to vote April 2 on a $3.6 million contract for the 13 projects in Program A, followed by an April 16 vote on a $4 million contract for the 20 projects in Program B.
Homayoon Pirooz, head of the city's project management unit, said a list of street projects planned for 2013 is incomplete and tentative, but he confirmed the city is planning to completely reconstruct Miller Avenue from Newport to Maple Road.
In years past, the city has taken on about 15 to 20 street projects each summer, Pirooz said, noting this is the first year of the city's ramped up efforts. Until now, the city was saving up street millage dollars in case it needed to take on the Stadium bridges project alone.
That changed when U.S. Rep. John Dingell, D-Dearborn, helped Ann Arbor secure a $13.9 million federal grant for the $22.8 million project, in addition to $2.9 million in state grants
Pirooz said this will be the first of multiple years of larger resurfacing programs now, but he predicted there shouldn't be too big of an impact on traffic.
"Whenever there's road construction, you will have slower traffic in the streets, but most of these are residential streets," he said. "And with the resurfacing of residential streets, we typically don't see a major change in the traffic patterns."
Ann Arbor voters in November renewed the city's street millage with 77 percent support. City officials said last summer that 47 percent of the city's streets are rated "very good," 24 percent are "good," 21 percent are "fair" and 7 percent are "poor."
Ryan J. Stanton covers government and politics for AnnArbor.com. Reach him at ryanstanton@annarbor.com or 734-623-2529. You also can follow him on Twitter or subscribe to AnnArbor.com's email newsletters.